Police turn down plea for cycling lanes
Cops fear road space will shrink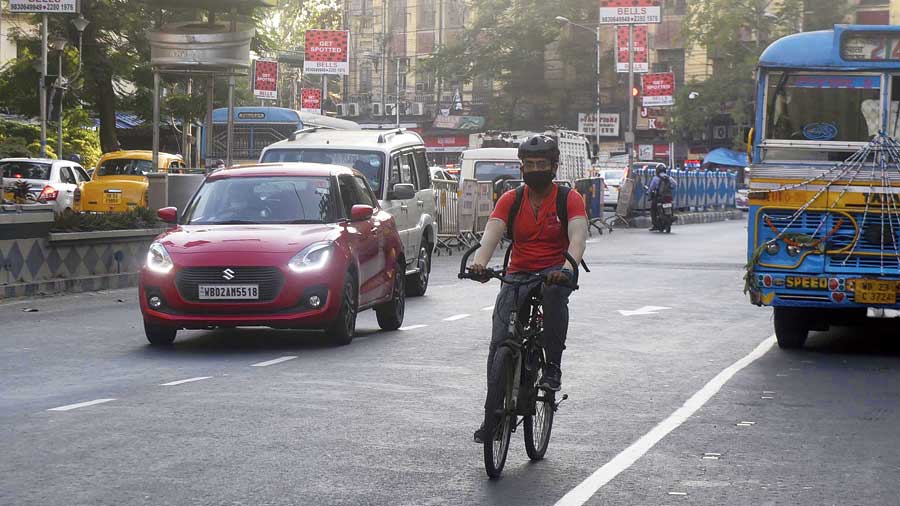 A cyclist on Central Avenue on Thursday afternoon.
Bishwarup Dutta
---
Calcutta
|
Published 18.09.20, 02:06 AM
|
---
Police have turned down a proposal to have dedicated lanes for cycles on some roads in Calcutta, arguing that such corridors will shrink the road space, slow down vehicles and lead to an increase in air pollution, a CMDA official said.
The CMDA had written to the police with a request for a meeting to fix the roads where a portion can be earmarked for cycles. Ever since the phased Unlock started in June, many people have chosen cycles as their mode of transport as it allows them to remain at a safe distance from others.
Across the world people have embraced cycles as a cleaner mode of transport. Many Calcuttans feel this was the opportune time to maximise the use of bicycles, but Calcutta police have a history of stonewalling efforts to introduce widespread cycling across the city.
Cycling is now allowed only in select lanes and bylanes in the city.
"We have replied to the CMDA. We have told them that their proposal is not feasible," said Rupesh Kumar, deputy commissioner, traffic, Calcutta police. Kumar did not want to elaborate on whether the police gave any other proposal to the CMDA and whether it was impossible to have dedicated lanes for bicycles at all.
A CMDA official said they had planned to use mobile lane markers or guardrails to carve out a portion of the road for bicycles. "The police said the shrunken road space would create snarls. The additional pollutants that will be released in the air because of extra burning of petrol and diesel, resulting from the snarls, will negate the positive impact of cycles," the CMDA official said. 
A Calcutta police officer with over three decades of experience in traffic management said allowing cycles on the city's thoroughfares was almost impossible given the unique problems Calcutta faces.
"No other city suffers from encroachment problems like Calcutta. All pavements have been taken over by hawkers, forcing pedestrians to walk on the road. Moreover, there are auto stands and parking zones along the kerbs of most roads. All these take up a portion of the road width. If more road space is taken away for cycles, only half the carriageway will remain free for buses, motorbikes, autos and cars. Traffic would come to a crawl," the officer said.
Chandigarh has dedicated cycle lanes on some roads. Bangalore, too, is making cycle lanes, said Sharif Qamar, a fellow at the Centre for Sustainable Mobility in The Energy and Resources Institute (TERI).
"In India, the stress is still more on moving motorised transport than moving people. While 50 per cent of the people rely on walking or cycling for movement, the space allotted for them is marginal. But private cars move only a fraction of people and they eat up the majority of road space," said Qamar.
A Calcuttan, who visited the Netherlands a couple of years back, said commuters need to follow certain etiquette if the roads are to have cycling lanes. "In the Netherlands, no pedestrian or motorised transport enters the lane for cycles," he said.
Some cyclists feel that instead of making lanes, the police should open all roads for cyclists. That would be a better promotion of cycling, they felt.
The unnecessary harassment of cyclists for riding on an arterial road must be stopped, they said. "I was stopped on Park Street on a Sunday recently. There is no logic behind not allowing a cyclist on Park Street. Even if there is logic, the police never say that in clear language. Respect a cyclist. Most cyclists ride along the side of a road, fearing for their own safety. It is a complete lie to call cyclists nuisance," said Sudipto Roy, a private company executive.