Police oppose cycling lanes, cite too little road space and chaotic traffic
Advocates of cycling, however, said the stubborn refusal by the city authorities to allow the lanes was promoting more fossil fuel-driven transport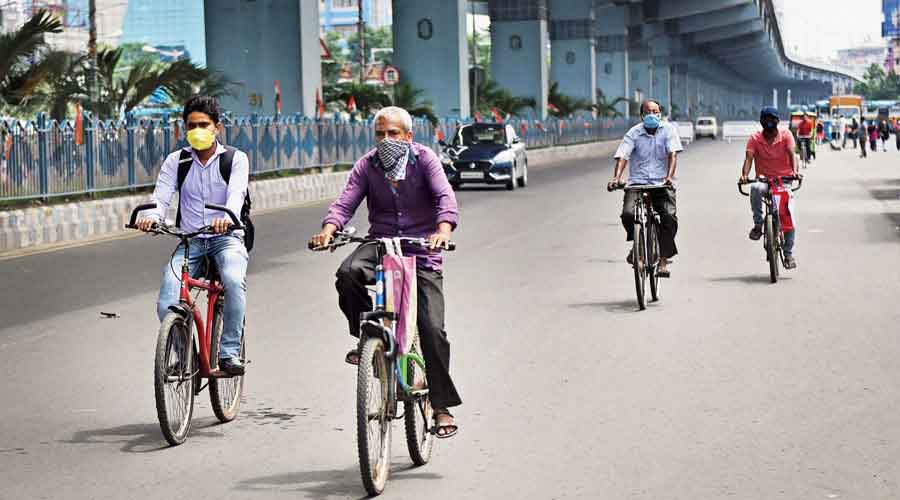 ---
Calcutta
|
Published 04.08.21, 02:32 AM
|
---
Calcutta is not among the 11 cities chosen for funding under a programme to promote cycling in urban India, though neighbouring New Town has made it to the list.
Officials of the state government who were involved in the process of applying for a competition to promote cycling said the Bengal capital lost it when its authorities refused to create lanes for cycles. The city's police have steadfastly opposed cycling lanes, citing too little road space and chaotic traffic.
A statement issued by the Press Information Bureau (PIB) in September said Calcutta was one of the 107 cities that had registered for the "India Cycles4 Change" challenge. But Calcutta could not progress further.
"We had registered according to the guidelines. We had also conducted a survey on the zones with more cyclists and who are the people cycling in the city. Then came a point where we needed to have lanes for cycles. We were to send proof of the lanes with cycles running through them. This is where Calcutta lost because no cycle lane has ever been created in the city," said a state government official who was part of the process.
At a recent meeting, the city police's top brass ruled out the possibility of creating cycling lanes for now at least.
A senior officer of Calcutta police told The Telegraph on Tuesday that the issue had to be "thought of from a practical point of view".
"Mumbai and Delhi have between 9 and 11 per cent road space, while Calcutta has about 5 per cent road space. Most of our major thoroughfares have roadside parking bays that have taken up a portion of the carriageway. It is almost impossible to create lanes for cycles from the available space. Moreover, different roads in Calcutta have different widths, which is another impediment towards creating dedicated cycle lanes," said the officer.
Advocates of cycling, however, said the stubborn refusal by the city authorities — primarily the police and the civic body — to allow cycle lanes was promoting more fossil fuel-driven transport.
"Cycle has multiple benefits from the point of view of health, climate and air pollution. There is also a question of equity involved here. If the authorities are concerned about preserving road space for motorised transport, it in a way encourages more people to buy cars. The poor and the lower-income group will feel that the government is not thinking about them. A car costs lakhs while most cycles are available in the range of Rs 4,000-Rs 5,000," said Sharif Qamar, a fellow at the Centre for Sustainable Mobility in The Energy and Resources Institute (TERI).
Another cycling advocate said the policies of successive governments had always benefited the owners of private cars. When roads get congested, the government invests crores to build flyovers that are again reserved only for private cars, they said.
The Calcutta Municipal Corporation (CMC) has kept its parking rates unchanged since 2015, which, too, incentivises purchase of cars.
A recent development had kindled some hope for cycling advocates — Calcutta's police commissioner Soumen Mitra was spotted cycling across the Maidan area to review security.
But officers said the maximum the police would allow was a bar on motorised transport in the Maidan area on one day or one morning in a week.
Cycling advocates said it would only promote recreational cycling and not serve the needs of those who use cycles as their mode of transport.
Calcutta's loss stands in contrast to New Town's win. An official of the New Town Kolkata Development Authority (NKDA) said they had submitted their short, medium and long-term plans for cycling, along with what was being practised now. Entry among the top 11 means New Town will get funds to create cycling infrastructure.