Govt committee to explore setting up of cycle lanes
The police recently turned down a plea to have such dedicated demarcated lanes in Calcutta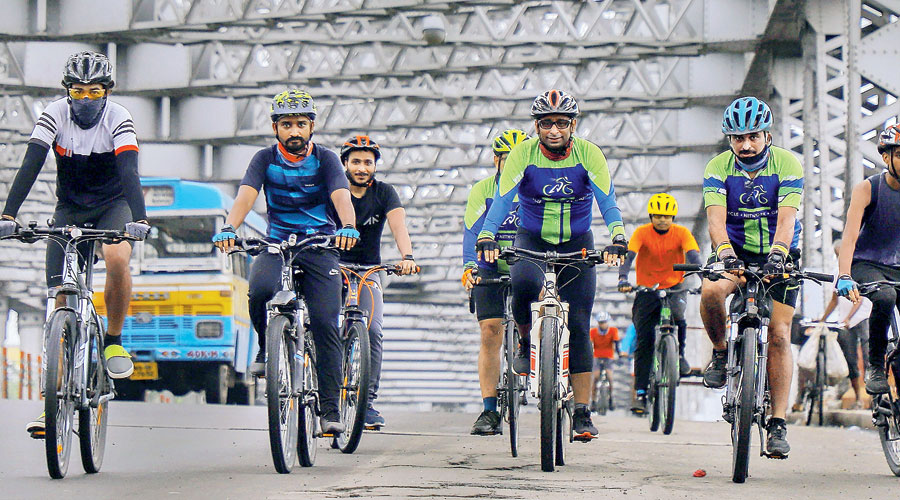 ---
|
Calcutta
|
Published 23.09.20, 02:17 AM
---
A committee of government officials and an external expert has been set up to explore possibilities of creating dedicated cycle lanes in the city and among its members is a representative of the city police, officials said.
The police recently turned down a plea to have dedicated cycle lanes in Calcutta. However, on Tuesday, Santosh Pandey, the joint commissioner (traffic) of Calcutta police, said they were not shutting the door on the proposal to have cycle lanes. There were challenges in carving out space for cycles on existing roads but a plan can be worked out if all stakeholders chipped in, he said.
Among members of the committee are a professor of IIT Kharagpur, who is also an urban transportation specialist. Representatives of the Calcutta Municipal Corporation, Calcutta Metropolitan Development Authority, transport department, Hooghly River Bridge Commissioners, environment department and Calcutta police are the other members.
"We are ready to explore possibilities of having cycle lanes on city roads. We are not completely shutting out the proposal. Let suggestions come," Pandey said.
"There are issues like parking along the kerbs. The CMC has to think about it if cycle lanes are to be created next to the pavement."
Metro had on Friday reported that the city police had turned down a proposal from the CMDA to have dedicated lanes for cycles. Pandey's statements on Tuesday signalled a shift from the police's earlier stand.
Cycles have become the preferred mode of transport for many people since the Covid-19 pandemic began as they allow people to maintain a safe distance from others, something that is not possible in buses or autorickshaws.
Cycles are being promoted across the world as a cleaner and greener transport that can help reduce carbon emissions as the world braces to combat the impact of climate change.
In Calcutta, however, most roads are out of bounds for cyclists. "Cycles are allowed in lanes and bylanes, not on arterial roads," an officer said.
Critics of this policy said this was absurd as no one one would be able to reach their destination on a cycle if most roads are out of bounds for cyclists.
Satanjib Gupta, the "bicycle mayor" of Calcutta, said: "Ours is the only city in India where there are restrictions on cyclists on arterial roads. Even a congested city like Mumbai has no such restriction."
"Bicycle mayor" is an honorary position given to cycling enthusiasts by a Netherlands-based organisation named BYCS, which promotes cycling across the globe.
Forty-four Indian cities have bicycle mayors, said Gupta.
Faridabad, he said, has carved out space from roads for cycles. "They did it about a fortnight ago. The information was shared in our network of cyclists. If they can do it, why can't Calcutta?" asked Gupta.
Sathya Sankaran, the bicycle mayor of Bangalore, said: "17km of road length in the tech town is getting dedicated cycle lanes. Besides, cycle lanes are being carved out along 30km of road length in the Vidhan Soudha-Raj Bhavan area."
Roads where cycle lanes are being created are all wider than 15 metres. In narrower roads, bicycles share space with all other modes of transport, he said.