Plea in Green Tribunal against stubble burning
City lives largely affected due to various air borne diseases, says environmentalist Subhash Dutta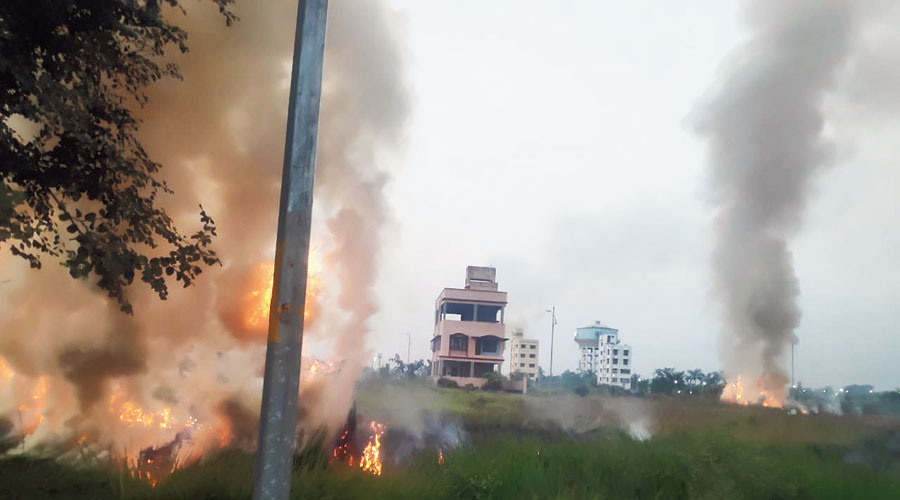 ---
---
On Wednesday, environmentalist Subhas Datta filed a public interest litigation before the eastern zone bench of the National Green Tribunal, alleging large scale crop residue cum stubble burning in various parts of the state, including New Town, triggering significant air pollution. The case is expected to be heard soon.
"In West Bengal every year after the kharif crop is harvested in October and November… stubble burning becomes rampant throughout the state for which the city lives become miserable due to various air borne diseases" wrote Datta in his affidavit, a copy of which is with The Telegraph.
"The stubble burning is not limited in the districts only, it is largely being practised … in New Town Action Area II", further wrote Datta attaching several photographs of such burning and even spots being blackened with such burning.
"It's a matter of real concern and shock that the unbearable air pollution level in our city is accelerated due to such stubble burning," added the activist while pointing out that large scale burning happened on November 25 at the land earmarked for and fenced for construction of Calcutta High Court complex at New Town.
According to locals, stubble burning in vacant plots has become a menace in New Town for about a month. It has added high level of toxic particulate and gaseous pollutants over and above the already deteriorating air in the area, a common phenomenon during winter.
According to PCB sources, the automatic air pollution measuring station in Bidhannagar, closest to New Town among the automatic stations, recorded an Air Quality Index (AQI) value of 357 at the stroke of midnight on December 1,which falls under the 'very poor' category.
According to the Central Pollution Control Board, people exposed to such air for a prolonged period can develop respiratory illness. "Often plastic is burnt along with the stubble, which makes the fume even more toxic," said Krishnajyoti Goswami, a resident of Alaktika Housing Complex in Action Area IID. "On Tuesday, a fire blazed for an hour and did extensive damage. The benefit of desisting from bursting fire crackers this Diwali is being frittered away through this pollution," said Ranadip Basak of Mahua Madhabi, in Action Area IIB.
Debasish Sen, chairman of NKDA, said that they had placed notices on vacant plots asking people not to light fire on the grasslands and stubble. "We have not yet been able to find who have been starting the fire," said Sen, adding that they had formed watch groups to locate the offenders.
A recent project by the National Environmental Engineering Research Institute (NEERI) on Calcutta's air pollution has not carried out any study on specific impact of stubble burning on the city's air pollution but found that open burning is responsible for about three per cent of PM 10 pollutants and seven percent of PM 2.5 pollutants in the city air.
PM 10 and PM 2.5 are fine particulate pollutants, the latter being tinier and hence more penetrative and potent. These can enter the deep crevices of the respiratory system and trigger several diseases.