Platinum rating for New Town
The authorities have worked on pushing new buildings to adopt rainwater harvesting and they are building infrastructure for cycle lanes and electric vehicles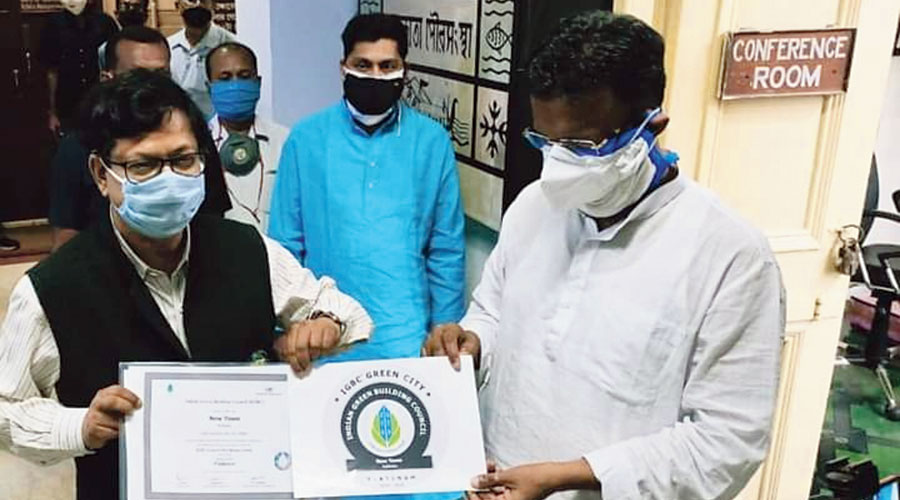 ---
Calcutta
|
Published 04.09.20, 03:25 AM
|
---
Two years after it won gold certification for being a green city, New Town has achieved platinum — the highest level of certification awarded by the Indian Green Building Council (IGBC).
The IGBC is a part of the Confederation of Indian Industry (CII). Formed in 2001, it rates cities as well as buildings, schools, healthcare centres etc on their eco-friendly quotient and had in September 2018 had conferred on New Town a gold certification - the second highest level after platinum. The news was reported in The Telegraph Salt Lake on September 25, 2018.
Since the authorities have worked to fill up the lacuna and improve their standing.
"We had applied for the certification last year and they began a series of reviews, making observations and recommendations for us to implement. It all happened before the lockdown," said  Debashis Sen, chairman cum managing director of Housing and Infrastructure Development Corporation (Hidco) and chairman of New Town Kolkata Development Authority (NKDA). Sen last week presented a copy of the certificate to state urban development minister Firhad Hakim.
The authorities have worked on pushing new buildings to adopt rainwater harvesting and they are building infrastructure for cycle lanes and electric vehicles. "Parking lots are now required to reserve two per cent space for electric vehicles, we have entered a public-private partnership with a group called EESL (Energy Efficiency Services Limited) whereby they set up and operate e-vehicle charging units at eight places in New Town while paying Hidco a percentage. The project has been successful and they have asked for two more plots for stations," said Sen.
They have also worked to make their pavements wheelchair-friendly and they are developing India's first Sensory Park for differently-abled children.
New Town also scored well due to its waste management and segregation system and the upcoming eco-friendly modes of transport like the Metro and monorail.
The only other cities to have received platinum certification from IGBC so far are Chennai, Amravati in Maharashtra and Rajkot and Dholera in Gujarat. The certification is valid for five years. "The platinum certification is the Everest of mountains. There's no higher peak to scale," says Sen. "But we shall continue to improve on our practices,"  promised Sen.
saltlake@abpmail.com