Plant on empty plots, offer trees for adoption
Strategies devised to replenish the green cover in New Town and neighbouring Sector V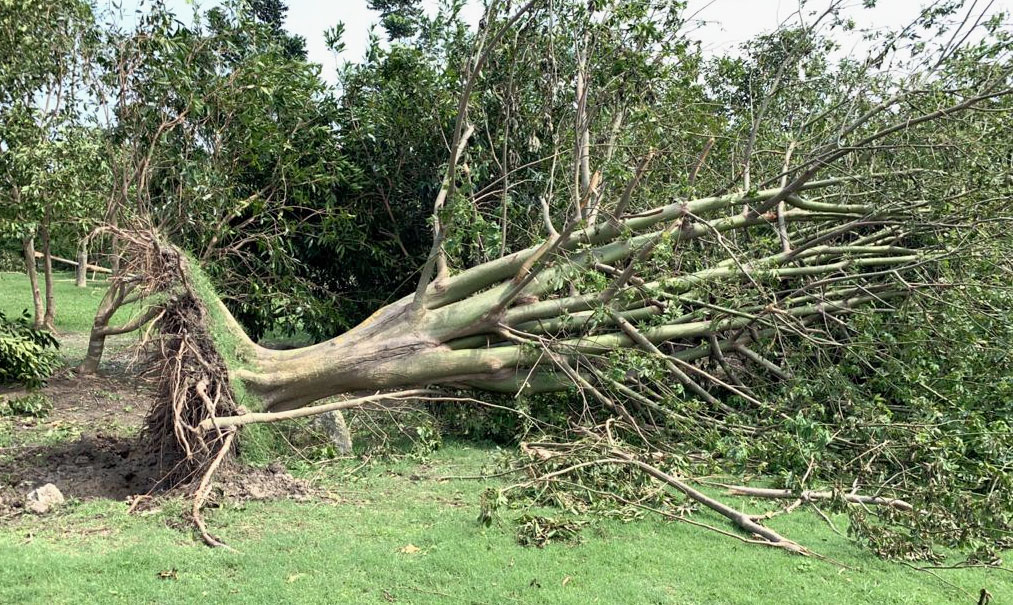 ---
---
New Town Kolkata Development Authority (NKDA) is approaching owners of empty plots to allow the use of their land for plantation till they need to use it themselves. Similar requests will also be made by Nabadiganta Industrial Development Authority (NDITA) in Sector V.
This is one of the strategies devised to replenish the green cover in New Town and neighbouring Sector V that was damaged by cyclone Amphan.
According to an official survey, 4,647 trees got damaged in the township on the fateful night of May 20. Though 3,738 of them could be restored, the target now is to plant 10,000 trees to compensate for the loss.
"There are a lot of unused empty plots which are overgrown with parthenium and other weeds. Garbage gets dumped there and they become breeding grounds for mosquitoes. There is no point cleaning them as the weeds are back in no time. We are writing to the owners to let us plant trees there. When they need to build on the plot, we will harvest or remove the trees. This will increase our green cover significantly," said Debashis Sen, who heads NKDA, NDITA and Housing Infrastructure Development Corporation (Hidco).
While Hidco owns the land in New Town, in Sector V it is the urban development department that is the owner of the land. "I have already sent the proposal to urban development minister Firhad Hakim and secretary Khalil Ahmed. It will not be a profit-making venture but problems like dengue and asthma arising out of these plots can be fruitfully tackled this way," he said. Parthenium pollens trigger allergies like contact dermatitis and hay fever and also cause respiratory distress in bronchial asthma patients.
The Central Reserve Police Force (CRPF) is likely to associate in the plantation drive. "We will also approach nurseries, schools and residents' associations," he said.
NKDA has also asked the forest department for 10,000 saplings. "We are asking only for tall trees as that is the chief minister's directive. The chosen trees include guava and pomegranate. You can mature them and cut them when needed," an NKDA official said.
Another plan is to ask residents' welfare associations and corporate houses to adopt trees in their neighbourhood and maintain them. "They can have their names put up on them, as per our format, without using nails."
They are also being asked to plant trees. "We are recommending tall trees. We will provide land for plantation or they can do it on their own land but only after authentication from us on the basis of microplanning," Sen said. According to sources, architect Anuradha Rathore has been asked to prepare a draft paper.
A senior forest department official confirmed receiving a request for technical knowhow and supply of planting material from Hidco. "We have adequate stock of aged saplings. They have to tell us the age they want," he said. The department runs the Tall Tree Nursery in Action Area 1 as a joint venture with Hidco.
Pointing out the necessity for planned plantation, he spoke of the landscaping the department had done on the Bypass from Chingrihata to Garia in the winter of 2016. "We planted palm trees and other short canopy varieties. A few may have got bent but not a single one got uprooted in the cyclone," he said.
He also pointed to the tunnel effect created by highrises in places like New Town. "The wind speed will be multiple of what it is elsewhere in some parts of the gated communities. You have to keep these factors in mind and go for short canopy dwarf varieties in such places."
The New Town authority is targeting Forestry Week, starting July 14, to go big with the project.