From litter dump to theme park
As a tribute to Satyajit Ray, it has been themed after the ace filmmaker's immortal literary creation -- Professor Shonku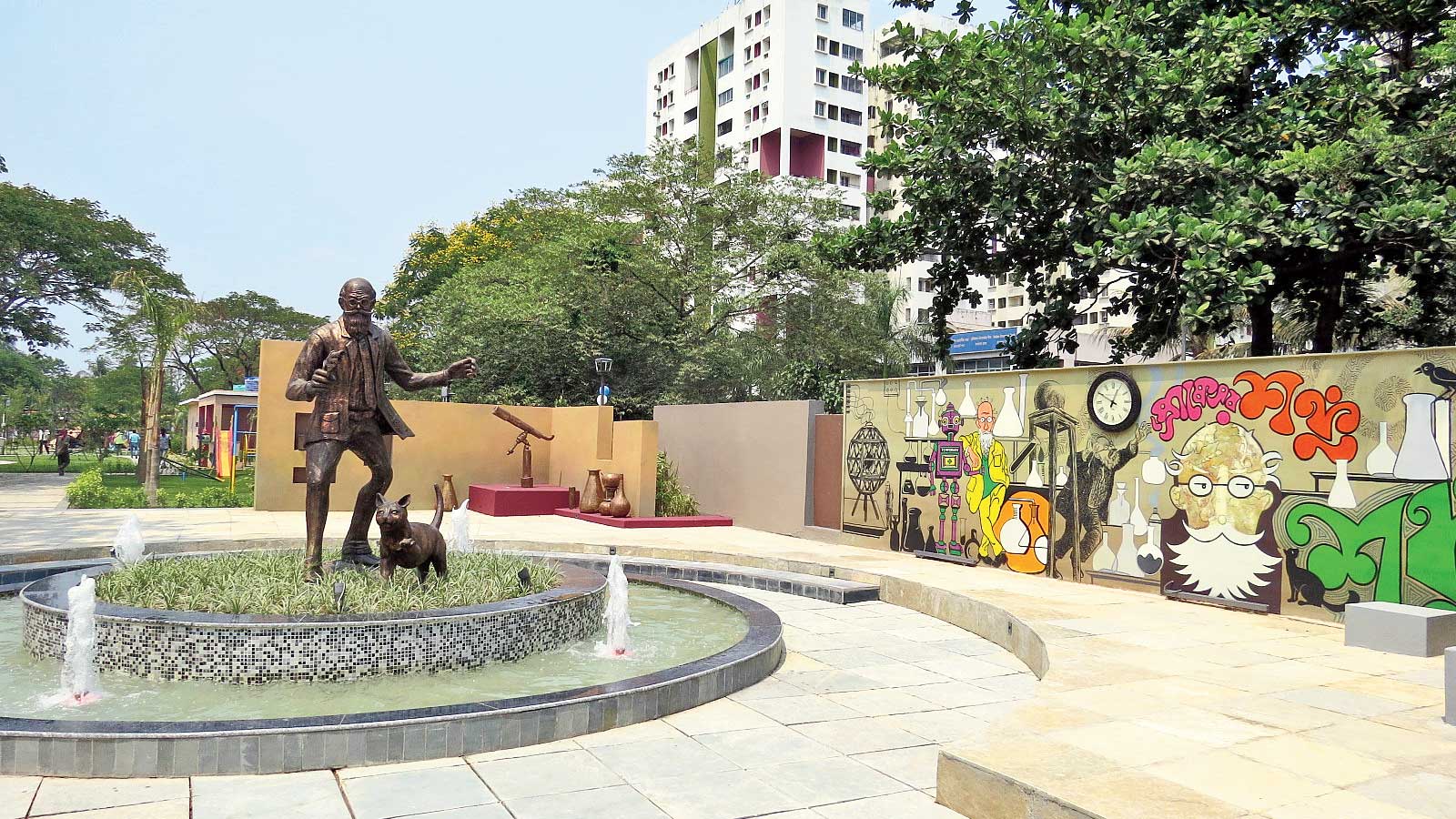 ---
Salt Lake
|
Published 07.05.21, 06:35 AM
|
---
On May 1, a day before Satyajit Ray's birth centenary, New Town paid a picturesque tribute to the master artiste. A landscaped park was inaugurated behind City Centre 2 with Ray's immortal literary creation, Professor Shonku, as the theme. The park, however, is not being opened to the public yet due to Covid restrictions, just as all other parks of New Town are shut.
"This area is on the boundary between New Town and Rajarhat. This strip of land, measuring a bit less than two acres, was a plastic recycling zone of the Bidhannagar Municipal Corporation (BMC). We used to get complaints from the highrises across the road (Uttara housing complex), about the dump emitting foul smell. We spoke to BMC to shift to an adjacent space where they plan to set up a compactor and created space for the park," said Debashis Sen, chairman of New Town Kolkata Development Authority.

A design competition was held some months before the lockdown last year. Landscape architect Sujoy Das of Inscape Design Studio, which won the contest, recalled how the place was a low-lying swamp which used to get inundated in monsoon. "There was land filling to raise the level by about four feet. We have been working on the park for the last two months. Quite a lot of work is still left," he told The Telegraph Salt Lake.
Straight from the pages
On stepping into the park, one comes face to face with a 10ft statue of the scientist from Giridih in the middle of a fountain. In his hand is his invention, the annihilin, a pistol that can obliterate any living thing. At his foot is his pet cat Newton. "It is made of fibre glass but we have given it a metallic bronze finish," said Das.
To the right, a composition has been created using parts of Ray's sketches in the Shonku books. In the middle, hangs an actual clock.
To the left is a partially enclosed space where scientific instruments like microscope, beaker, weighing scale etc. are placed in gaps in the wall. This represents Shonku's laboratory. At a corner sits Bidhusekhar, his robot.

The next segment has a mound which needs to be climbed to take one to an elevated meditation space next to a globe. "This is inspired by the magical sphere mentioned in Golok Rohoshyo. It will glow with white light at night, like the sphere did in the story," Das said. One side of the mound has steps to seat over a hundred people. "One gets a panoramic view of flights landing from here," he said.
Other figures like a dinosaur and extra-terrestrial figures also abound on walking further up. A gallery space enclosed on three sides at the far end has acrylic wall paintings replicating actual sketches of Ray.
A play area for children has five planets perched on stands. "A cafeteria and a toilet will come up here as will three more galleries," Das said.
Architect Partha Ranjan Das, a member of the Ray Society who was a guest at the inauguration, suggested opening a souvenir shop of Shonku memorabilia.
New Town already has a park titled Sonar Kella Udyan in Action Area 1, featuring Feluda, Jatayu and Topse in course of their desert adventure. Another park on the theme of Ray's film Apur Sansar is also in the pipeline in the township.