Petrol price breaches Rs 100 mark per litre across city, essential items become costlier
Price curve intensifies struggle in virus aftermath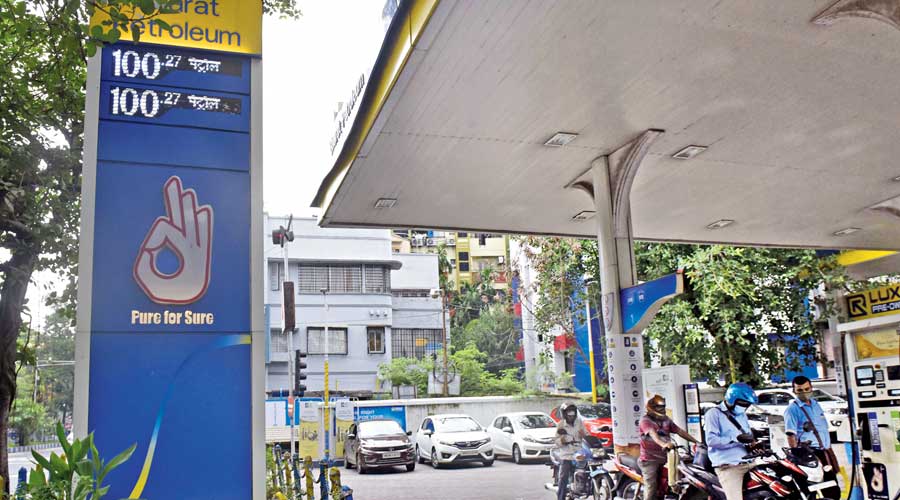 The petrol price displayed at a fuel station in Dhakuria on Wednesday.
Picture by Sanat Kr Sinha
---
Calcutta
|
Published 08.07.21, 02:25 AM
|
---
The price of petrol breached the Rs 100 mark per litre across city pumps on Wednesday.
But it's not fuel price alone that is burning a hole in the pockets of people. Over the past year and a half, the prices of several essential items have shot up to an extent that tens of thousands of households have their backs to the wall (see chart).
From eggs to milk to pulses and edible oil, items that are part of everyday lives have become far costlier than they were just before the start of the pandemic. The price rise hits harder because the virus has robbed many of their income and stalled the income of many more. "I used to spend around Rs 2,500 per month on groceries before the pandemic. Now, the bill has shot up to around Rs 4,000. My consumption has not increased. We are still three people," said Debasree Chatterjee, 32, a Tollygunge resident.
Chatterjee lives with her husband and a seven-year-old daughter. Her husband works in the automobile sector and she runs a bakery from home.
In February 2020, she bought eggs at Rs 4.50 apiece. Last Sunday, the price was Rs 7 apiece.  Half a litre of milk cost her Rs 22 in February 2020. The same thing comes at Rs 26 now.
"Most of the items that are needed every day have become so much costlier. Our income has not gone up but the expenses have jumped manifold," she said.
Angshuman Boral, a 58-year-old Behala resident, has been finding it hard to manage the grocery expenses of his large family. He lives with his wife, son, daughter-in-law, two grandchildren, an unmarried sister and a 24X7 domestic help.
"My monthly grocery bills have been crossing Rs 7,000 for several months now. Two years ago, it used to be between Rs 4,500 and Rs 5,000. Even rice and pulses have become so much costlier," said Boral.
The sole source of the family's earnings is an electrical hardware store in Behala, which is managed by Boral and his son.
Just before the pandemic, Boral used to buy regular Banskathi rice for Rs 40 a kilo. The same rice now costs him Rs 55 a kilo.
"We have almost stopped having mutton and costly fish. But the way things are turning out to be, even daal-bhaat (rice and lentil) is proving to be challenging," said Boral.
Grocery store owners said their hands were tied because they were having to buy stuff from wholesalers and distributors at a much higher rate than before.
Krishna Saha, who runs a grocery store in Garia, sells a litre of mustard oil at around Rs 200. He used to sell the same at Rs 140 a litre in February 2020.
Back then, he used to buy a litre of mustard oil at Rs 120. Now, the distributor charges Rs 185.
"The Rs 15 margin is not all mine. I have to take care of carry-bags, credit to some customers and, occasionally, the transportation cost from the distributors' godown," said Saha.
Usually, he does not need to pay for transportation. But on occasions when he needs an urgent replenishment or during an emergency, like the lack of transport options during the strict Covid curbs, he has had to arrange for the transport.
The buying pattern of people has also changed because of the surge in prices, said some grocers.
"A customer who would take a crate of eggs at one go earlier is taking a dozen now. Another customer who used to buy two kilos of ghee a month has been buying one kilo now," said Biswajit Saha, the owner of a grocery store on Hindusthan Road.