Patchwork to cover potholes before Durga Puja
This year, this will be the first repair for many roads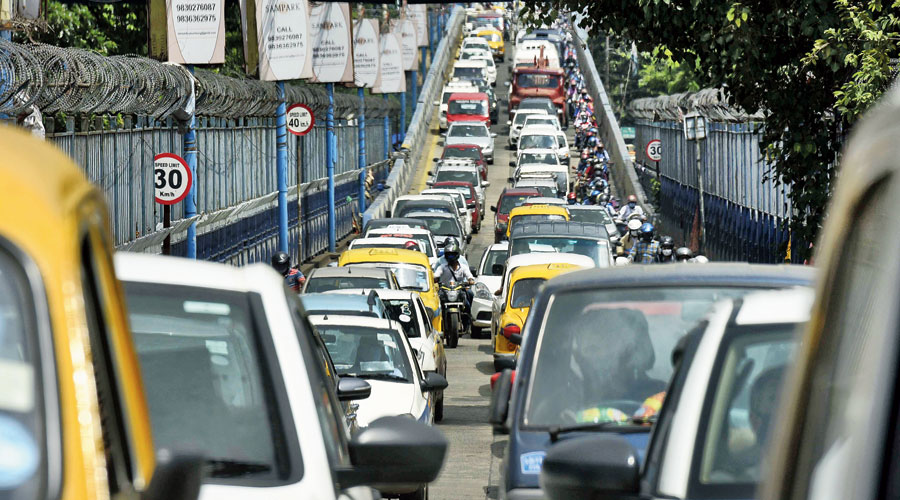 ---
|
Calcutta
|
Published 16.09.20, 04:36 AM
---
Damaged roads in the city will get a coat of patchwork before Durga Puja and the Calcutta Municipal Corporation has asked all agencies to complete the work by October 15, a civic official said.
Repairs before Durga Puja are an annual affair — one of the two times in a year when battered roads get somewhat healed. This year, though, this will be the first repair for many roads. No repair could be carried out before the monsoon because of the lockdown, the official said.
The patchwork will provide a temporary cover to craters and potholes on roads. Such repairs do not last beyond a few months, according to civic engineers. It is even less if it rains.
"All agencies who maintain roads in Calcutta were present at a meeting on Tuesday where it was decided to carry out the repairs. They have been asked to complete the repairs by October 15," a CMC official who was present at the meeting said.
"Besides the CMC, officials from the public works department, the Calcutta Metropolitan Development Authority, the irrigation department and the Calcutta Port Trust were present at the meeting."
People have WhatsApped pictures of various potholed roads to Firhad Hakim (8335988888), the chairman of the CMC's board of administrators.
Police, too, have sent a list of roads where repairs are necessary and one more list is awaited. The traffic guards are preparing one more such list that will be given to the CMC, a police officer said.
A 150m stretch of the Garia-bound flank from Calcutta International School to the Ruby crossing is in poor state, Chandan Banerjee, a New Garia resident, said.
Banerjee takes the Bypass every day to reach his office near Esplanade. There are multiple craters and cars often brake suddenly to avoid a crater, raising the chance of the vehicle behind to crash into it, he said. "It is all the more difficult for two-wheelers and things worsen if it rains. Visibility drops during heavy rain and trying to negotiate a crater is risky."
At Tuesday's meeting, an embargo was imposed on any project that will lead to digging roads from October 1 till Kali Puja, a CMC official said.
All agencies will have a lot to do because many roads were not repaired before the monsoon, a CMC engineer said. The period between March and May is used to repair roads as this is a dry phase. But skilled hands were unavailable and moving material was difficult because of the lockdown. As a result, little work could be done, the engineer said.
"There will be more work this year than previous years. There is already a backlog of roads that could not be repaired… the rain has further worsened their condition. So, carrying out repairs will be more difficult," he said.
Also, patchwork has its own disadvantages. It doesn't stay for long. The friction caused by the movement of vehicles wears away the repairs within a few months. If it rains, the life of a patchwork gets further shortened, the engineer said.