Pandal-hoppers take over Navami night in Calcutta
Several puja organisers had said on Sunday that they were expecting more people at night and the anticipation turned out to be true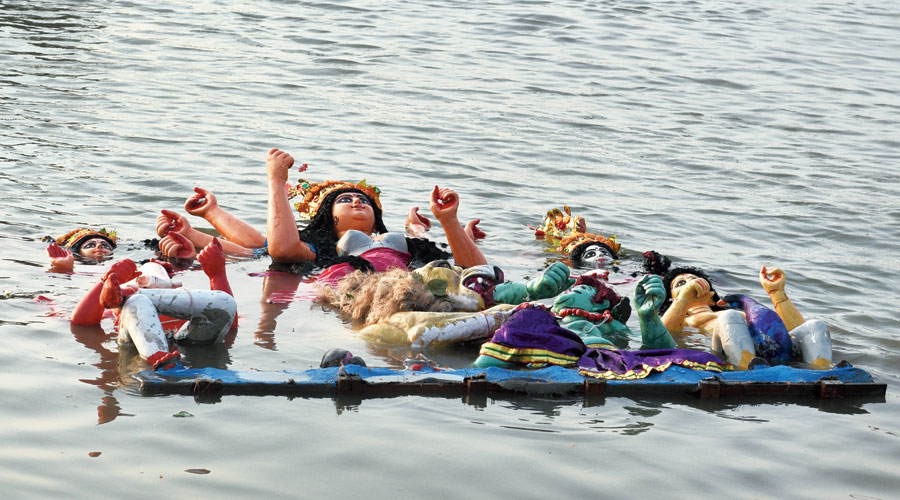 ---
|
Calcutta
|
Published 27.10.20, 12:13 AM
---
Navami night was the most crowded this year, several puja organisers in the city said. But Dashami afternoon and evening was conspicuously empty, police said.
Several puja organisers had said on Sunday that they were expecting more people at night and the anticipation turned out to be true.
Pratik Choudhury, one of the organisers of Dum Dum Park Bharat Chakra, said there people were headed for their pandal till 4am on Monday.
Partha Ghosh, an organiser of Shib Mandir Sarbojonin, said people came throughout the night.
Two Calcuttans who had stepped out on Navami night had a similar take. A woman in her 30s went to a friend's place from Salt Lake to Tallah and it took her more than 50 minutes, which is more than what it takes her on a normal weekday.
A man in his 40s found a 200m-long queue of people along Bidhan Sarani waiting to approach the pandal in Kashi Bose Lane. "The organisers ensured no crowding at the barricades outside the pandal. They stopped people from approaching the pandal accordingly; but in the process a queue formed leading to the puja," the Gariahat resident said.
"There was a good turnout on Sunday night and it extended till early on Monday. There were people at the barricades outside our pandal even at 4am," Choudhury of Dum Dum Park Bharat Chakra said. "This is the largest number of people we had on a single day during Durga Puja."
Ghosh of Shib Mandir Sarbojonin said a steady stream of people walked past the pandal throughout the night.
Shib Mandir Sarbojonin built their pandal in such a way that visitors could see the idol from beyond 10m, Ghosh said.
Calcutta High Court had declared all Durga Puja pandals no-entry zones. No visitors should be allowed inside a pandal, the court had said and ordered barricades to be fixed five metres from the entrance for small pujas and 10m from the entrance for big pujas.
A city police officer said 1,754 idols were supposed to be immersed between Monday and early on Tuesday. "This is excluding the idols worshipped in pujas organised at homes. The roads are completely empty. Every year, hundreds of people line up along the roads to watch immersion processions. There has been almost none this year. Immersion processions have been banned as a measure to prevent the spread of Covid-19."
Organisers as well as police officers said most puja committees had planned to complete the immersion by Ekadashi (Tuesday).
The state government's decision to not organise the annual immersion carnival on Red Road was the main reason behind most puja committees wanting to immerse the idols earlier than usual, according to police officers.
"The idols of all big-budget pujas in the Gariahat-Dhakuria area will be immersed by Tuesday. In fact, barring a handful of big-ticket pujas, most idols were immersed on Monday," an officer said.
A puja organiser said committee members wanted to stay at home for now. "We had to spend a lot of time outside for the past four-five days. So, we would not want to expose ourselves to more people in the coming days."