Oxygen support flows in at Mission Shas
Concerted efforts a citizens' forum, social sector and private enterprise has resulted in the launch of a free community-based Covid isolation centre in New Town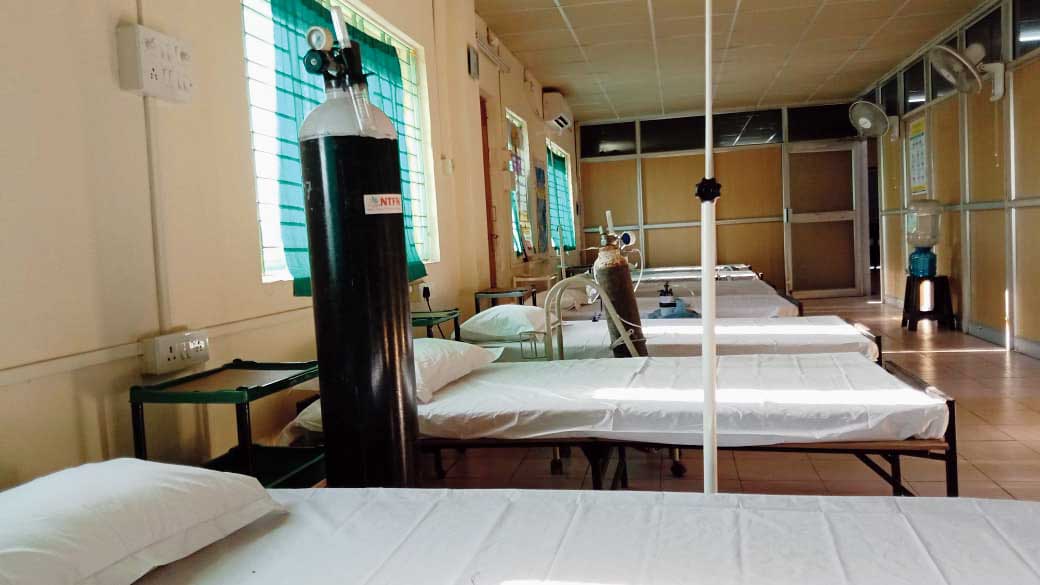 ---
Salt Lake
|
Published 28.05.21, 04:04 AM
|
---
A joint initiative of a citizens' forum, private enterprise and the social sector has resulted in the launch of a free community-based Covid isolation centre with oxygen support in New Town. While two residential complexes — Hiland Willow Conifer Beech and Elita Garden Vista — have built such centres earlier this month, those are for their own use.
The New Town Kolkata Development Authority (NKDA) has allowed Offer, an NGO which runs homes for underprivileged and HIV-affected children, to use the two-storeyed structure in Action Area IID, near Tank 12, at a nominal cost. The building was last year used by NKDA as a safe house and more recently this year as a Covid vaccination centre.
Offer has joined hands with Grey Mind Communication, International Institute of Hotel Management (IIHM) and New Town Forum & News (NTFN), a social welfare organisation formed by residents of the township.
Many donors have come forward with help in the project named Mission Shas. Indorama Ventures has donated 25 oxygen concentrators. Sourav Ganguly Foundation and Arijit Singh have donated two concentrators each.
"We thought of starting such a facility as we were all receiving calls for help with oxygen. We had approached NKDA for space. We were shown this building which was lying ready the very next day," said Anilava Chattapadhyay of Grey Mind Communication.
At the free oxygen transit facility, rooms on the first floor have been divided into male and female wards, with 15 and 10 beds respectively. "The wards have three rooms each. While Covid positive users can be in the same room, for those having breathing trouble without a Covid test report, we have created segregated compartments with oxygen support in two rooms for use as isolation centres," said Samaresh Das, chairman of NTFN. 
Two doctors will come on rounds. Nurses, ward boys and a staff co-ordinator are posted at the facility.
Food is also free, courtesy IIHM. "While some are reviving in hours, others are needing to stay on for more than a day.The meals are going from Indismart, our hotel on the IIHM premises," said Suborno Bose, chief mentor of the Indismart Group who, with his doctor friend Subhankar Home, has pitched in with infrastructural, medical and financial support for the project.
The air-conditioned facility opened on May 20. Six people used it in the first couple of days, including a resident each of Birati and Salt Lake. Two needed hospitalisation while four went home after being revived by the support.
To avail of the facility, one can get in touch at 9836687889 and 9831839683.
Breath aid at doorstep
Residents of New Town should not lack oxygen at home, with NKDA starting a Duare Oxygen scheme. "We started with two concentrators on Monday. On Tuesday, we got four more concentrators from a donor. More have been promised. The service is meant to alleviate breathing distress for a few hours," said NKDA chairman Debashis Sen.
Five people used the service in the first two days. "We are getting calls from Salt Lake and South Dum Dum Municipality areas as well but are having to politely decline as the service is for New Town residents," Sen said.
The service can be availed by calling the NKDA helpline 18001037652.