Overseas freeze on idol orders
The idols are usually dispatched by April-May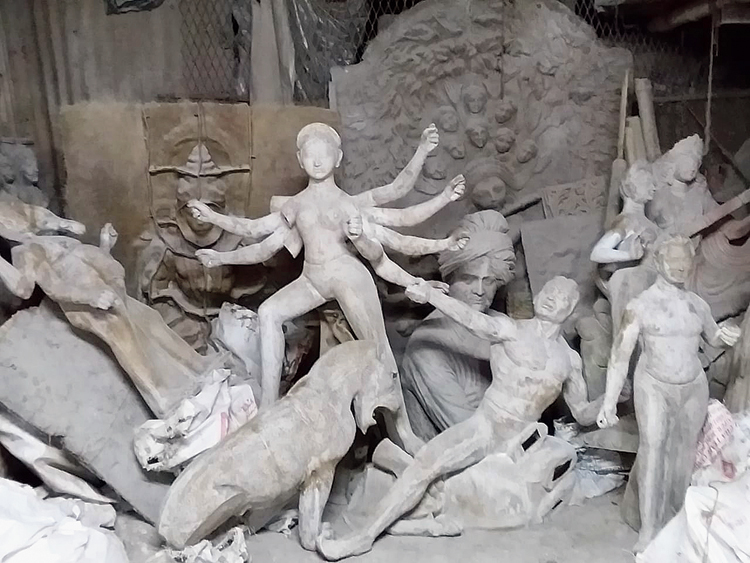 ---
|
Calcutta
|
Published 26.04.20, 09:02 PM
---
The coronavirus has struck in the city's idol-making hub, too, with overseas orders for Durga idols either cancelled or put on hold.
The Puja rush would already have begun at Kumartuli in any other year with artisans putting finishing touches to idols before they travel abroad.
The idols are usually dispatched by April-May but this time they remain half-done in the studios, artists said.
More than 100 idols, many of them made of fibreglass, leave the Kumartuli studios for the UK, the US, Dubai, Australia and China every year.
Several orders were cancelled, after initial bookings in the beginning of the year, even before the artists could start work.
"I had received two orders in January, one for Austria and the other for the UK. The UK order has been cancelled and the one for Austria is on hold as the organisers are still undecided," said Mintu Pal, an artist in Kumartuli who has been sending idols abroad for close to 10 years.
Mintu Pal had started work after receiving a portion of his remuneration in advance. "We don't know what will happen now. The idols are lying incomplete. Usually, I finish work for the international orders by April and dispatch them because it takes at least three months to reach the destination," he said.
It is only after the overseas idols are finished and sent that the artists concentrate on local orders.
Several artists said orders from puja committees in the city, too, have not been confirmed yet.
Idol-maker Narayan Chandra Rudra Pal received a few calls in January from puja committees in the US but none of them followed up.
"They did not call back and it has to be because of Covid -19. It has affected the business in Kumartuli. By now most of our foreign orders are usually complete or on the verge of completion," he said.
China Pal she had received a request from the US last November for an idol there. "Two women stayed with me for a week for training. They had said they would contact us for the puja in 2020. But nothing materialised," she said.
An order China Pal's team received from Kochi has also been cancelled. "I had sent them an idol last year. This time, they placed the order in January but a few days into the lockdown they called and said they had decided to get an idol made locally," China Pal said.
An engineer in Calcutta who coordinates with Kumartuli for a puja organised by friends in Trinidad and Tobago said there have been few enquiries this year.
"Usually I coordinate for five-six puja committees who want an idol from Calcutta. But this year so far there has been only one, from Port of Spain," said Partha Pratim Mazumdar.
Anindya Pal, a software professional in Calgary, told Metro that the situation was different this year.
Kumartuli artisans are not sure about the scale of the pujas in the city this year.
Only a few organisers have booked idols so far. "We have received barely 10 to 20 per cent of our usual quota of orders this year," an artist said.
In the absence of orders, many in Kumartuli are banking on ration from do-gooders for a meal. At least one of them said that he will take orders only on receiving an advance in fear of losses.