Options for Bengal, post-SC order
State likely to use the 17,000 common service centres for writing tests online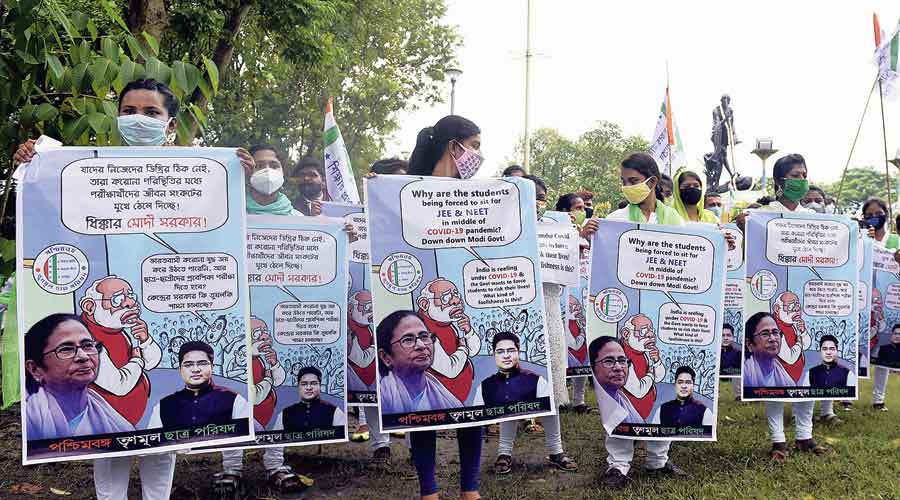 Supporters of the Trinamul Congress Chhatra Parishad protest on Mayo Road on Friday the Centre's decision to hold NEET and JEE-Main
Sanat Kr Sinha
---
Calcutta
|
Published 29.08.20, 02:49 AM
|
---
The education department may explore the option of holding exams in common service centres, set up by the state JEE board to enable engineering aspirants to attend counselling, for the final-year undergraduate and postgraduate students, sources in the department said.
The Supreme Court's order on Friday upholding the UGC's July 6 directive on conducting exams for the final-year batches has forced the department to consider ways to evaluate the students. 
The apex court set aside the pleas of several states, including Bengal, that students be assessed based on the results of previous semesters and internal assessment amid the pandemic.
"Using the 17,000-odd common service centres, which the state JEE board has created across the state for students without Internet connectivity at home to upload documents and take part in online counselling, might be an option for writing tests online," said an official of the department.
"It will not be prudent for students to travel to colleges and universities to write pen-and-paper tests in October, given that Covid-19 cases are likely to rise before Puja. We are wondering whether these centres can double as venues where the final-year college and university students can write tests online." 
The state panchayat and rural development department runs Sahaj Tathya Mitra Kendra across the state to promote e-governance among rural people. "These facilities, too, have Internet connectivity. They, too, can be thought of as venues for writing exams that would be bare minimum in nature, as the chief minister has suggested," said a vice-chancellor.
But one VC warned that a vast section of the students are not conversant with writing any online test and they need to be trained if these facilities are to be hired as venues for writing the tests.
"The state JEE board had uploaded manuals in Bengali to guide engineering aspirants on how to take part in the process for several days. A similar kind of exhaustive training has to be started for college and university students at the earliest," said a VC. 
Education minister Partha Chatterjee is likely to hold a meeting with the VCs soon to decide on the possible options.
A principal said if the situation marginally improved by the first week of October, the option of holding pen-and-paper tests at colleges could be considered. 
Another principal said the state government should file a review petition as it has done in the case of NEET and JEE-Main.
"The state government has become a party to a review petition the Punjab government has filed in the apex court, seeking deferment of JEE Main and NEET. The government should ask if the IITs can publish results without holding the exams, why not the state universities?" he said.