Online admission test route for Ramakrishna Mission Residential College
An official said they had decided to introduce the screening mechanism because they had gained expertise in holding classes over digital platforms since April 2020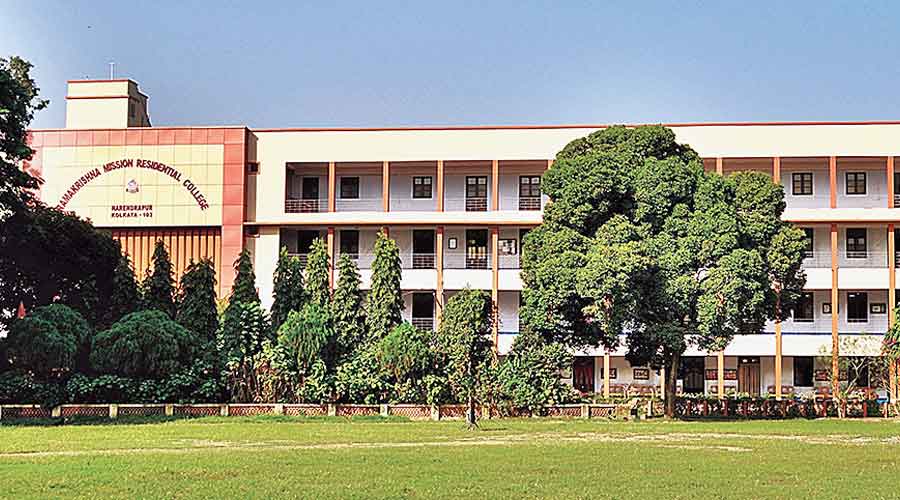 ---
---
Several departments of Ramakrishna Mission Residential College (Autonomous), Narendrapur, will admit undergraduate students on the basis of their performance in online admission tests and online viva voce this year.
In physics and English, candidates shortlisted on the basis of weighted score from the board marks will be screened based on their performance in an admission test and viva. In political science, philosophy, Sanskrit and Bengali, the applicants meeting the cut-off in their respective subjects will be screened based on their scores in the admission test and the viva.
The departments of chemistry, math and statistics are yet to announce their screening format. The college, which used to admit students through on-campus admissions tests till 2019, had last year admitted students based only on board marks in all subjects other than English.
An official of the college said they had decided to introduce an online screening mechanism this year because they had gained expertise in holding classes and tests over digital platforms since April 2020.
Principal Swami Shastrajnananda said details of how undergraduate aspirants in each subject would be admitted this year would be declared once the dates of the Class XII board results were announced.
An official of the college said it was left to the departments to decide how prospective students would be admitted after it became clear that the Delhi boards and the state higher secondary council would not conduct the plus-II board exams this year because of the pandemic.
A teacher in a humanities department said that in the absence of the plus-II exams, the boards and the councils might try to outperform each other while awarding marks generously to the Class XII students.
"In such a situation, it is advisable to screen applicants through admission tests and viva," he said.
Several institutions have been applying newer ways to screen students. St Xavier's University, for example, will admit students to its undergraduate programmes through online tests, marking a departure from the practice of selecting students based on their marks in the Class XII board exams.