On table: phased resumption of suburban train services
The state government said the trains could run with 50 per cent of the capacity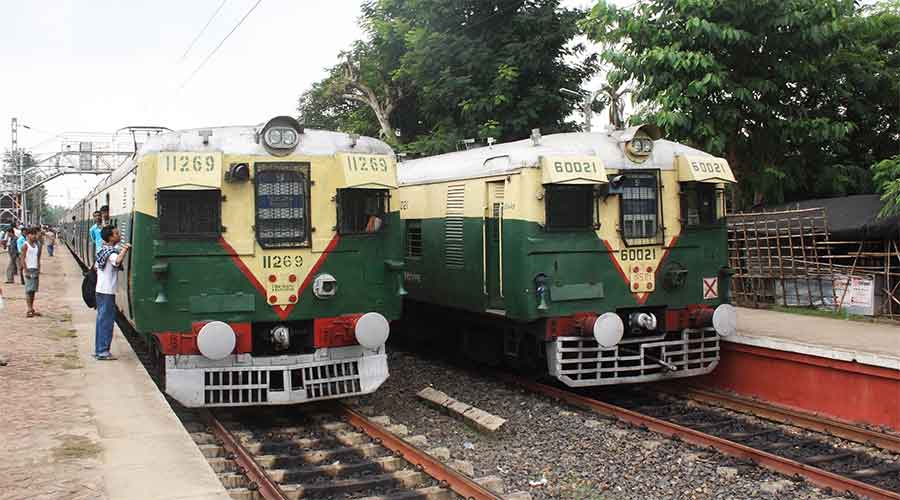 ---
|
Calcutta
|
Published 03.11.20, 02:12 AM
---
The railways are looking to resume suburban services with "10 to 15 per cent" of the local trains that ran before the Covid pandemic, officials said after a meeting with state government representatives at Nabanna on Monday.
The state government said the trains could run with 50 per cent of the capacity.
The meeting did not yield any clarity on how to control passenger access at the porous suburban stations — the main challenge in resuming services.
"The state government has to work out the modalities of how to run trains by maintaining Covid-19 protocols. We will run trains according to those modalities," said a railway official.
Another meeting — to finalise the crowd control modalities, number of trains, routes and time table — has been scheduled for Thursday.
"We are planning to run 10 to 15 per cent of the usual number of trains to start with. The number can go up to 25 per cent," said the principal chief operations manager of Eastern Railway.
On a normal working day, the Sealdah suburban section sees 915 trains and the Howrah suburban section 460 trains, he said. The Sealdah section saw over 20 lakh passengers daily and the Howrah section over 10 lakh passengers.
Bengal's chief secretary, Alapan Bandopadhyay, cautioned that resumption of trains in the wake of the pandemic was a "very sensitive trade-off".
"Any resumption of metropolitan suburban railway service is bound to have an impact on public health…. So, the railways have been requested to accord primacy to public health protocols, physical distancing norms, social hygiene norms, mask norms, thermal scanning norms etc. Within that ambit, what is to be done to keep the passengers and society practicably safe, is a very delicate exercise," said Bandopadhyay.
The initial plan is to run trains with 50 per cent seating capacity, said Bandopadhyay. But railway officials said reducing the number of trains or seating capacity would not be of any use unless there was a way to control the number of passengers.
The chief secretary hinted that the government was not in favour of introducing an e-pass system for boarding suburban trains, like the one implemented by Metro Railway. "If an e-pass system is introduced, it may leave many people in the suburbs and rural areas in trouble," the chief secretary added.
"We had a fruitful and cordial meeting. The nitty gritties will be worked out in the next meeting," said Aneet Dulat, the additional general manager of Eastern Railway.