CM announces list of candidates
Off the blocks for 'smiley poll' to save soul of Bengal
The TMC chief has sought to ring-fence some leaders, such as Atin Ghosh, Debasish Kumar and Udayan Guha, by including them in the list to keep off potential poachers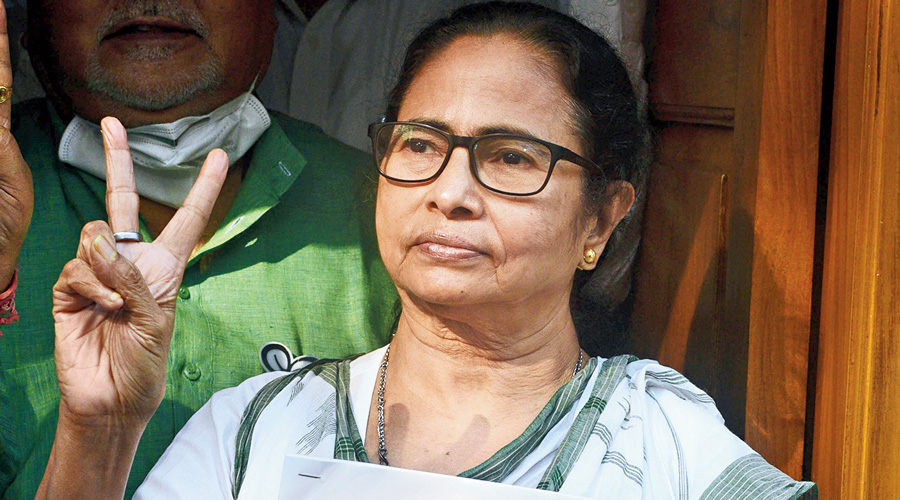 ---
Calcutta
|
Published 06.03.21, 02:43 AM
|
---
Mamata Banerjee on Friday announced the candidates in all but three of the 294 seats in Bengal, calling the impending battle for Bengal a "smiley poll" in which her party would "khelenge, larenge, jeetenge (play, fight and win)".
Mamata said this election was about preserving the culture of Bengal and ensuring that those who know the state and its history and who live here would be in the seat of power.
A snapshot that emerged from the Trinamul Congress list with 291 names:
⚫ Mamata will contest from Nandigram as she had promised. But she will contest only from there, which means she is switching from her home turf in Bhowanipore.
⚫ 30-odd new faces with a heavy presence of Tollywood actors.
⚫ 50 women, 79 from the Scheduled Caste segment, 17 from the Scheduled Tribes. Hard calculations reflecting the new ground reality in Bengal politics were apparent and the impact of caste-based identity politics was hard to miss. The 79 candidates from the Scheduled Castes are 11 more than the number of seats reserved for the community. The BJP had made significant gains among the Scheduled Castes and Scheduled Tribes in the Lok Sabha polls.
 "One has to keep in mind the caste and community considerations, which didn't exist earlier. The BJP's divisive politics has brought about this change," Mamata said.
⚫ 42 Muslim candidates, down from 57 last time. The BJP has been harping on "appeasement" for long.
⚫ At least five ministers and 23 sitting MLAs have failed to make it to the list — for a variety of reasons like age, ailment and local and caste considerations. Finance minister Amit Mitra is among those who are not contesting. Kajal Sinha will be fielded from Khardah, the seat held by Mitra.
⚫ But if she returns to power, Mamata has mooted a proposal to revive the Bidhan Parishad, the legislative council to which members can be nominated on the basis of the strength in the Assembly. This would suggest that if a Trinamul dispensation is re-elected, some of the ministers who are not contesting now can be nominated. But the revival of the council (it was in existence till the mid-1960s) is easier said than done: it requires parliamentary approval.
⚫ Mamata has sought to ring-fence some leaders, such as Atin Ghosh,
 Debasish Kumar and Udayan Guha, by including them in the list to keep off potential poachers. But some insiders pointed out that the tactic was fraught with risk as poachers can strike after the polls, too.
⚫ The vacant three seats have been set aside for "friends" in the hill constituencies of Darjeeling, Kalimpong and Kurseong.
Releasing the list in the afternoon, Mamata said: "This is an easy poll, I call it a smiley poll…. On May 2 (the day of counting), we all will smile."
As in the past, Trinamul was the first to announce the list of candidates while the Left-Congress-ISF released the names later in the afternoon. The BJP's list for the first two phases of the polls was scheduled for Thursday night or Friday morning but it was still awaited on Friday night.
Confidence is key
"We have 101 per cent faith in people and we are leaving it to their judgement," said the chief minister.
"Khelenge, larenge, jeetenge," she added, explaining the theme of the battle at hand.
Exuding confidence after wrapping up the news conference at her office on 30B Harish Chatterjee Street, Mamata sat down with a synthesiser in her room to set score to some of the poll songs that will be played in Trinamul rallies.
She was heard telling senior party colleagues like Partha Chatterjee, Subrata Mukherjee and Subrata Bakshi that the list was the best possible one she could have drawn up in view of the prevailing situation.
Mamata handed over a list — with a "best of luck" note scribbled in calligraphy — to poll consultant Prashant Kishor who, along with Diamond Harbour MP Abhishek Banerjee, played a key role in drawing up the draft that Mamata finalised after gathering inputs from party colleagues across Bengal.
While the chief minister was visibly happy with the list — she described it as a perfect mix of old and new faces and representative of the state's demography — its release was followed by protests by ticket aspirants in different parts of the state.
Some party insiders pointed out that although they were expecting sweeping changes to beat anti-incumbency, Mamata chose to be risk-averse by opting for "bits and pieces alteration".
Battleground Nandigram
Mamata may have been risk-averse while selecting her team but she did not hedge her individual bet as she announced that she would contest only from Nandigram.
"I keep my word. I had said that I would contest from Nandigram and I am going to do that," said Mamata, who had thrown the gauntlet down at Trinamul turncoat Suvendu Adhikari, a two-time MLA from the East Midnapore seat, at a public meeting there on January 18.
She took care to explain that she would continue looking after Bhowanipore, a seat she has won twice, which she vacated in favour of party veteran Sovandeb Chatterjee.
The decision may gift the BJP a chance to attack her by saying she has fled Bhowanipore because Trinamul managed only a slender margin over the BJP in the last Lok Sabha polls.
Trinamul can always contest this narrative by saying that unlike many others, including Prime Minister Narendra Modi, she was against the idea of hedging her personal bet by contesting from two constituencies.
"I have always contested from the city seats…. Nandigram is a rural seat and it played such an important role in the anti-land acquisition movement. So, I will contest only from there," said Mamata, who has already sent party colleague Purnendu Basu to the constituency to oversee campaigning.
Mamata is likely to go to Nandigram, which goes to poll on April 1, on March 9 and file her nomination the next day at 3.30pm.
"I will start my political programmes from March 13," she said before adding that her detailed itinerary for the poll season was yet to be drawn up.
Sources in the party said that special care would be taken to zero in on the venues for 130-odd meetings that she would address in the poll season. "We hear that the Prime Minister will address 30-odd meetings…. Didi will also not be sitting idle," said a source.
Support from peers
Mamata thanked a clutch of national leaders — like Tejashwi Yadav of the RJD, Akhilesh Yadav of the Samajwadi Party, Arvind Kejriwal of AAP, Hemant Soren of the JMM and Uddhav Thackeray of the Shiv Sena and several others — for extending their support to her.
 Most of these leaders have already expressed their desire to come to Bengal to campaign for her.
"I thank all of them for their support…. If they come, we will be happy," said Mamata, whose attempt to stitch together an alliance of non-BJP parties before the 2019 Lok Sabha elections had bombed.
 All the leaders who had responded to her call in 2019 have started throwing their weight behind Mamata now, ensuring that the battle for Bengal has drawn national attention and the label of  a mini-referendum on the Narendra Modi regime.
"I can't use such technical words like referendum or not… But people of this state know the dangers from the BJP. They realise that only Trinamul can retain the culture and heritage of Bengal," Mamata said.