Of blooms and thorns
Horticultural Society and a civil engineer from FC Block, on the various kinds of cacti one can grow in the township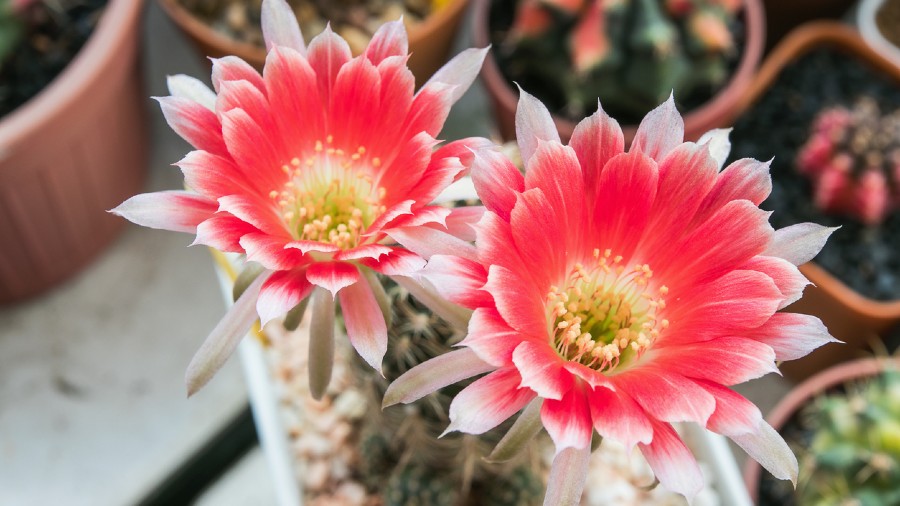 Peanut cactus pot plant with orange flower
Sourced by the correspondent
---
Salt Lake
|
Published 18.12.20, 01:14 AM
|
---
Unusual shapes, a wide range of sizes, varied textures and beautiful blooms — cacti are and other succulents are a category like no other. They are hardy plants and grow readily in deserts as well in Salt Lake.
There are innumerable kinds of cacti are and other succulents in the wild and today we shall find out about some under the Echinopsis head.
This robust species ranges in shape from globular to tall and columnar, with flowers and spines that differ greatly in size and colour. 
This diversity is due to the current amalgamation into one genus of the former genera Echinopsis, Lobivia, Pseudolobivia, Soehrensia and Trichocereus, which originated in countries such as Chile, Argentina, Ecuador and Peru. About 150 species of this group include night-flowering plants that have several flushes of summer blooms as well as others that flower erratically in the daytime from spring to summer lasting one or two days. The round fruits of this species are generally green. Most cacti of this group can be grown without much care.
Amongst 100 species of this group are names like Echinopsis densispina, oxygona and backebergii. Let us look at the brief description of some of them below.
Echinopsis Forty-Niner: Like all Echinopsis hybrids, this pleasant-looking cactus was developed to create a more handsome and larger body. It was also meant to produce flowers of a more vivid colour. Its bright golden blooms open at dusk, at intervals throughout spring and summer, and fade after 24 hours. Their necks can be up to nine or 10 inches long. This sun-loving globular plant is very robust. Echinopsis Mammilosa: This small cactus produces flowers when only three inches in diameter. It opens on summer nights and again, lasts for about 24 hours. Protect this plant from unsightly scarring and grow it in the full sun.
Echinopsis Marsoneri: Often the shape and spine of this cactus vary. In summer, short-necked flowers which are gold with a red throat appear on the sides of the stem. This cactus remains happy with sun or shade.
The spectacular black-throated flowers of this species are the main attraction. It has long been known as Lobivia. The stems cluster to form a small group that in habitat is almost buried, particularly in the spring when the heads are flush with the ground and difficult to see.
There are various flower colours of this type including yellow, red and orange. The Marsoneri grows better in northern Argentina, high in the mountains where it is very cold. As such it will survive in very cold weather if kept dry. The large roots store water to help it survive. Propagation will be better done by cutting, which can be easily rooted.
Echinopsis Chamaecereus: This is also known as Peanut Cactus. This small slender plant has very short, white spines and spreads rapidly to form a cluster of creeping candle-like stems. It flowers profusely, producing funnel shaped blooms, which open fully in the sun during late spring or early summer. The small berries are spiny.
The plant prefers slight shade and is easily grown from offsets.
The columnist, patron of Bidhannagar, expired earlier this year. This is his last column.