Nine blocks of Ward 29 get Oxygen concentrator machines
'Some businessmen and NRIs of the area wanted to help out their neighbours; they purchased concentrator machines and had them shipped to us'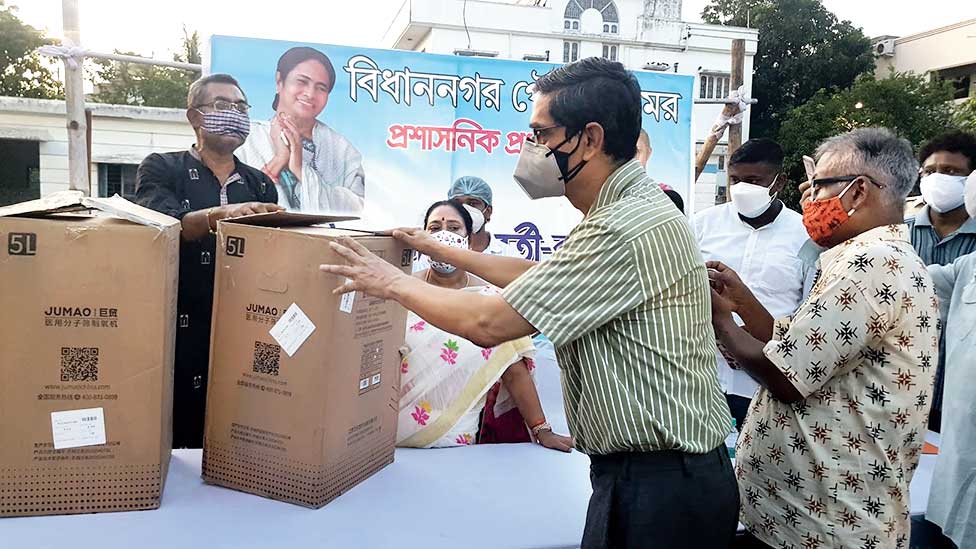 ---
Salt Lake
|
Published 28.05.21, 03:11 AM
|
---
Nine blocks of Ward 29 have received oxygen concentrator machines, thanks to local  philanthropists. The machines were distributed on May 20 at the CJ Block swimming pool opposite the ward office by  Krishna Chakraborty, who is the chairperson, board of administrators, Bidhannagar Municipal Corporation and also the local ward co-ordinator.
"Some businessmen and NRIs of the ward wanted to help out their neighbours. They made the purchases from abroad and had the machines shipped to us," said Chakraborty. "They wanted me to ensure they were handed out to the rightful custodians of the blocks and that's what I'm doing. Henceforth no one should struggle for want of oxygen."
Chakraborty, who has herself recovered from Covid, said she has been helping patients find hospital beds and asked those in her ward to contact her for any help they needed.
Each block association received two 5l concentrators and the CK-CL association, which runs two blocks, received an additional 10l machine.
Ward 29 also includes DJ, DK and part of SA blocks but were left out of the list. The first two are non-residential.
 Jeet Adhikary, a resident of AL Block who is familiar with concentrators through his work with an NGO, demonstrated their use.
"The mechanism is quite simple. It uses some mineral water and electricity to filter the natural oxygen in the air and supply it to the user. But it must be used as per the prescription of a doctor," said Adhikary, who has volunteered to support any block that needs help to set up their concentrators.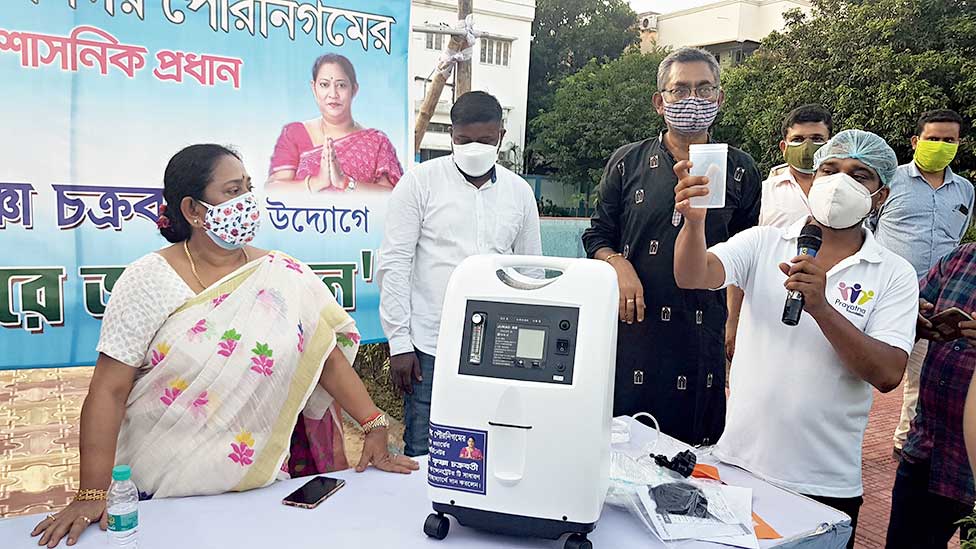 Watch and learn
Representatives of BK Block video recorded Adhikary's demonstration and will share the same with the family members of any patient who needs the machine. "We do not have the funds to set up an isolation centre in our community hall. If anyone requires oxygen we shall send it to his home," said secretary of the BK Block association, Rajarshi Chandra.
AJ and AK Blocks have decided to do the same. "If residents find it tough to use the machine we shall go and set it up," said Bishnu Das of AJ Block. "But we shall ask them to return it as soon as they can so others can avail of it."
AK Block has had over 20 residents hit by Covid. "We were ourselves contemplating buying an oxygen cylinder but there was none available. The concentrators will be useful," said general secretary of the block, Aritra Ranjan Sen. "Our hall is too small to convert into a safe home. Neither do we have doctors at hand. So we shall send over the machine to houses that needs one."
Like AK, most blocks said the machine would be free but residents would be asked to change the disposable pipes and tubes that they use.
President of BJ Block Umashankar Ghosh Dastidar said a register would be maintained to keep details of patients who borrow the machine. "We shall also share with them a video of how to use the machine," he said.
AL Block too has been hit hard by Covid and general secretary Manik Saha said in his lane alone 13 of the 20 houses had patients "We shall send concentrators over to homes that need them and a doctor from the block has agreed to help out, if he is home at the time. We are sharing information of the same with residents over WhatsApp and circulars," Saha said.
CJ Block was unable to take a decision as the caretaker of their community hall, along with his entire family that lives there, has tested positive. The machines are in the hall too. "We shall hold a meeting there after the family recovers," said Sandip Mukherjee, who is a doctor and is treating the caretaker's family.
They want to hire a paramedic to help out with the concentrator. "The paramedic would be able to assist the patient as well as operate the expensive machine properly," says Mukherjee, an executive committee member of CJ Block. He is keen that the oxygen be free and the salary of the paramedic be deducted from the association fund.
The BL Block authorities held an online meeting with doctors and paramedics in the block before announcing their decision. "They explained that an oxygen concentrator is not an oxygen cylinder. The former is for interim use of patients post or pre-hospitalisation, maybe while awaiting an ambulance," said secretary Tuli Basu.
Given that the machine can be dangerous if used without the advice of a doctor, they are asking family members to submit the doctor's prescription, an ID proof and sign a self-declaration form before taking the concentrator home. "This will ensure responsible use of the machine and protect us from litigation in case anyone misuses it," Basu said. The block has had a terrible spate of Covid with their president and assistant secretary both having succumbed to it.
The BL Block concentrators will be lent, free of cost, on a first come first basis. "How else do we, laymen, decide which patient is more critical? Since the machine is meant for short hauls, people will be expected to return them within 24 hours," said Basu. "These decisions have been set not at the whim of the committee but from express advice from doctors."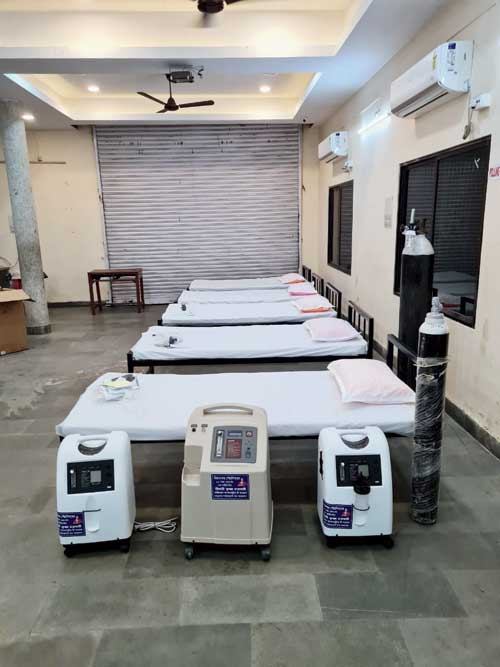 Safe home in CK-CL Block
CK-CL Block has turned their community hall into an isolation home cum oxygen parlour. Besides the new concentrators, they have two oxygen cyclinders and five beds ready.
"We took the decision after two or three residents in our blocks suffered for want of oxygen late at night. We realised we had to be prepared," said Shanti Ranjan Paul, secretary of Bidhannagar CK-CL Block Residents' Association.
Funds have been sourced from the association's coffers and the stay, the oxygen, the food etc will be provided free of cost. At most, patients may be asked to pay for the technicians or nurses. "As per availability, we are open to residents of our blocks and beyond," says Paul, adding that on Sunday they got a call for oxygen from a neighbouring block.
"Our volunteer headed out with a concentrator at about midnight but the doctor finally said it wasn't needed. A lot of it is psychological. Patients feel better simply knowing oxygen is just phone call away," said Paul, who is also trying to tie up with private hospitals for Covid vaccination for residents of the block.
Call for Oxygen concentrator
• AJ Block: 9433283066
• AK Block: 9432861429
• AL Block: 9007080531
• BJ Block: 9331090967, 9331936096, 8240961440, 7980545101, 9330919933, 9830116350, 9830313848
• BK Block: 9830335029
• BL Block: 9230134159, 9836802802, 9051162430
• CJ Block: To be announced this weekend
• CK-CL Block: 9830063599, 9830010556, 9830027856