Non-Covid tag draws patients to SSKM
Hospital officials said around 7,000 patients were turning up at the OPD on an average daily, compared with the 10,000-odd before the pandemic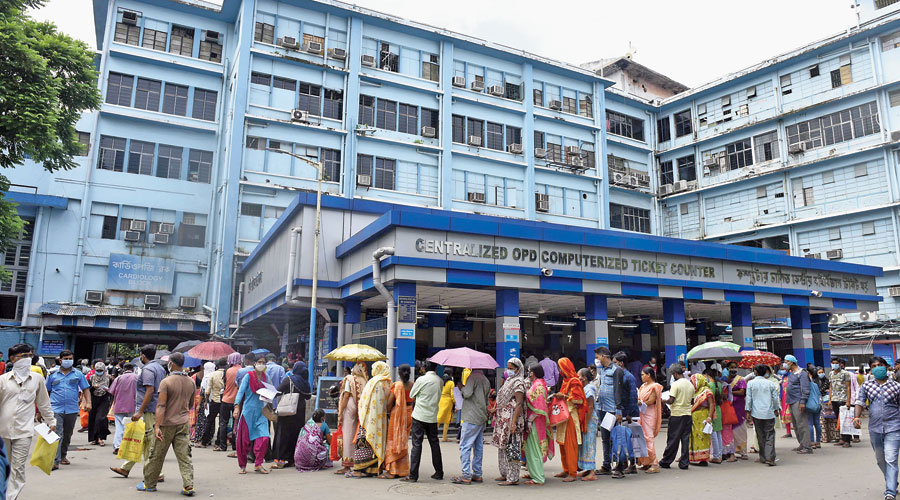 ---
|
Calcutta
|
Published 07.10.20, 02:15 AM
---
SSKM Hospital now is more crowded than other healthcare facilities in Calcutta, not just because it is Bengal's apex referral hospital but also because it is one of the few non-Covid hospitals in the city and hence, perceived to be safe.
Doctors at SSKM said many of the patients queueing up at the outpatient department of the superspeciality hospital would have gone to private hospitals and clinics had there been no Covid pandemic.
SSKM officials said around 7,000 patients were turning up at the OPD on an average daily, compared with the 10,000-odd before the pandemic. The count is much less at other government hospitals.
"This despite the fact that the bulk of the patients who used to come from the districts are unable to come because of transportation issues. We had studied that more than 20 per cent of the patients at the OPD would come from Malda and Murshidabad. Patients would also come from other distr-
icts and even neighbouring states," said Raghunath Misra, the medical superintendent of SSKM.
He said the hospital earlier had nearly 3,000 beds, including the ones in the neuroscience unit. Now, the bed count has been reduced to 2,000 to follow the distancing protocol aimed at minimising chances of coronavirus infection. More than 90 per cent of the beds are occupied, he said.
In the initial weeks of the Covid-19 outbreak in Calcutta, people were averse to going to hospital unless they had symptoms of the coronavirus disease. Many doctors, too, had stopped seeing patients for fear of infection.
Doctors and patients both have since started returning to hospitals but the fear of getting infected by Covid is still keeping many away.
Sheetal Chowdhury, a school teacher from Behala, was among thousands of people who had queued up at SSKM's OPD on Tuesday morning. "SSKM is very far from my home and I have never come here to consult a doctor. But someone told me that SSKM is a non-Covid hospital and it's safer to go there," said Chowdhury, who had queued up to consult a doctor for an ENT problem.
Metro met many other patients at the OPD who prefer to visit private hospitals or clinics in normal circumstances. They said a perception that chances of coronavirus infection would be negligible at SSKM because Covid patients are not treated there was among the reasons that prompted them to visit the referral hospital.
The state government has decided not to keep patients who have tested positive for Covid at SSKM Hospital. "SSKM is the apex government hospital in Bengal. It has several superspeciality departments such as neurosurgery, cardiology and nephrology, which are not available under one roof at other government hospitals. So, to ensure that treatment of critical patients is not affected, it was decided that Covid patients would not be treated at SSKM," a health department official said.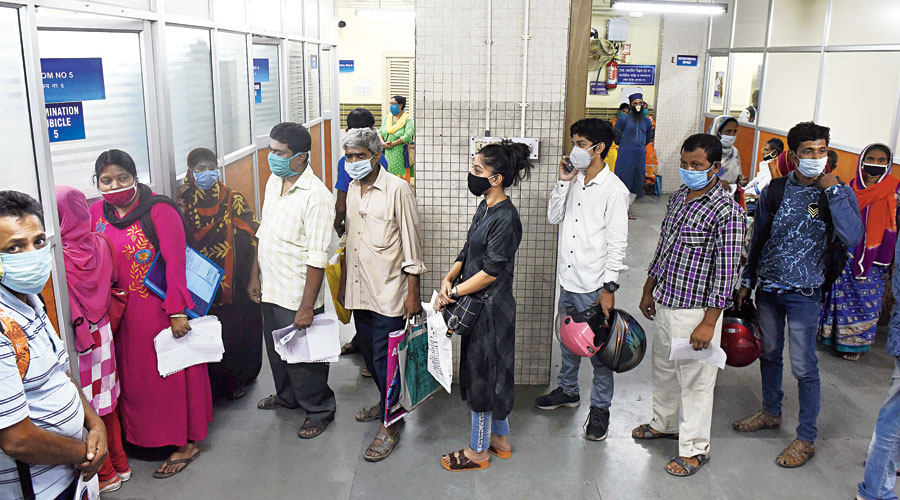 The NRS Medical College and Hospital, Calcutta Medical College and Hospital, Sagar Dutta Medical College and Hospital and MR Bangur Superspeciality Hospital are among some of the big government hospitals that are treating Covid patients. The RG Kar Medical College and Hospital has a 150-bed ward for patients suffering from severe acute respiratory infection or SARI, which is a symptom of Covid-19.
At SSKM, officials said, 20 per cent of the beds in every ward form an isolation unit where newly admitted patients are kept till their Covid test report comes.
"A separate team of doctors, nurses and pathology staff enters those isolation units. If a patient tests positive for Covid, we are shifting him or her to a Covid hospital. If the report is negative, the patient is shifted to the normal ward," said Misra.
To keep chances of infection low, SSKM's fever clinic has been set up at Sambhu Nath Pandit Hospital, which is its satellite unit.
"We are getting patients who are telling us that they usually go to private hospitals and clinics. Many of them are forced to come here because their incomes have reduced. Others think SSKM is safer than other hospitals," said Ankit Choudhary, an ENT surgeon at SSKM.
Some doctors said patients were also telling them that they were not getting appointments at private clinics. Many clinics and private hospitals have imposed curbs on the number of patients doctors can see in a day.
"There is a false sense of safety among some people. We have to remember that Covid could stay for long and treatment of both Covid and non-Covid patients would have to be done simultaneously, maintaining precautions," said Abhijit Chowdhury, a public health expert and a professor at SSKM.
At the RG Kar Medical College and Hospital, an official said they were getting around 5,000 patients at the OPD every day, a little less than the usual count. "People know there is no Covid ward," said an official. But the hospital has a 150-bed SARI ward.
At Peerless Hospital, a private unit, officials said they were getting calls from patients reluctant to visit the OPD and were requesting for video consultations with doctors. "Initially, we were having a low count of non-Covid patients But since we shifted our fever clinic outside the building, the number has increased," said Sudipta Mitra, the chief executive of Peerless Hospital.