No Covid jabs in vaccine centres run by Bidhannagar Municipal Corporation
According to an official, most units of the civic body had not been vaccinating over the past two weeks due to shortage of doses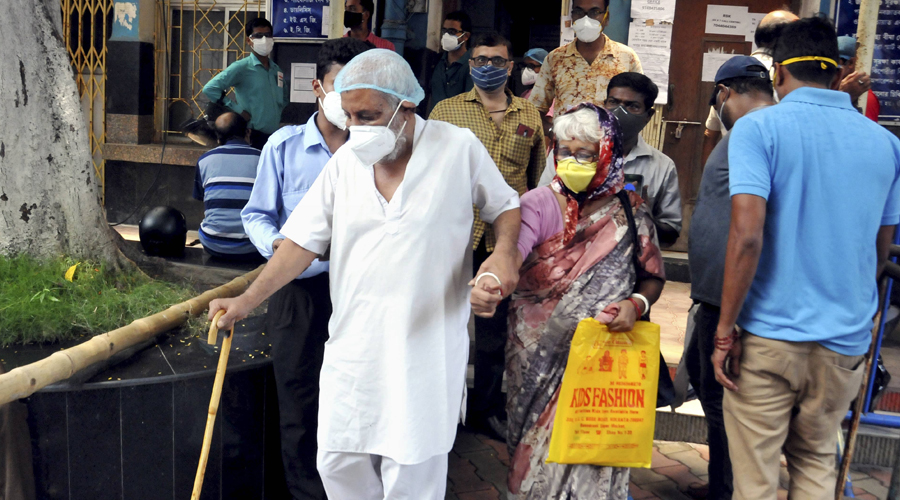 ---
Salt Lake
|
Published 04.06.21, 03:04 AM
|
---
The majority of vaccine centres run by the Bidhannagar Municipal Corporation have not been administering Covid-19 shots over the past couple of weeks, an official of the civic body said.
The corporation runs nine vaccine centres across 41 wards covering Salt Lake, Duttabad, Baguiati, Ashwininagar, Narayanpur, Deshbandhunagar and other areas.
On Thursday, only a primary health centre in Duttabad administered around 100. The rest turned away hundreds of people.
"We had to suspend vaccination at eight of our centres, including three hospitals — Matri Sadan in Salt Lake, Matri Sadan in Narayanpur and Vidyasagar Matri Sadan in Deshbandhunagar — as there were no supplies," said an official of the BMC's health department.
The official said most vaccine centres of the civic body had not been vaccinating over the past two weeks because of shortage of doses.
However, the civic body has not put up any signage on the gates of the centres or issued any notice that eight of the nine centres would not administer doses on Thursday.
Biswajit Ganguly, 67, a resident of Salt Lake's EE Block, went to Vidyasagar Matri Sadan at 9am to queue up for his second shot. He returned home at 4pm after the hospital authorities said no doses had arrived.
"There were at least 70 people in the queue. Most were elderly residents. The hospital authorities initially said they were waiting for the supplies. Around 3.30pm, a man came out and said that no one would be vaccinated today," Ganguly said.
As soon as the authorities made the announcement, people in the queue started arguing with the officials.
"After making us wait for hours, they suddenly announced that vaccination had been suspended for the day. They could have informed us earlier. Many in the queue were senior citizens like me who were waiting for the second shot for days," said Abhishek Naskar, 76, a resident of Rajarhat.
An official of the BMC's health department said they were not being able to put up signage or tell people earlier that they would not be vaccinated on Thursday because they were in the dark about supplies.
"We were not getting any information. What if doses came after we had announced that we were suspending operations," the official said.
An official of the state health department said he would enquire with the North 24-Parganas administration why the BMC was not stepping up vaccination.
The Calcutta Municipal Corporation, on the other hand, is administering doses from around 140 centres across the city.