No clearance of garbage of infected families
Workers scared to tread near any house from where a person tested positive, says a senior official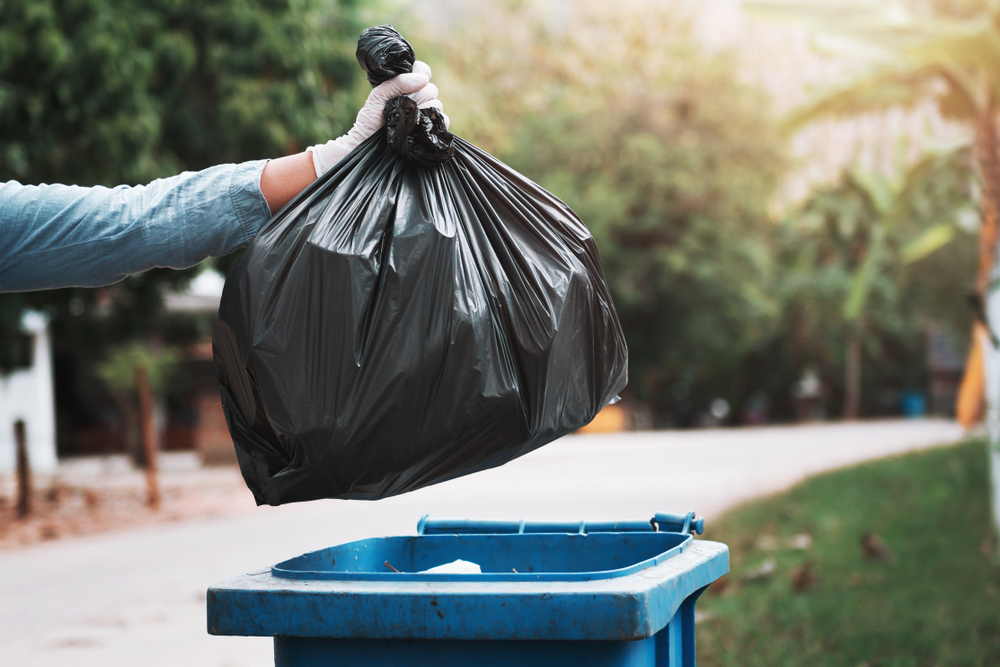 ---
---
Garbage bags piling up in the driveways and passages of homes of Covid-19 patients in Salt Lake are raising a stink as the Bidhannagar Municipal Corporation has stopped collecting litter from these houses.
Five residents and a household help who used to work in different houses have tested positive for Covid-19 in mayor Krishna Chakraborty's ward over the last four days.
According to a family member of one of the patients, the corporation has stopped garbage collection from their home. "We have garbage piling up on our driveway and near the garage. Corporation workers refuse to come near our house," said the wife of a Covid-19 patient.
A senior official of the corporation's waste management department admitted that the workers were scared to tread near any house from where a resident has tested positive.
"They are scared. We are requesting them to go and collect garbage but we cannot force them to," said the official, requesting to remain unnamed.
The Central Pollution Control Board has issued a set of guidelines for garbage disposal from the houses of Covid-19 patients. Double layered bags, mandatory labelling and colour coded bins are mandatory for the management of waste generated during the diagnosis and treatment of suspected and confirmed Covid-19 patients, the guidelines say. The apex pollution monitoring body said specific guidelines are required to be followed by urban local bodies, isolation wards, quarantine centres, sample collection centres, laboratories and common biomedical waste treatment and disposal facilities, in addition to existing practices under Bio-Medical Waste Management Rules, 2016.
The Calcutta Municipal Corporation has roped in an agency to handle such waste, a CMC official said.
The Bidhannagar civic body does not have a specialised team to handle waste generated from such homes, another official said. "Most agencies use incinerators to burn such waste. We don't have the facility," he said.
Of the five who tested positive recently one is a 46-year-old medical practioner from AL Block who is admitted to a government-run hospital in the city. A 33-year-old man and a 31-year-old woman from a family that stays in CJ Block have also tested positive on Monday. They are in home quarantine with their family.
Two men from another CJ Block house tested positive on Tuesday and are in home isolation, a civic official said. A domestic help who used to work in this family's house has also tested positive and she too is in home quarantine, the official said.
The mayor, who is also the local councillor, said that of the two families in CJ Block, one had a factory in Howrah while another owned a Burrabazar shop. "They were frequenting their workplaces. We have sanitised the area," said Chakraborty.
Asked about garbage piling up in homes of the infected, Chakraborty said she would look into it.
The number of coronavirus cases has crossed the 300 mark in the 41 wards of the corporation with fresh cases being reported from Rajarhat, Kestopur, Mangal Ganthi and Baguiati, apart from Salt Lake.
Scene in New Town
Infection is rising in New Town too. Sanjeeva Town the Bungalow Estate has reported nine cases in three families. Three of them have been hospitalised. On June 21, Mallika Malancha and the Refugee Rehabilitation Colony in AA Block reported cases. The next day, a case was reported in Alaktika. On Wednesday, infections were reported in Sankalpa 2 and Elita Garden Vista as well. The total number in New Town has crossed 40, according to war room sources.
Additional reporting by Sudeshna banerjee