NKDA starts oxygen camp for emergency relief
The parlour is meant for limited use by those who are suffering from slight breathlessness and drop in oxygen saturation but having no other complications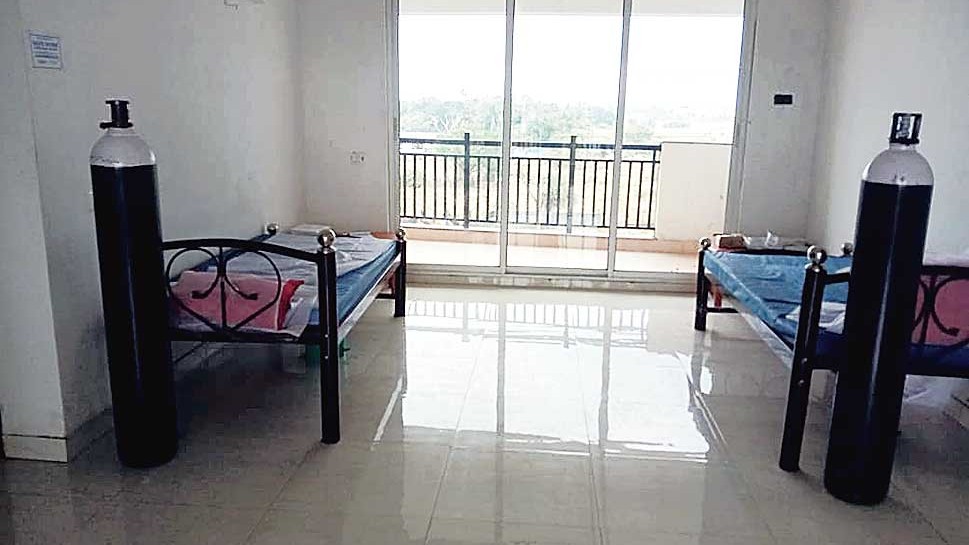 ---
Salt Lake
|
Published 07.05.21, 05:31 AM
|
---
The New Town authorities have come up with an oxygen camp at its safe house at NBCC Square in Action Area III. The 11-storeyed building at the junction of the roads leading to Sukhobrishti and Hatishala started operating from Monday though no patients have yet been admitted.
There will be about six seats in the parlour. "We have five oxygen cylinders, donated by New Town Forum and News and four oxygen concentrators from the health department. Technicians are being trained to operate the cylinders on Wednesday and we hope to start the facility from Thursday," NKDA chairman Debashis Sen said on Tuesday.
The parlour is meant for limited use by those who are suffering from slight breathlessness and drop in oxygen saturation but having no other complications. "Two hours is the recommended use time. When Covid patients are admitted to hospital, oxygen support is the first thing they are usually provided. Many are hoarding oxygen cylinders at home for fear that they might need it to get stabilised before medical help arrives. There is a crisis for oxygen in the market which is being aggravated because of this tendency. So we have kept this provision for optimal utilisation of oxygen. It is a psychological support," he explained.
It will be a walk-in facility, open round the clock, for which no charges will be levied. It will be housed on the third floor, where the safe house also operates.
"Each floor at NBCC Square has three apartments. One has been fitted with 10 beds for men, another has 10 beds for women, while the third apartment will be used as oxygen camp," he added. 
Only confirmed Covid positive patients, who have little or no symptom and cannot self-isolate at home, are allowed to stay in the safe house. Last year, too, the building had been used as a safe house but was shut after demand dropped.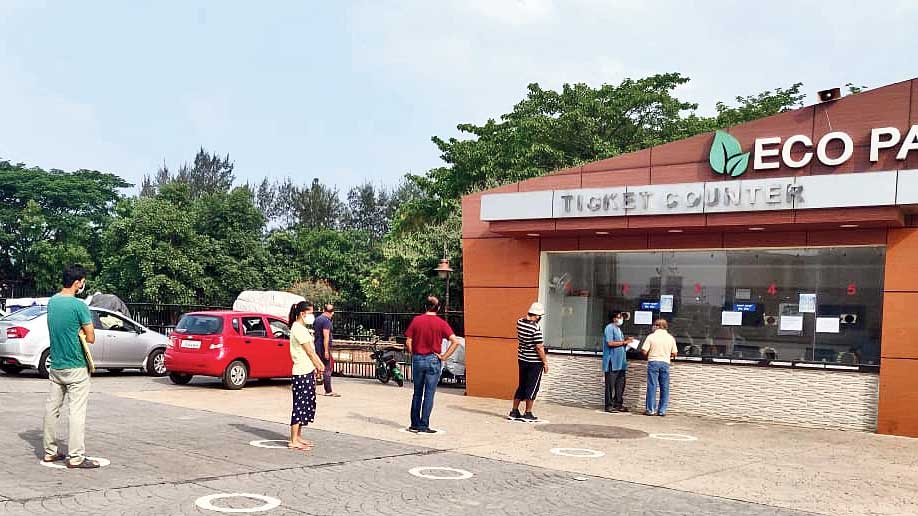 New Covid testing centre
A walk-in RT PCR testing centre has been started at Gate no. 1 of Eco Park from Wednesday.
"There is a dearth of testing kit in the market. But patients need tests as well as passengers who are scheduled to take flights. Even those who are doing tests are late to deliver reports, which is delaying treatment. We were talking to private laboratories. The two centres, which had set up collection centres at the New Town fair ground last year, are unable to cope with the pressure on their own facility so could not resume the service. A national diagnostic chain called Thyrocare has come forward," said Sen. 
With Eco Park being shut, the ticket counter is being used as a collection cubicle. "The technician can do the collection by extending his hand from inside the counter. It is air -conditioned so the samples can be preserved," Sen said. A collection kiosk has also been despatched from the company's Mumbai office.
The facility is open from 8am to 2pm and the charge is Rs 500. The centre, which will fly the swabs to its laboratories in other cities for tests, aims to deliver reports within 24 hours. On the first day, 84 people got themselves tested. "We can do up to 200-250 tests per day," said an official.
The drive-in testing facility run by Apollo Clinic on Smart Street is also functioning. "They can do 100 tests per day but are getting requests in multiples of that," Sen added.