NKDA opens safe house for New Town residents
The facility, currently housing 13 inmates, can keep around 30 patients and is also tagged with CNCI for support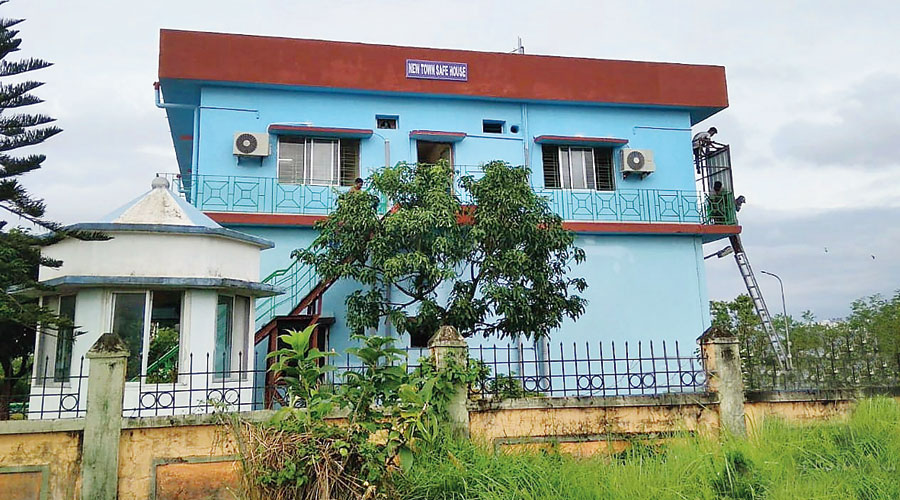 The two-storeyed building to be operated as a safe house in Action Area II.
Telegraph picture
---
Calcutta
|
Published 07.08.20, 12:09 AM
|
---
A safe house exclusively for the residents of New Town is ready to start operation. It will house Covid-positive patients who do not have severe symptoms. The facility, operated by New Town Kolkata Development Authority (NKDA), is located in a two-storeyed house next to Tank 12.
"With hospitals unable to accommodate all Covid-19 positive patients, many with little or no symptoms are being asked to stay in home isolation. For that, one has to give an undertaking that one can self-isolate in a room and avail the services of a caregiver. But those who share a single room with other family members cannot opt for home isolation. This facility is for such people," said Debashis Sen, chairman of NKDA.
The building that has been identified for the facility in Action Area II is owned by Housing Infrastructure Development Corporation (Hidco) for use of the public health engineering department as a water supply point.
The unoccupied building has a 4,000 sq ft. first floor which will house 20 beds. "Of them, 15 will be for men and five for women. The two wards have been partitioned off. We have placed cots. The health department has provided medical equipment like oxygen cylinders and masks, nebulisers, personal protective equipment and pulse oxymeters. It has been fitted out with telephone and closed circuit television. Other rooms like chambers for doctors and nurses and a dispensary are coming up," Sen said.
The facility will have two nurses in attendance. Two doctors will do the rounds twice a day. "It is basically a resting place with food provided for by the government."
In case an inmate turns serious, the NKDA has tied up with neighbouring Chittaranjan National Cancer Institute (CNCI) and Charnock Hospital to get them picked up in their ambulance and admit for treatment.
So far, NKDA could send patients to the safe house being operated by the Bidhannagar Municipal Corporation at Royal Banquets in Sector V for about two months now. The safe house, currently housing 13 inmates, can keep around 30 patients and is also tagged with CNCI for support. Only two people have needed hospitalisation so far, a civic official said.
There are three safe houses in New Town — Haj House, NBCC Square and CFL Building. "But these are more a resource for all of Calcutta and the neighbouring districts," Sen clarified.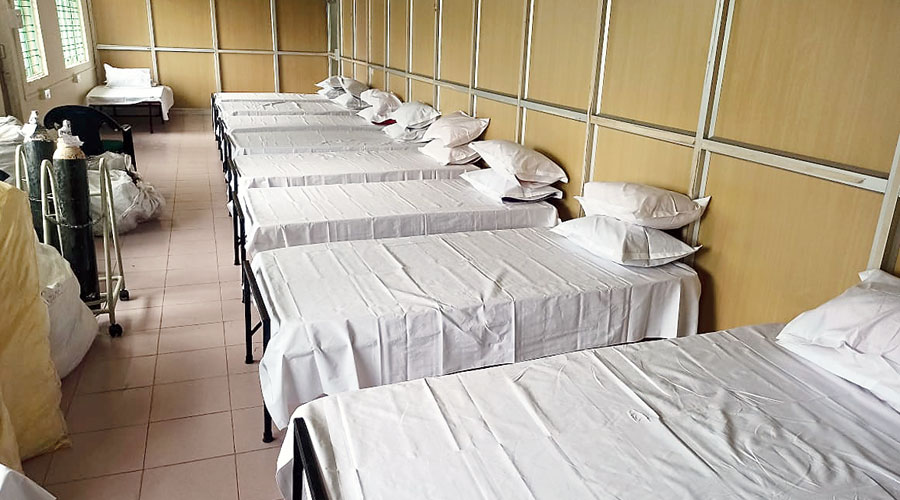 Tests for shopkeepers
NKDA also plans to start Rapid Antigen Test at its health dispensary in Action Area III. "We are on the lookout for trained technicians which the health department is unable to provide us," Sen added.
The tests will start with the shopkeepers at NKDA markets who can be super spreaders as well as the Hidco and NKDA drivers. "Their lists have been drawn up. We have already started sending them to Bidhannagar Sub-divisional Hospital in Salt Lake in small batches. The hospital is testing seven patients referred by us daily. We can ramp up testing once we have our own testing facility," he said.
Another reason to start a facility in New Town is the reluctance of shopkeepers to travel all the way to Salt Lake for the test. "When our doctors are calling them up when their turn is coming they are refusing to travel such a distance, leaving their business unattended. If it is in New Town, it will be easier to convince them."
The Rapid Antigen Test gives out results almost instantaneously, unlike the RT-PCR test which takes almost 48 hours to yield results.
NKDA had recently organised two health screening camps for labourers staying in New Town. Ten people were shortlisted for symptoms like loss of sense of taste and smell, high temperature and cough, and recommended for Covid-19 test by the attending doctors. "But they left their quarters once they learnt of the need to get themselves tested," Sen said.