Ninety eight and still going strong
Know your neighbour Chandrasekhar Bose of IB Block, he neither looks nor sounds like he is just two short of a century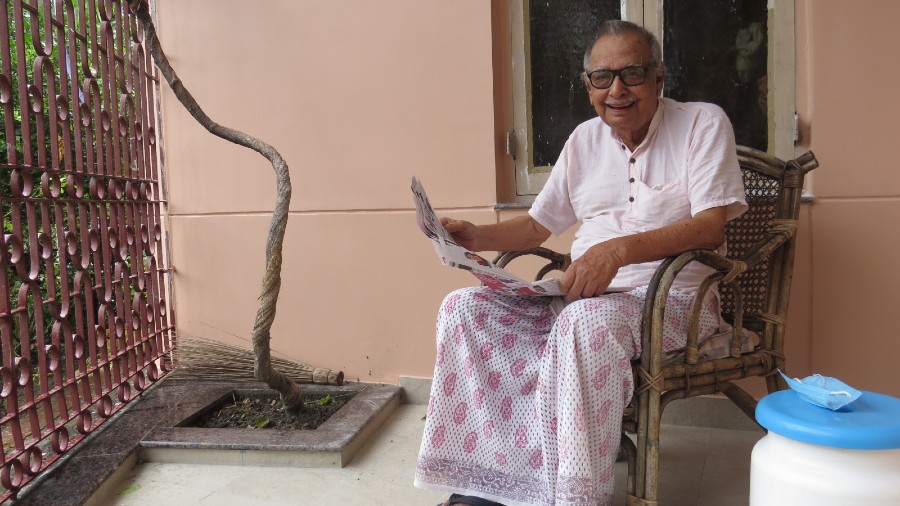 Chandrasekhar Bose reads a newspaper in the verandah of his IB Block residence ahead of his birthday on December 14.
Sudeshna Banerjee
---
Salt Lake
|
Published 18.12.20, 03:14 AM
|
---
So popular is he that a couple of years ago they had to carve out space from their garden and build an extra living room just to accommodate his unending guests. Even during the pandemic he gets phone calls that keep him occupied for up to three hours a day. And then of course, there is WhatsApp and Facebook.
He doesn't sound like it and certainly doesn't look it, but on December 14, Chandrasekhar Bose of IB Block turned 98. "I got about 450 calls," he laughs. "Many wanted to come but we discouraged them due to the pandemic. Only one friend — Gunin Chatterjee of JC Block — handed me a copper vessel through the window. He said drinking water from it will keep me healthy."
Bose likes his biryani, fish fry, jilipi and KFC and has a memory so sharp he can, in the same breath, recount incidents that happened 95 years ago as well as the trade union strike that took place last month.
In fact, it is a trade union that is Bose's heartbeat. Attracted by the Marxist philosophy from a young age, he joined the Communist Party of India in 1944. "I must be its senior-most member," he smiles. Bose also joined Hindusthan Co-operative Insurance as clerk in 1944 and was a founder-member of the All India Insurance Employees Association in 1951.
"I served as general secretary, vice-president and president of the body and am still a working committee member at the all-India level," he says proudly.
Leaves used as paper
India in the 1920s was a far cry from what it is today. "We saw struggle, war, partition…" begins Bose, the third of four brothers. His father, however, had brought home a second wife who bore seven daughters and three sons. 
Bose grew up in places like Jessore, Khulna and Gaya, and had his share of fun. "I remember my hatey khori clearly. It happened when I was three," smiles Bose, reminiscing. "I used taal leaf as paper, sharpened bamboo strips (konchi) as pen and dissolved coal as ink."
Memories of August 15
Bose recalls how animated Indians would get listening to the news on the radio in the early days of World War II. "Germany was advancing and Britain retreating... That was enough for us to rejoice," he recalls.
The war meant shortage of medicines, food, dhutis... After receiving industrial training Bose had wanted to start a detergent factory but the raw materials were not available due to the war. That's what led him to join the insurance sector.
"I remember August 15, 1947 clearly," he smiles. "Most of us didn't report for work that day. We hit the streets. Tram rides were made free and the gates of Raj Bhavan were thrown open so people could walk in, admire the interiors and even jump on the sofas, claiming ownership of the same."
But the best part about Independence Day was the ceasefire among Hindus and Muslims. "They forgot the bloodbath of a few days back and embraced one another in collective joy," he recalls.
For comrades' cause
When Bose joined the workforce, he says insurance companies didn't play fair. Those in power would only appoint people from their own villages, there was no parity in pay structures, funds would be misappropriated… The turning point for Bose came when he witnessed a Class IV staff being humiliated and fired for no fault of his.
From then on, he devoted his life to his colleagues. "The union was formed 10 years before I was born and Baba has always maintained that the union is his first child," smiles Bose's son Somsankar, who has now retired from CESC.
"In fact, due to his activities in the union, Baba was terminated from office twice. Both times he was reinstated after agitation by the union. Baba's marriage had been fixed long before this but due to his job instability he refused to get married till his company was nationalised in 1956 and brought under the banner of Life Insurance Corporation of India (LIC)."
Bose retired in 1983 but remained president of the union till 1994. He remains a guiding light to the body, attending meetings, offering advice and contributing articles for their journal Insurance Worker, of which he was editor for the first 32 years.
Members come to visit Bose from all over the country with gifts — petha from Agra, kalamkari lungis from Andhra Pradesh… A few years ago when Bose expressed his desire for a smartphone, grandson Suryasekhar gifted him one once he got his first job. "But it was a former union member who taught Baba to use the phone," smiles Somsankar. "Now he uses email, social media… he has over 300 pending friend requests on Facebook as we speak!"
Age is not a factor for Bose, who visited Siliguri for a meeting in 2019 and Visakhapatnam and Varanasi in 2020, before the pandemic. "My task now is to groom the next generation of leaders," he says.
Beaten with khorom
One of the most important changes over the past century seems to have been in the status of women in society. Bose's mother was married at the age of nine. And this was considered late. His aunt was married off at two!
"My mother was extremely pampered in her parents' house — they used to parade a herd of goats before her every day and she would pick which one she wanted for lunch," he says. But all changed when she was married off. Suddenly the child would spend her days carrying heavy bronze utensils to the pond to wash, something she never had to do before.
"My father had a short temper and would beat her mercilessly with his khorom (wooden slippers), sometimes resulting in miscarriage. He would beat his second wife too and any children he found at arm's length. We would hide and cower in fear," grimaces Bose.
In a fit of rage, Bose's father would banish his mother off to her parents' house — sometimes for years. Bose followed his mother wherever she went.
Bose penned his autobiography four years ago in which his mother's unhappy marriage was dealt with in detail. "I contemplated whether or not to write all that but then after reading, many people have come and confessed that mine isn't a solitary case. This was the story in most households back in the day. A woman's identity was that she was her husband's wife and if she displeased him, beating was the natural response."
Bose hastens to add that this wasn't unique to India. "Have you heard of the phrase 'rule of thumb'? It  comes from a time Englishmen were asked to beat their wives with sticks no thicker than their thumbs!"
The nonagenarian is an advocate of gender equality and insists on robust participation of women at every meeting he attends. His own wife, Asoka Basu, was a strong individual in her own right. She taught at Bethune Collegiate School since the 1950s and then at Bidhannagar Government High School, BD Block, in the 80s. "She was a good Rabindrasangeet singer, a student of Subinoy Roy. I had recorded her singing and I enjoy listening to the CDs now," Bose says. She passed away in 2016.
Life in Salt Lake
Bose moved from Paikpara to Salt Lake in 1998. He now lives with his son, daughter-in-law Chandana and grandson.
Somsankar credits much of his father's health to Chandana. "Till before the pandemic, we would get all his parameters checked every two months. He only has diabetes and high blood pressure and his doctors are fond of him as he is hale and hearty. My wife is very particular about his health and in fact we still haven't allowed domestic helps back into the house to eliminate chance of Covid infection," he says.
While Bose finds Salt Lake a peaceful neighbourhood to live in, he finds many residents here to be know-it-alls. "I have been a part of welfare groups here but left when I saw they have no discipline or order," he says. "Now I relax in the garden under the winter sun, read papers, watch TV serials but what I enjoy most is simply pondering over my past," he smiles.