NGO mentors women to make quality products amid pandemic
Within a year they have sold items worth Rs 9 lakh and even posted a profit of about Rs 3.5 lakh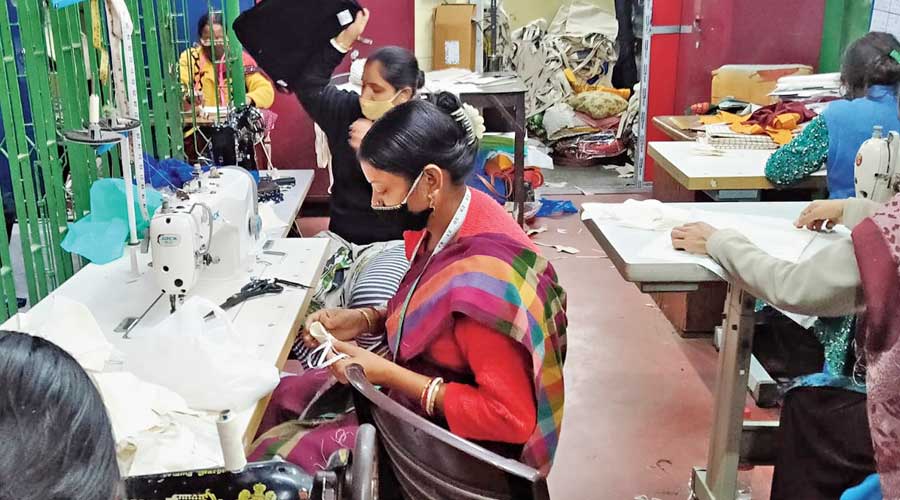 ---
Calcutta
|
Published 22.07.21, 02:52 AM
|
---
A profit of Rs 3.5 lakh, that too amid the pandemic.
A group of women from a Calcutta slum has done it.
Mentored by an NGO, 20 women — most of whose income or family's earnings dried up during the pandemic  —  were making apparels and tote bags. But the pandemic forced them to improvise and come up with quality products. And within a year they sold items worth Rs 9 lakh and even posted a profit of about Rs 3.5 lakh.
Some of these women are now the sole earning members of their family.
Thirty-nine-year-old Krishna Routh's two daughters would have starved had it not been for her resilience.
Routh's husband worked in a travel agency and earned Rs 8,000 per month before the pandemic.
But business has suffered since last year. "They would still pay him Rs 2,000. But the office finally closed down in February and he has had no income since then," said Routh.
The tailoring training, which she had taken before the pandemic, became the fall-back option to sustain her family.
The crafts centre at Calcutta Social Project, the NGO that was already making these products, changed the strategy and shifted the focus on quality. "There was a change in our stand from only doing social service to attaining professional efficiency in our work. What we make has to be the best," said Arjun Dutta, the president of Calcutta Social Project.  
The products should have marketability — something that people would want to buy.
"The pandemic has triggered a fear of being decimated and from that stems the desire to improve," said Nupur Ghosh, a governing body member.
Ghosh said she would recommend products that have some quality to her friends or acquaintances. "Or else people will not come back and the project will not sustain."
The women, mostly in the age group of 18 to 40, have been making dohars, totes, pouches, cushion covers, table mats and runners — things that are still in demand.
"People are now very careful about spending. We had to make things that they would buy," said Barsha Mukherjee, the head of the crafts centre at Calcutta Social Project.
The absence of fairs during the pandemic has also impacted the business prospects of the self-help groups that deal in these items.
But Nirmala Devi is satisfied with what she is able to bring home. "...at least I am able to earn a living."
The NGO has noticed that more women are interested in learning. This has led it to open two craft centres  — one in Keoratala and another in Garia.
"They want to acquire a new skill because during the pandemic many of them have lost their jobs," said Mukherjee.