New Town to get own radio channel
Programme transmission starts on Facebook page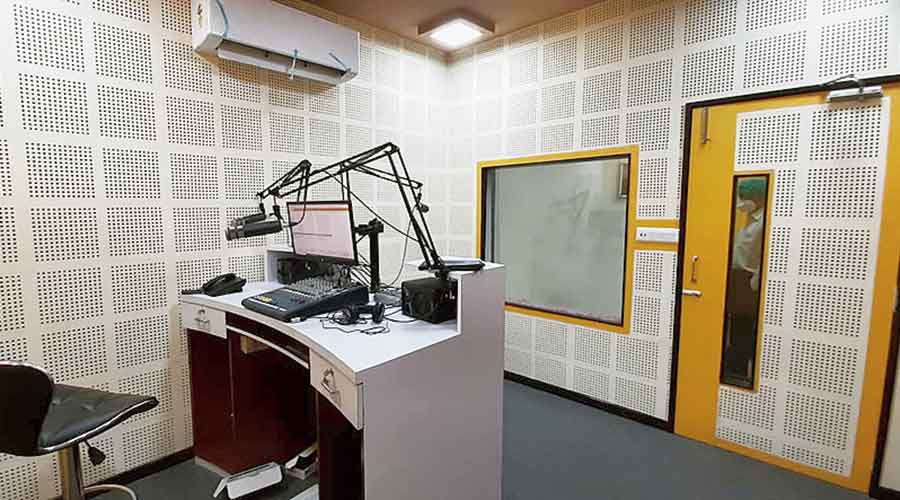 Riding the wave: Inside a recording booth at the studio of Radio New Town on the fourth floor of Nazrul Tirtha.
Telegraph pictures
---
Salt Lake
|
Published 11.12.20, 01:45 AM
|
---
New Town is set to get a community radio channel of its own. A state-of-the-art set-up has been created on the fourth floor of Nazrul Tirtha where two studios are operating — one for audio and another for video recording.
A definite step was taken in this regard on Wednesday morning when the first lot of programmes was uploaded on the Facebook page of Radio New Town.
"This year, because of the Covid situation, people could not organise cultural programmes in their localities even during Durga puja. We had invited the best performers from blocks and housing complexes to record their programmes at our studio. They did so with a lot of enthusiasm. Some were so good that we are thinking of calling them back for more shows," said Hidco chairman Debashis Sen.
According to sources, 19 groups had expressed interest to come for recording. But one backed out due to Covid infection in the group and another did not have a production ready. So 17 finally turned up for recording in mid-November.
An app is being developed which will be available on Google Playstore for downloading. Radio New Town will play on it. And once the app broadcast starts, the Facebook reach will be used to publicise the radio's shows.
A radio frequency has been applied for." We hope to receive it by the end of next year." Once that happens, Radio New Town will operate as a full-fledged FM station. The authorities also plan to let out the studio for private recordings.
Explaining the need for an administrative body to operate a radio channel, Sen pointed out: "We need multiple channels to inform, educate and communicate with citizens. We can pass on information on Covid,  dengue, solid waste segregation and recycling, events and facilities, business club and Snehodiya, timings of the facilities we run and so on. It will also provide us a window for showcasing local cultural talents."
The authorities have injected a competitive element in the first round of webcast. Over four days starting from Wednesday, the programmes recorded by the residents are being uploaded. While seven are already up, programmes of five each will be uploaded on Friday and Saturday. "For 10 days after uploading, people would be able to 'like' the programmes on the Facebook page. The housing complexes or blocks drawing the most number of likes will be given prizes," Sen said.
Hidco has also entered into a content-sharing agreement with the Community Radio JU, run by Jadavpur University. "We will offer them all the programmes that we air. They are educative for children, be it discussions on well-known personalities or hygienic habits to develop during Covid or on textual subjects," said Imankalyan Lahiri, convenor of Community Radio JU.
Till the app is ready, the programming on Radio New Town will be Facebook-based. "Even big FM channels now have a Facebook component and record programmes simultaneously for both radio and social media. This is a new trend," said Sen.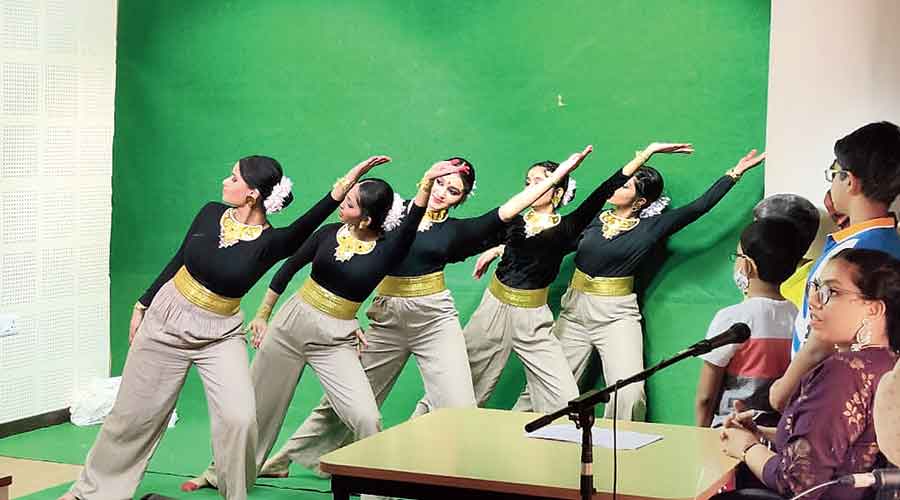 The first programme to go on air on Wednesday morning was by 1CA and 1CD Blocks. Tapas Adhikari of CD Block sang a reworked version of Bhupen Hazarika's Ami ek jajabor, with the changed lyrics reflecting the plight of migrant labourers during the lockdown and villagers displaced by Cyclone Aila, alongside narration by Runushree Raha of CB Block. Class IX student Sparsh Pandey presented an agomoni song. Chandana Roy of CB Block put up a stand-out performance in a solo act as the mother of an assaulted daughter. The programme ended with a group dance choreographed by CA Block's Sarmistha Mukherjee. "The residents have been repeatedly asking me the date of the webcast ever since they went for the recording. This is an exciting opportunity for us," said Neelmoni Seal, general secretary of New Town (1CA to 1CD Blocks) Residents' Welfare Association.
On Friday, programmes by the residents of CA Block, PS Ixora, Sankalpa, Uniworld City and Unmesh will be uploaded while it will be the turn of AL-AK-AI Blocks, CD Block, Greenwood Park , Greenwood Sonata and Hiland Willows Cypress on Saturday.