The Army Institute of Management has moved into a sprawling new campus in New Town and no, it's not a training school for army officers. It's a business school for everyone.
"The perception among civilians is that this is either an institute for army officers or one exclusively for their children. We want to bust this myth," said director of college, Major General (retd) Arun Sapra. Before this the institute would operate out of Command Hospital in Alipore but on its 25th foundation day, it started operating from the new premises opposite Uniworld City's Downtown Mall.
The ceremony
On July 28, a torch was lit at their old Alipore campus and carried to New Town in an open jeep. The torch then lit the fire of a havan around which a puja was conducted. The
National flag was hoisted and the bust of an alumnus, the late Lieutenant Navdeep Singh Bains, was installed. "After graduating from our institute, Navdeep had joined the army and is now a martyr. He won an Ashok Chakra posthumously. His bust was already installed in the old campus and our alumni association was particular that we shift it here ceremoniously," said Sapra.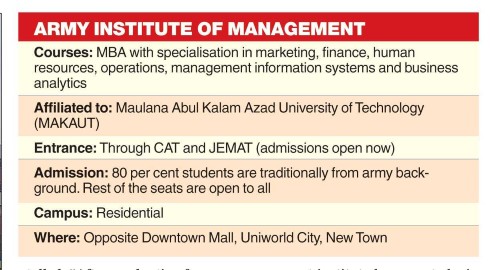 The course
Affiliated to Maulana Abul Kalam Azad University of Technology (MAKAUT), the college offers MBA with specialisation in marketing, finance, human resources, operations, management information systems and business analytics. Entrance is through CAT and JEMAT and admissions are now open.
"The Army Welfare Education Society has different streams of colleges across the country, in fields like technology, law, fashion…. The management institute happens to be in Calcutta," said professor of finance, J.N. Mukhopadhyaya.
Malini Majumdar, another professor who has been teaching here for 13 years, was excited about the new campus. "Not only do we have space now to take in more students but we can also start new courses," she said.
The residential campus is spread over six acres and can house 120 students, with provision for 300 in future. Eighty per cent of the students however, are from an army background. "What marks our institute apart from others is the army ethos and discipline," assured Sapra. "We also insist on students living on campus as it builds their personality. In the post graduation level, one accrues more dividends learning from one another beyond business hours than during them."
The campus
Once offline classes resume, students will check into a beautiful campus. The main building, housing the classrooms and offices, is a G+5 building called Kalpavriksh. Walking into it, one sees an eye-catching ear-to-ear cityscape of Calcutta and a vertical panel – as high as the building itself - depicting an image of outer space with a model of the earth and moon suspended from the roof and side panels of auspicious Buddhist symbols. "The message is for students to reach for the sky, with divine blessings," smiled Sapra.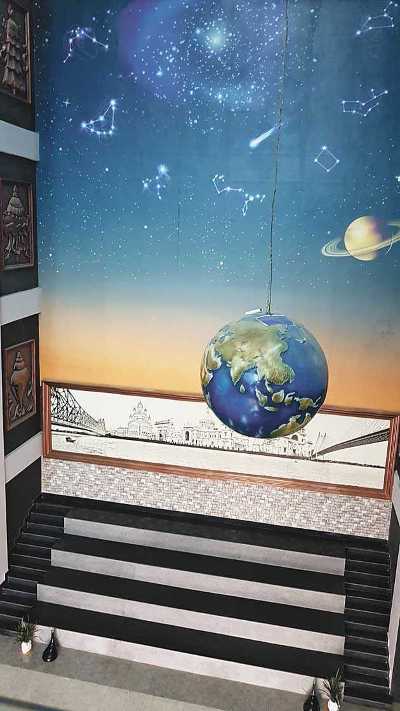 A panel in the main building depicting outer space and a model of the earth suspended from the ceiling
The offices and classrooms have no wood – it's all smartly done with stone, steel, tiles and glass. The colour scheme is predominantly grey and white. Lecture halls are named after management gurus like Philip Kotler, seminar rooms after India's two field marshals Sam Manekshaw and Kodandera M. Cariappa.
The top floor auditorium, named after Tagore, has a capacity of 350. "The graduation ceremonies of two batches are pending due to Covid. We shall celebrate them here as and when they happen," said the director.
"Every floor will have a different theme, such as Calcutta and West Bengal, diversity, patachitra…" said Col (retd) Shantonu Roy, who runs an NGO for budding artistes called Uma Dream Foundation. These are the artistes who are now adding finishing touches to the paintings and sculptures all over the building.
Incidentally, all the interior decoration has been done by small time artisans as the management wanted to support local talent. "There was even a painter, Subrata, who we found at an exhibition in Eco Park. He was dejected as nothing was selling so we commissioned him to create many a painting for our walls," said Sapra. "There's another clay artiste who is so needy she comes barefoot. We do not bargain with her and are trying our best to support such talents."
Besides art work, the building has many mirrors so students become conscious looking at themselves and always stay well-groomed.
The girls' and boys' hostels have double rooms and several facilities. Each floor has a washing machine and ironing station. The men and women have their exclusive lobbies and common rooms with indoor sports like mini snooker, mini table tennis, TV, a kitchen set-up etc. Women have their own gym but can also use the common gym in the amenities building.
This building has the dining hall where meals will be served, a canteen upstairs for snacks and parties, studios for yoga, zumba etc, a grocery store and unisex salon. "We shall not charge those who win the contract to set up the store and salon but they must offer subsidized rates to students. This is to protect students from the exorbitant rates charged at malls," says Sapra.
A basketball court is already up and arrangements are being made for more outdoor sports like volley ball and badminton.
Giving back to society
For the sake of hawkers and passersby, the institute is building public toilets, water coolers, rain shelters and an ATM counter outside their gates. Their buildings are also fitted with solar panels to reduce their carbon footprint.
"Many outsiders are coming to ask if we impart training for SSB (the Services Selection Board assesses candidates for becoming officers in the Indian Armed Forces) and so we have decided to start this service for outsiders," said Sapra, adding that they shall offer space and expertise for start-ups too.
"We shall allow outsiders to set up "start-up garages" for incubation of their businesses within our campus. They are free to consult our faculty for advice too. This shall be backed by an in-house cell called Publication Research Incubation Innovation Consultation and Entrepreneurship (PRIICE)," the director said.