New Town residents step forward to help senior citizens get registered on CoWin portal
The volunteers have already listed more than 200 people from the area as well as places like Durgapur and Burdwan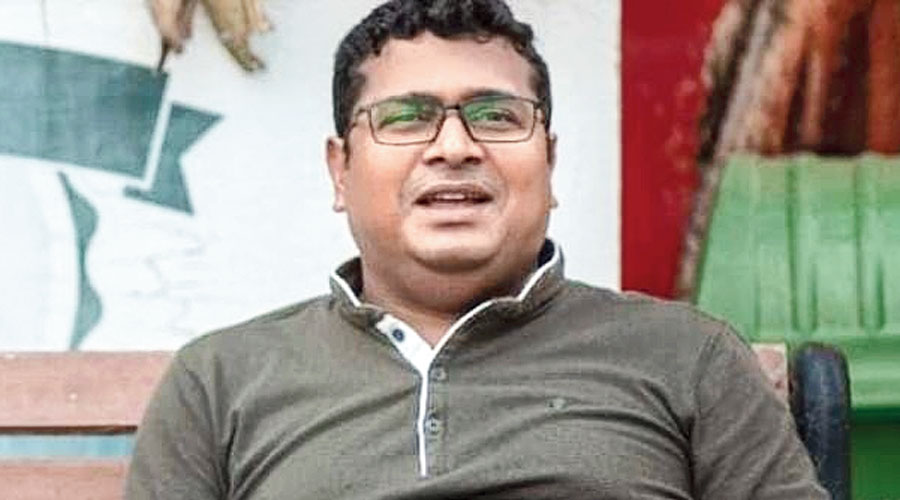 NTFN chairman Samresh Das.
Telegraph picture
---
New Town
|
Published 28.04.21, 01:52 AM
|
---
People from different walks of life have stepped forward and responded to the New Town authorities' call to help senior citizens and those above 45 get registered on the CoWin portal so they can get the Covid shot.
A group of 14 volunteers is helping potential recipients, especially seniors living alone in New Town, get registered on the portal.
The motley group of volunteers includes a lawyer, schoolteachers and techies. The volunteers have already registered more than 200 people from New Town as well as places like Durgapur and Burdwan, said Samaresh Das, the chairman of the New Town News and Forum (NTFN), a residents' group.
Arnab Banerji, a lawyer, said he responded to the call from the New Town authorities because "these are unprecedented times and he could not stand on the sidelines doing nothing".
He said he was keeping the CoWin portal open on a window of his laptop's internet browser while working on his cases. "Whenever someone calls me for registration, I tell the person to WhatsApp me an image of his or her identity document. I enter the details on the portal and get the person registered," said Banerji, a resident of New Town's AA Block.
He has been getting more than a dozen calls daily.
Sucharita Das, a resident of DA Block who teaches at a government school, said her household chores had more than doubled because the family did not have any help but she still found time to help people register for the jab.
"A lot of senior citizens want to get innoculated but are not being able to because they are not comfortable doing things online," said Sucharita, who stays with her husband, two children and in-laws.
"We have to help people in whatever way we can. This is a very small way in which we can pitch in to help everyone during these trying times." Mitali Das, an accounting consultant, said she had seen first-hand how seniors faced problems while registering on the portal. "One of our neighbours, a senior citizen, had approached me to get herself and her husband registered," said Mitali, who is juggling household chores and office work to help people get registered.
On Sunday, the volunteers had organised a camp near Kolkata Gate to help people register on the portal. But the volunteers have decided to work online to avoid gathering as a precaution against Covid.
The volunteers have also created a flyer containing their numbers and posted it on social networking sites, including Facebook.
NTFN chairman Das said the flyer had gained a lot of traction and they were getting calls from abroad from sons and daughters of elderly residents of the township.
"I get calls till late at night from the US, UK and other countries. They seek our help to get their parents and relatives registered.We are helping all irrespective of whether the person we are registering is a resident of New Town or not," said Das.
While one set of volunteers is working to help people register on the portal, at least six others are working to source oxygen cylinders for Covid-19 patients.
Debashis Sen, the chairman of New Town Kolkata Development Authority, lauded the citizens' initiative and said it was heartening to see residents of the township respond to their call for help.
The NKDA has restarted its Covid-19 helpline. Residents can call 1800 103 7652 to know the rules of home isolation and to find out about vaccine centres, testing units and the NKDA-run safe house.