New Town complex sets up Covid centre
More gated communities gearing up to house residents with little or no coronavirus symptoms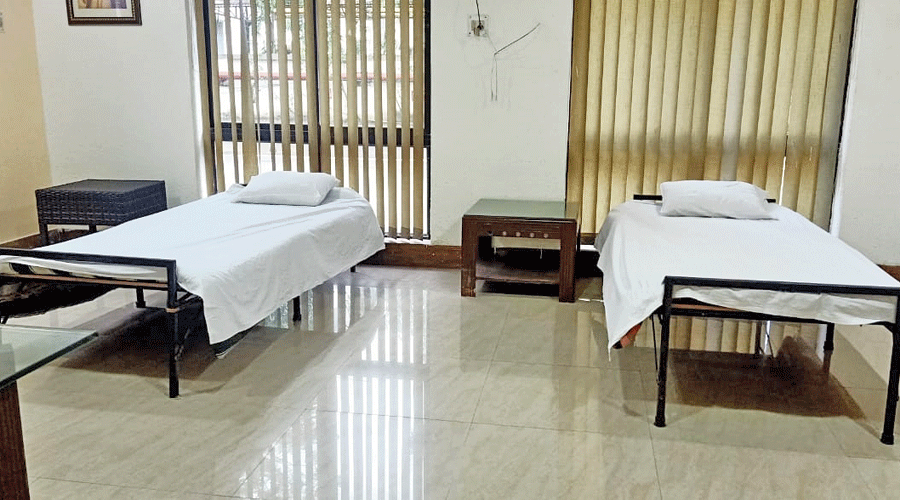 ---
---
Within days of the ministry of health and family welfare issuing guidelines for gated residential complexes desirous of setting up "small Covid care facilities", several housing societies in New Town are getting ready to take up the challenge.
The guidelines are for setting up "community-based isolation facility", within the residential complex, managed with their own resources either by the residents' welfare associations (RWAs) or residential societies or in collaboration with a non-governmental organisation (NGO). "This may be more acceptable to the residents and will help reduce the burden on existing facilities for managing suspect/ pre-symptomatic/ asymptomatic / very mild cases of COVID-19," the guidelines point out.
An inspection team of district health officials visited three housing complexes on Tuesday and expressed satisfaction with facilities offered by Greenwood Sonata, in Action Area IID.
The team, comprising doctors from the Chief Medical Officer of Health (CMOH) office in Barasat along with a World Health Organisation (WHO) consultant and the New Town Kolkata Development Authority (NKDA) health officer, took a tour of the community halls where cots had been laid out at considerable distances and medical equipment, including oxygen cylinders, were kept. "It's a splendid initiative by the residents' welfare association," said NKDA chairman Debashis Sen, who also visited the facilities during the inspection.
"It was explained to the residents that setting up the Covid care facility was their own choice and responsibility. The doctors gave them detailed instructions on basic requirements as listed in the guidelines like how to safely enter and exit the space, have partitions to separate donning and doffing spaces for wearing and taking off personal protective equipment (PPE) by the staff, have separate rooms for male and female patients and ensure twice-a-day visits by an in-house doctor. Some changes were suggested which I am sure they will carry out," Sen said afterwards.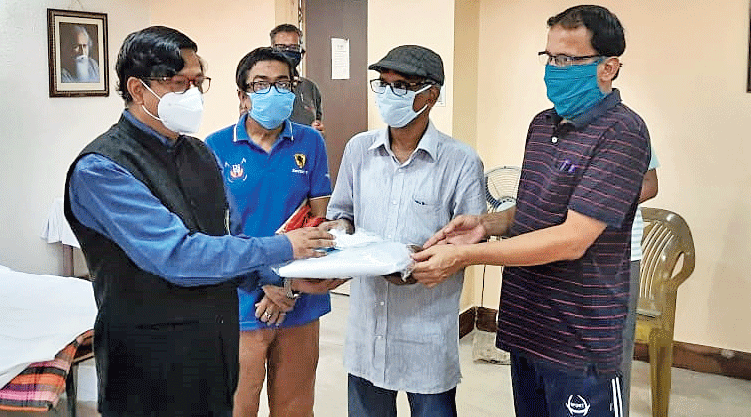 "Greenwood Sonata seemed to be ready more or less," said Soumya Sarkar, who has visited several safe houses in the district as the surveillance medical officer in charge of North 24-Parganas and Nadia on behalf of WHO.
Of the other two housing complexes inspected on Tuesday, Greenfield Heights has to decide whether to house pre-Covid or Covid-positive patients and among them male or female patients. "They also need a doctor," said Ankur Roy Chowdhury, vice-chairman of New Town Forum and News, a social welfare organisation, which is helping the residents' associations set up such facilities.
The Covid care facility at PS Ixora is right under residential premises. "They were advised to cover the top of the air-conditioner vent so the infected air does not rise up and put residents of the floor above at risk," Roy Chowdhury added.
Sudipto Mukherjee, president of Greenwood Sonata Apartment Owners' Association, was delighted with the outcome of the visit.
"We are possibly the first gated residential complex in Bengal, if not the country, to get a facility ready so quickly after the health ministry's guidelines came out on July 17. Home isolation has its limitations so we were thinking of having something like this. Covid tests reports take time to come. This would give residents a space to stay away from home yet close by without risking infecting family members. Our only worry was investing so much in medical equipment and then not passing the inspection. We have two community halls and a resident doctor willing to take charge. Another doctor, who has recently recovered from Covid-19 himself, has offered to volunteer as well," Mukherjee said. The association is awaiting a written permission from the inspection team.
NTFN had mooted the idea of such safe houses long ago. "We had even made a presentation before NKDA three months back. We are now working to convince other housing complexes to follow suit," said chairman of the forum Samaresh Das.