New Market traders threaten agitation against hawkers
They allege that the vendors have taken over two-thirds of the road space, making it difficult for buyers to reach their shops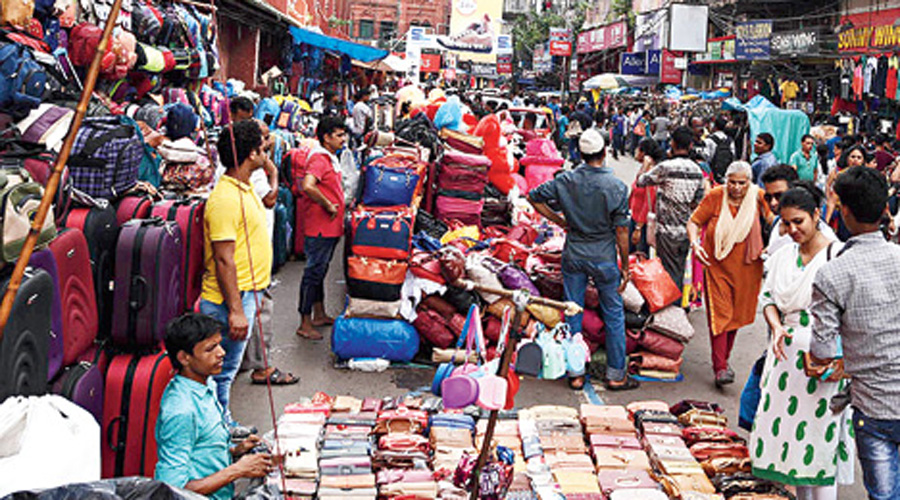 ---
Calcutta
|
Published 21.02.21, 01:35 AM
|
---
Traders in the New Market area have threatened an agitation against hawkers who they allege have taken over two-thirds of the road space, making it difficult for buyers to reach their shops.
The Joint Traders Federation, an association of traders of markets in the area, including SS Hog Market, Sreeram Arcade, Simpark Mall, Traders Island and standalone shops, will hold a rally on Wednesday. They also plan to submit a list of demands to the police and the Calcutta Municipal Corporation.
"If there is no action against the hawkers, we will have no other option than to shut down our shops," said Ashok Gupta, the president of Joint Traders Federation, who owns a kitchen appliances shop in New Market.
The numbers of hawkers have increased in the last few months and even the doors of the shops and the gates of the markets are not being left free, the traders alleged.
Parking cars along Bertram Street, Lindsay Street, Fenwick Bazar Street or Humayun's Place — roads in the area — is now impossible because of the hawkers, the traders alleged.
A visit to the area on Saturday showed that hawkers had spread out their wares on  roads, placed stands to display items. The footpath along all the roads were occupied, leaving hardly 3-4ft space for pedestrians.
The state government had framed rules in 2018 that barred hawkers from occupying the metalled road. The rules also mentioned that two-thirds of a pavement must be left free for pedestrians. But in the New Market all these rules have been violated.
Shaktiman Ghosh, the all India general secretary of the National Hawkers Federation said he was opposed to cars being allowed on the roads in the shopping hub. But said hawkers should not encroach the footpath in front of a gate or door. "We are not in favour of hawkers sitting on a  roads or occupying more than one-third of a footpath's width," he said.
Nearly 1200 shop owners in the shopping hub went on a three-day strike in 2013 against the encroachment but the traders said situation has worsened. "The police act only when we raise some hue and cry. Within days things again return to the ways. If this continues, the shopowners will also start sitting on the road with our wares," said a shopowner.