New Market steps against hawkers
Traders will meet the municipal commissioner and the deputy commissioner of police, central, to demand action against the encroachment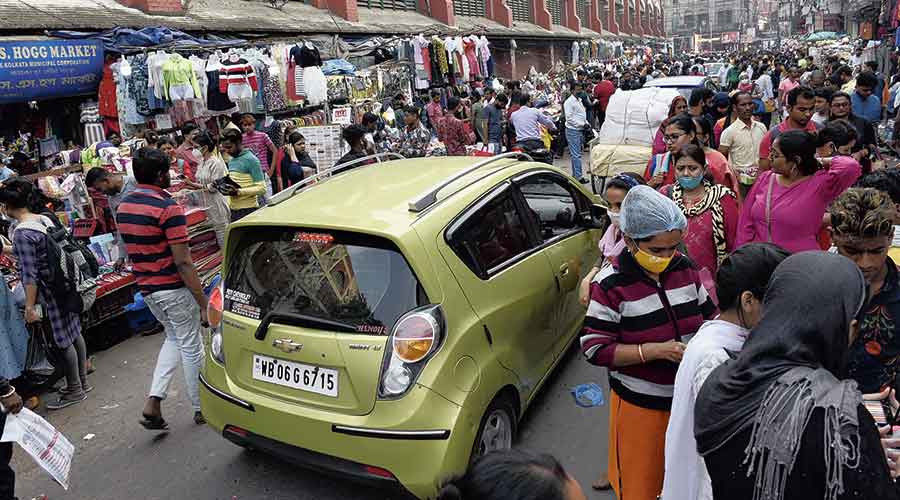 ---
Calcutta
|
Published 23.02.21, 03:17 AM
|
---
Traders in the New Market area have decided to organise a rally on Wednesday against the rise in encroachment by hawkers in the shopping hub. They will meet the municipal commissioner and the deputy commissioner of police, central, on Thursday to demand action against the encroachment.
The traders held a news conference on Monday to unveil their protest plan. They said if the meetings with senior government officials yielded no result, they would down their shutters and go on a strike.
"We will meet the municipal commissioner on Thursday. We pay taxes to the corporation to run our shops. We will also meet the deputy commissioner, central, and tell him how difficult it has become for us to run our businesses," said a trader.
Metro reported on Sunday that the traders had threatened to start an agitation because of the way hawkers were encroaching on roads and footpaths in the shopping hub.
Ashok Kumar Gupta, the president of the Joint Traders' Federation, said they had gone on a strike in 2013 that yielded temporary results. "The police came, the hawkers were pushed back and made to leave some space open on footpaths. But the change only lasted for a few months," he said.
"Since the Unlock began, we have been noticing a steady increase in the number of hawkers. They have hardly left any space on the footpaths and now they are increasing the area they have encroached on the roads."
The Joint Traders Federation has several traders of SS Hog Market, Sreeram Arcade, Simpark Mall and Treasure Island as its members. Besides, the owners of a number of standalone shops on Lindsay Street, Humayun Place, Bertam Street and other roads in the area are its members.
"About 1,200 traders from the area will walk in the rally on Wednesday. We will carry banners and inform people how the encroachment of roads and footpaths is affecting our business," said a trader.
Hawkers spread out their wares on roads and place stands to display garments. On footpaths, they hardly leave any space for pedestrians to move. Cars that enter the place have a harrowing time negotiating their way through hawkers and pedestrians.
The state government had framed rules in 2018 that barred hawkers from occupying metalled roads. The rules also mention that two-thirds of pavements must be left free for pedestrians. All rules are violated in the New Market area.
The traders said some of their customers complained to them they could no longer visit their shops because hawkers hardly left any space for cars to park.