New deadline for FASTag, must for NH toll plazas
Motorists must have the tag to pass through the 25 toll plazas on national highways in Bengal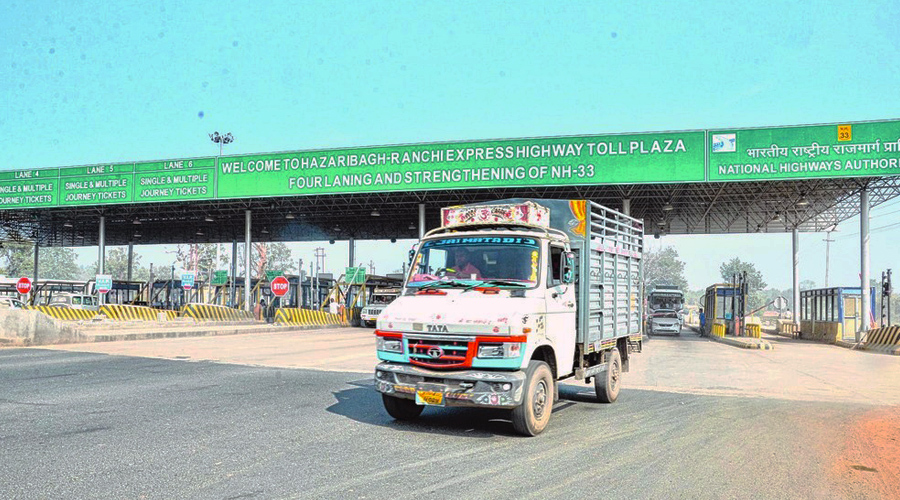 The earlier deadline was January 1.
The Telegraph file picture
---
Calcutta
|
Published 09.01.21, 02:35 AM
|
---
The deadline for procuring a FASTag has been extended till February 15 and most vehicles will need it to pass through national highway toll plazas, officials of the National Highway Authority of India (NHAI) told vehicle operators on Friday.
The earlier deadline was January 1.
Motorists will have to have the tag on their vehicles to pass through any of the 25 toll plazas on national highways in Bengal, the officials said.
"There can be no two ways about it. Barring those vehicles that are on the 'exemption list', all vehicles using an NH toll plaza would have to have a FASTag," R.P. Singh, the chief general manager of NHAI Bengal told the operators at a meeting with the transport department.
"There will be no lanes for cash payment at the toll plazas. If you don't have a FASTag, you will have to pay double the toll fee."
The FASTag is a ready to use, re-loadable tag which will enable automatic deduction of toll charges and let one pass through a toll plaza without stopping for cash transactions. Once the tag fixed on a vehicle's windscreen is active, a radio-frequency identification (RFID) technology will enable deduction of toll taxes from the user's account.
The ministry of road transport and highways has recently extended the deadline for collecting FASTags till February 15 to address certain glitches that were cropping up during transactions. The Central Motor Rules 1989 have been amended and from the next financial year, FASTags will be required for third-party insurance.
A section of truck and private bus operators has been complaining about snarls at toll plazas since the introduction of FASTags, with a majority of them claiming they have been told about a waiver if it took more than three minutes to cross a toll plaza.
"No such specific exemption of user fee has been mentioned in the ministry's notification in case time taken to cross a plaza is more than three minutes," Singh told the operators. "All 25 toll plazas in Bengal have representatives from banks to help one get a FASTag so there shouldn't be any problem."
Apart from the FASTag-enabled toll plaza, one can also apply online at the website of a bank or at www.nhai.gov.in. There are 24 banks that are a part of this FASTag project. The documents that are required include the registration certificate of a vehicle, a passport size photograph of the owner and KYC documents.