App-based e-bikes were launched in New Town on Wednesday to improve the last mile connectivity in a place where finding public transportation options in the afternoons and at night becomes a challenge.
New Town already has an app-based cycle sharing system that has gained popularity in all the action areas.
The new battery-powered bikes, of which 100 have landed in New Town, can be picked up by commuters from 20 docking stations, an official of the New Town Kolkata Development Authority (NKDA) said. These are the same docking stations from where pedal-powered bikes are booked.
The e-bikes are powered by a small electric motor and can run for up to 60km on a single charge.
Spare batteries along with technicians will be stationed at each docking station. These technicians will change the batteries once a bike shows a "low battery" sign on its display unit.
Apart from being fitted with alloy wheels for extra stability and control and solid tyres that will require the least amount of maintenance in terms of filling up air, each bike has a small LED headlight to help riders negotiate the roads and lanes of New Town at night.
The bikes also have a rear brake light and a basket in front where riders carry their bags and other things.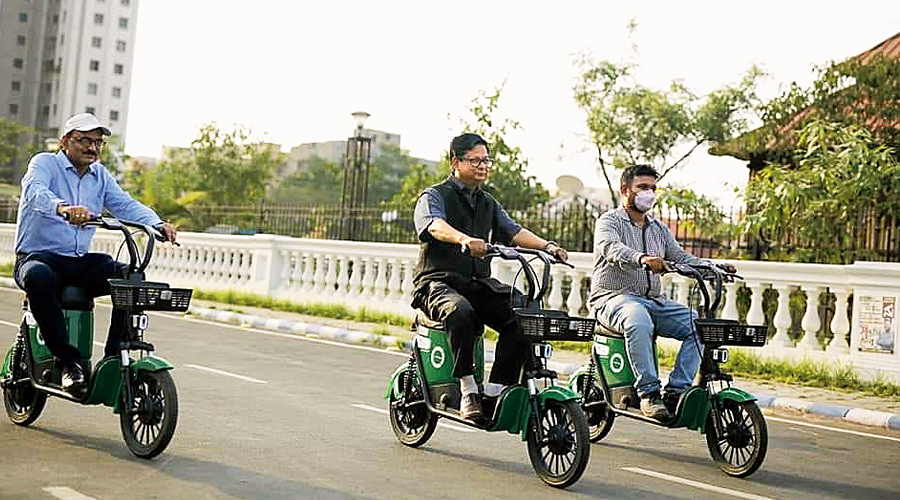 Hidco chairman and managing director Debashis Sen (left) test rides an e-bike Telegraph picture
On Wednesday, a docking station near the New Town Smart Street, a two-minute walk from the Kolkata Gate, was made operational for e-bikes by senior officials of Hidco that builds infrastructure in the township and representatives from the New Town Kolkata Development Authority (NKDA).
Some of the other docking stations from where commuters can hire these bikes are in front of the New Town bus stand, near the Reliance Fresh outlet, outside Axis Mall, near Novotel and off the Kolkata Gate.
The NKDA has partnered with Chartered Bike, an Ahmedabad-based company, to launch the e-bike service, which also operates the app-based cycle-sharing system in the township.
The business model behind the bicycle-sharing app and the e-bike renting scheme, is based on the app-based bicycle sharing services operational in pedal-friendly cities like Paris, Copenhagen and Amsterdam.
A user in New Town has to download the "Chartered Bike" mobile app on a smartphone. A one-time registration fee of Rs 100 is charged and it is redeemable, said a spokesperson for the company.
To unlock an e-bike one needs to scan the QR code on the fender. In case someone wants to make a stop somewhere — for example to buy groceries, he or she has to click on the "parking" option on the app.
At the end of the ride, the rider needs to choose the "end ride" option, after which the payment can be made through mobile wallets as well as the debit or credit cards.
The bike has to be returned to any of the docking stations after the ride.
As an introductory offer, the first half-an-hour of the ride will cost Rs 5. From there on a rider will be charged Rs 0.50 per minute.
NKDA chairman Debashis Sen said 300 more battery-powered cycles were on their way.
"We want to have as many non-polluting modes of last mile connectivity transport options in New Town. These bikes will be available round-the-clock.They will help residents as well as office goers to reach their offices, markets or even homes if they live close to a docking station," said Sen.