Netaji aide, who coined the slogan 'Jai Hind', posthumously honoured
Abid Hasan, who was a major in the Indian National Army and served the country as a diplomat after Independence, was conferred with the Netaji Award 2021 by the Netaji Research Bureau at Netaji Bhavan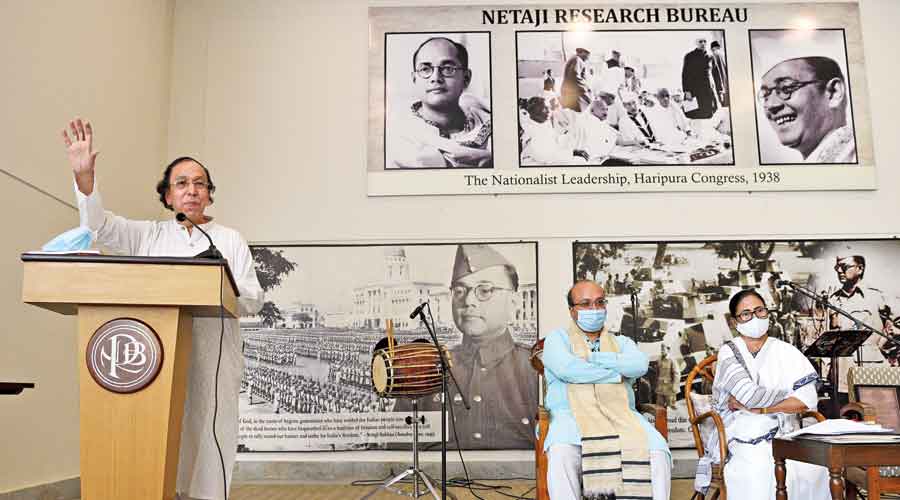 ---
|
Calcutta
|
Published 24.01.21, 01:26 AM
---
Abid Hasan, aide to Netaji Subhas Chandra Bose and the man who coined the slogan "Jai Hind", was posthumously honoured at an event here on Saturday that resonated with messages of unity and secularism.
Hasan, who was a major in the Indian National Army (INA) and served the country as a diplomat after Independence, was conferred with the Netaji Award 2021 by the Netaji Research Bureau at Netaji Bhavan.
Bureau chairperson Sugata Bose, Netaji's great-nephew and a Harvard history professor, delivered a speech on "Netaji, Abid Hasan and the Unity of India" that was peppered with anecdotes and highlighted the emphasis Netaji and his comrades laid on inclusiveness and secularism.
Excerpts from the speech by Sugata Bose:
In Nehru's room
It was 51 years ago, January 1970. You can imagine the thrill of a boy just entering his teens to be told that Netaji Subhas Chandra Bose's sole Indian companion on his perilous 90-day submarine voyage from Europe to Asia in 1943 was coming to stay with his family.
We happily vacated the children's room as we were duty bound to do whenever Netaji's close associates visited Calcutta. The room on the ground floor at 1 Woodburn Park was better known as "Nehru's Room" because that was where Jawaharlal stayed as Sarat Chandra Bose's guest during his visits to Calcutta during the freedom struggle.
We were familiar with Abid Hasan's photographs with his leader on the deck of the German submarine and their transfer together in mid-ocean on a rubber boat to the Japanese submarine. They were prominently displayed at the museum in Netaji Bhavan. His hair had greyed, but it was easy to recognise Netaji's comrade-in-arms when he arrived at our home with a smile on his lips and a twinkle in his eyes, and in an instant endeared himself to us.
Uncle Abid's room had a door leading to the beautiful curved southern veranda of 1 Woodburn Park. That is where we gathered around him as he sat on a cane chair, looking at the eucalyptus tree in the distance, to hear him narrate his adventures with Netaji in Europe, the Atlantic and Indian Oceans, and Asia.
Loyalty and tears
The devotion and loyalty that Netaji elicited from his followers had to be seen to be believed. As with most other men and women of the INA I have met, Uncle Abid wept profusely as he remembered his leader.
He had not yet written his oration when he arrived in Calcutta. He was provided with a desk and a chair along with my mother Krishna Bose's Olivetti typewriter in one corner of the veranda. My mother was pleased to find someone who could beat her in the art of slow typing.
After composing a passage, Uncle Abid would give us a shout and we would rush to hear what he had written. After reading a few sentences, his voice would choke with emotion. He became concerned that he would not be able to deliver the oration before the public. "How embarrassing it would be if I break down like this," he kept saying.
My mother tried to boost his morale with a steady supply of good food and music. He enjoyed Bengali cuisine, supplemented by a bowl of green chillies placed before him. I watched him sitting at the oval marble table in our dining room with beads of sweat appearing on his forehead as he munched the chillies.
On the morning of January 23, 1970, at Netaji Bhavan, Abid Hasan delivered his beautifully crafted and deeply moving Netaji oration, titled "The Men from Imphal", in a somewhat monotonous voice, struggling not to be overcome by emotion.
Music of unity
Abid Hasan then flashed back to October 1943, telling the story of Netaji's visit to the Chettiar temple in Singapore.
He (Netaji) had turned away the head priest, saying: "What! Come to your temple where even Hindus of other castes are not permitted entry, not to speak of members of other communities who are equally near and dear to me?"
He agreed to go when the high priest returned with an invitation to "an Indian national demonstration".
"When we came to the temple," Abid Hasan remembered, "I found it filled to capacity, with the uniforms of the INA officers and men and the black caps of south Indian Muslims glaringly evident. The memory I retain is one of an invigorating music — as that of a symphony dedicated to the unity of the motherland."
That music sustained him during his travails on the battlefield.
National greeting
The extended interview with Abid Hasan that formed the basis of Krishna Bose's long-form article Sainiker Smriti, later published as A Soldier Remembers in the Netaji Research Bureau's journal, The Oracle, was conducted day and night between March 13 and 15, 1976.
Uncle Abid was an indifferent public speaker but a very engaging conversationalist. Puffing an endless chain of cigarettes and sipping cold beer, he transported us to the military camps of the Indian Legion in Germany, the rehearsal of the national greeting "Jai Hind" with Netaji, the drama and discipline of the submarine voyage, the tumultuous public events and the intimate private moments with Netaji during the Azad Hind movement in Southeast Asia, and the saga in Imphal.
Netaji had asked his followers in Europe to help him find a common national greeting that would have a nice ring to it and be acceptable to all religious communities. One day Abid Hasan heard some Rajput soldiers greet each other with "Jai Ramji ki". It seemed to have a musical quality and Hasan changed it to "Jai Hindustan ki".
That did not quite work but the abbreviated form, "Jai Hind (Victory to India)", sounded perfect and Netaji enthusiastically embraced it as India's national greeting.
A 'pilgrimage'
Always conscious of the need to foster unity among religious communities, Netaji had toyed with the idea of taking a Hindu, a Muslim and a Sikh on his journey to Asia. Once the German naval authorities told him that he could take only one aide, he picked Abid Hasan to be his companion.
N.G. Swami and four others with advanced training in wireless telegraphy, secret inks and sophisticated radio transmitters were to follow on a blockade-runner in March. Abid Hasan was simply told to pack his bags for a long journey without any inkling of his destination. He thought that he might be sent to Mecca as part of a scheme to find anti-colonial recruits during the Haj.
It was only when he met Netaji at Lehrter Bahnhof (a railway station in Berlin) that he realised he would be accompanying his leader. On the train from Berlin to Kiel, Netaji asked Abid Hasan: "Now, do you know where you're going?"
"Yes, sir," Hasan replied, "I know where we're going."
"Where are we going?" Netaji enquired. "We are both going to perform Haj," Abid Hasan commented wryly, eliciting from his leader peals of laughter. He had truly become Netaji's only companion on a pilgrimage to freedom.
Divided house
We never forgot him, but India's younger generation needs to be taught about the forgotten vestiges of our freedom struggle. Faced with the threat of unequal citizenship from the forces of religious majoritarianism, Krishna Bose wrote her last article, published on February 1, 2020, on the values represented by Abid Hasan before her own passing weeks later on February 22, 2020.
Fifty-one years ago, Abid Hasan had in his Netaji oration referred to "these frustrating times when India again seems to be a house divided against itself". The times have turned even more ominous now and the "inhuman acts" that Abid Hasan deplored are becoming an everyday reality in today's India.
His oration was in Sisir Kumar Bose's words "a moving affirmation of the revolutionary faith given to us by our leader".
Abid Hasan had closed his oration with a message of hope: "The people of India will accept any leadership provided the call remains the same and the call cannot be but — 'Forget not that the grossest crime is to compromise with injustice and wrong'."
Can India defeat today's divisive policies and bind its diverse people together once again, as Netaji and Abid Hasan had done, with a garland of love?
As for our national greeting that Netaji gave us with Abid Hasan's help, the inspiration that it gave to the Azad Hind Fauj must be rekindled today.