The sixth edition of Uniworld Premier League, held in association with The Telegraph Salt Lake, kicked off at the Harmony Grounds last Friday. The tournament will be on till February 7, and has 21 men's teams, five women's teams and 10 junior teams fighting it out for the title.
"We decided to go ahead with the tournament as our residents needed a release after months of staying indoors. The Covid situation has also improved. We gained in confidence after we could organise Durga puja without any unfortunate incident, followed by a low-key Uniworld Football League in December," said Board member of Kolkata Uniworld City Apartment Owners Association Dhrubajyoti Ghosh.
The number of teams in the cricket league has remained the same as last year. "Still we curtailed the opening ceremony for the sake of Covid safety. There was no marchpast as that would have meant a gathering of all the team members. Instead, the team captains and their sponsors were felicitated," said Ghosh.
The torch run followed by athlete's oath, another feature of the ceremony in the Olympic Games tradition, was also dispensed with. Nor did they hold cultural programmes. Since all this meant a part of the evening was free before the first match, we brought the sub-junior match forward to the opening night," said the captain of Gully Boyz, who was also wielding the microphone.
Thrill in the air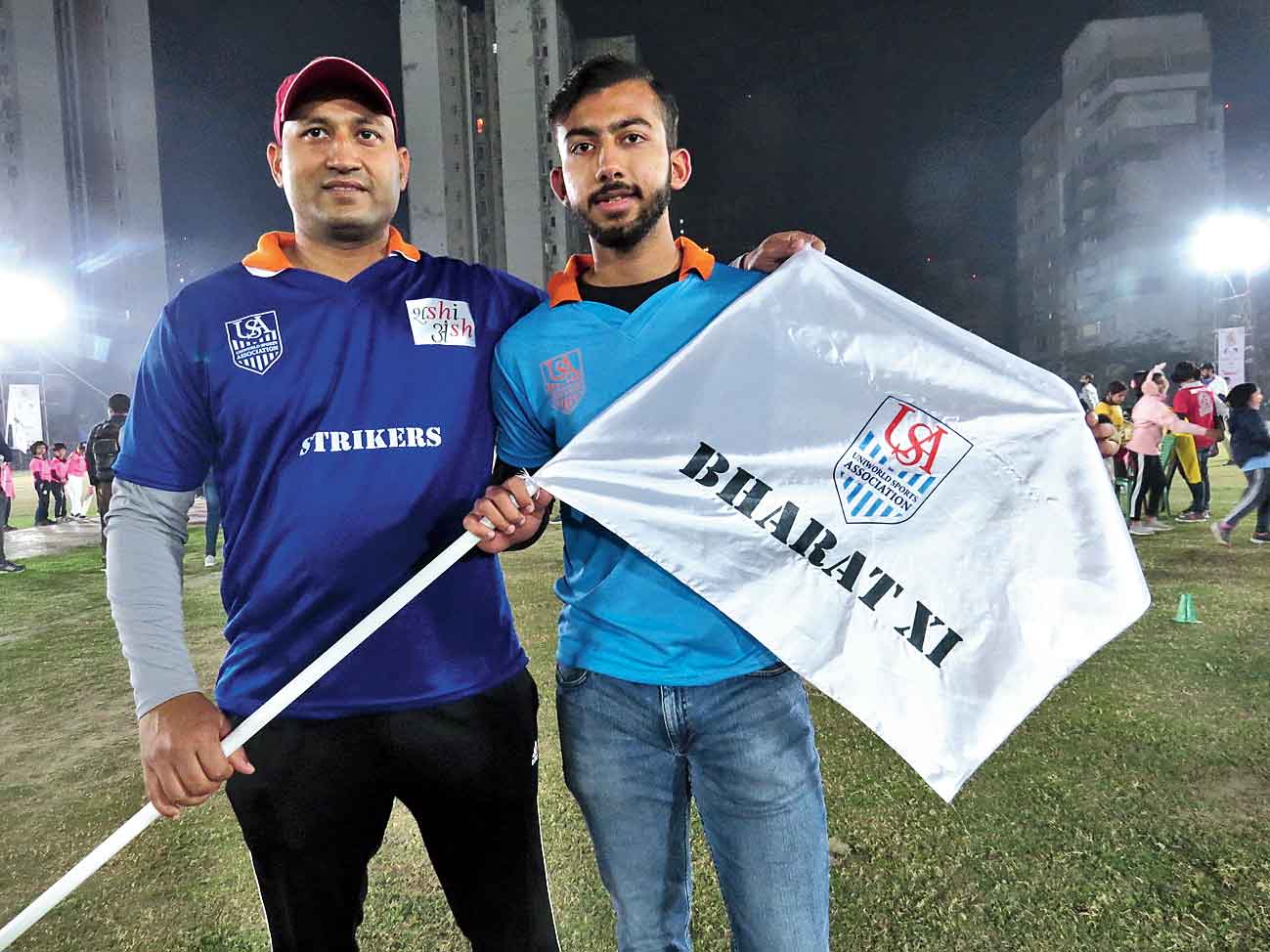 Sudeshna Banerjee
"Since school is shut we didn't have any sporting tournaments last year. I took part in Uniworld's football tournament last month but UPL is the real deal," said Arham Imroz of Class VIII.
The thrill was everywhere. Neighbours were meeting after months and one could almost see them smiling from behind the masks.
Neelabh Banerjee of Class VII said he can hardly wait for his online classes to get over these days so he can rush to practice from 2 to 5pm. "I've been counting the days for UPL to start," he smiled.
There are families in which every member is playing. "My wife Richa is in Queens XI, 10-year-old son Akshaj is in Immortals, six-year old son Aarav is in the sub-junior Gavaskar XI and I'm playing for Unity," said Brajesh Raman. "It's going to be a fun-filled fortnight."
Horns locked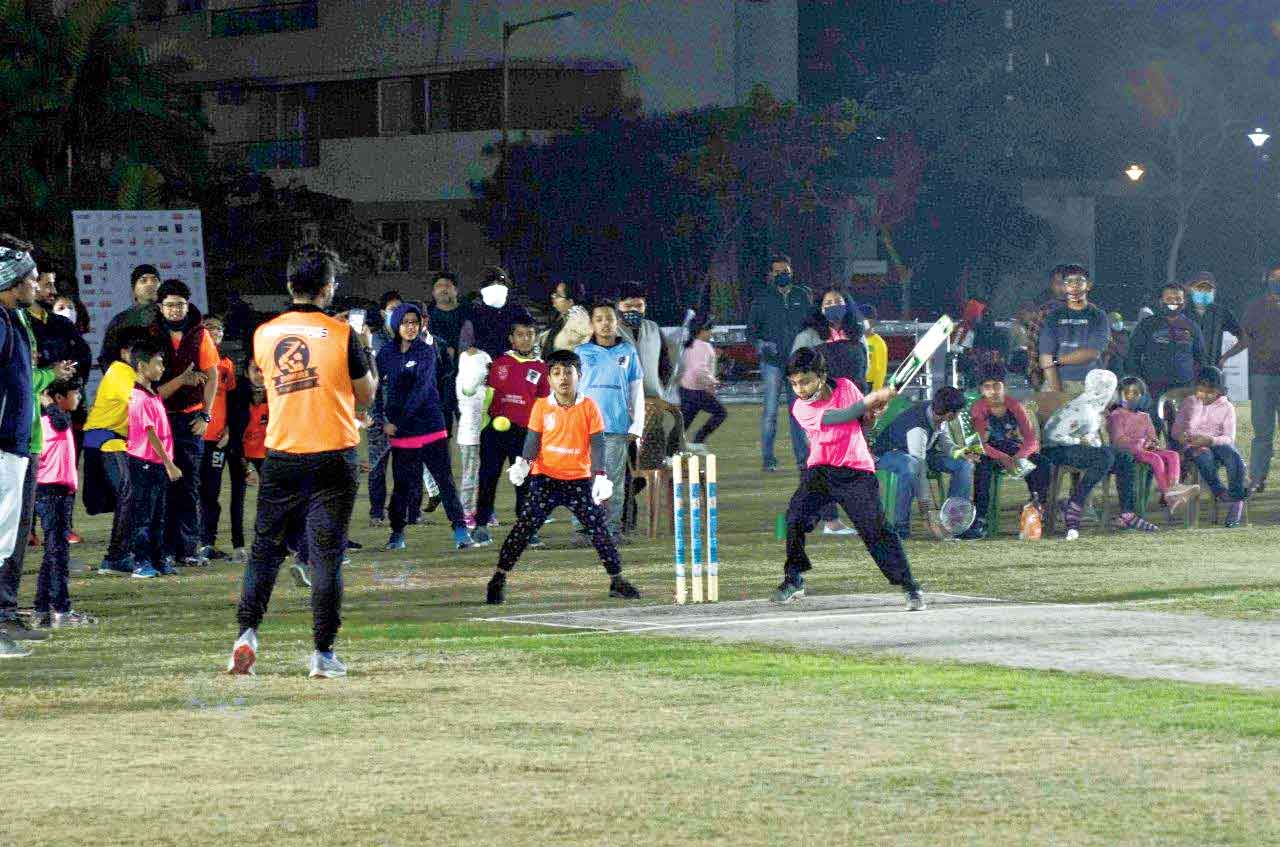 A slice of action from the sub-juniors' exhibition match
In the men's category, the defending champions are Knights but others are not giving up without a fight.
"This is my first year in Uniworld but I used to play cricket in my old neighbourhood," said Pratik Jaiswal of Amigoes. "In fact, I usually play with leather ball. Here were are playing with tennis balls and the bounce will be different but I'll do my best!"
While many end up practising only beforehand because of the UPL, there are those like Atul Ahuja who exercise round the year. He's part of the running group Uni Runners, that has floated a cricket team. "We run every day and have stamina but frankly, cricket is a different ball game."
Well, surely their running between the wickets will be fast! And besides, Atul is optimistic. "Actually the Test win in Australia has made me believe anything is possible," he smiled.
Debraj Saha didn't have a game on the opening night but he and his Strikers teammates came anyway. "We have to watch the others play so we can make notes," he laughed. "We'll play them soon and want to know their strengths and weaknessses."
The teams have come up with introductory videos to be shown on the big screen before the matches and Pravin Saraf, of Steel Icons, proudly showed their preview on his tab. It was an intimidating clip, with players not just hitting over-boundaries and taking diving catches but also tearing open coconuts with their bare hands! The background score was suitably that of Baahubali.
Girl power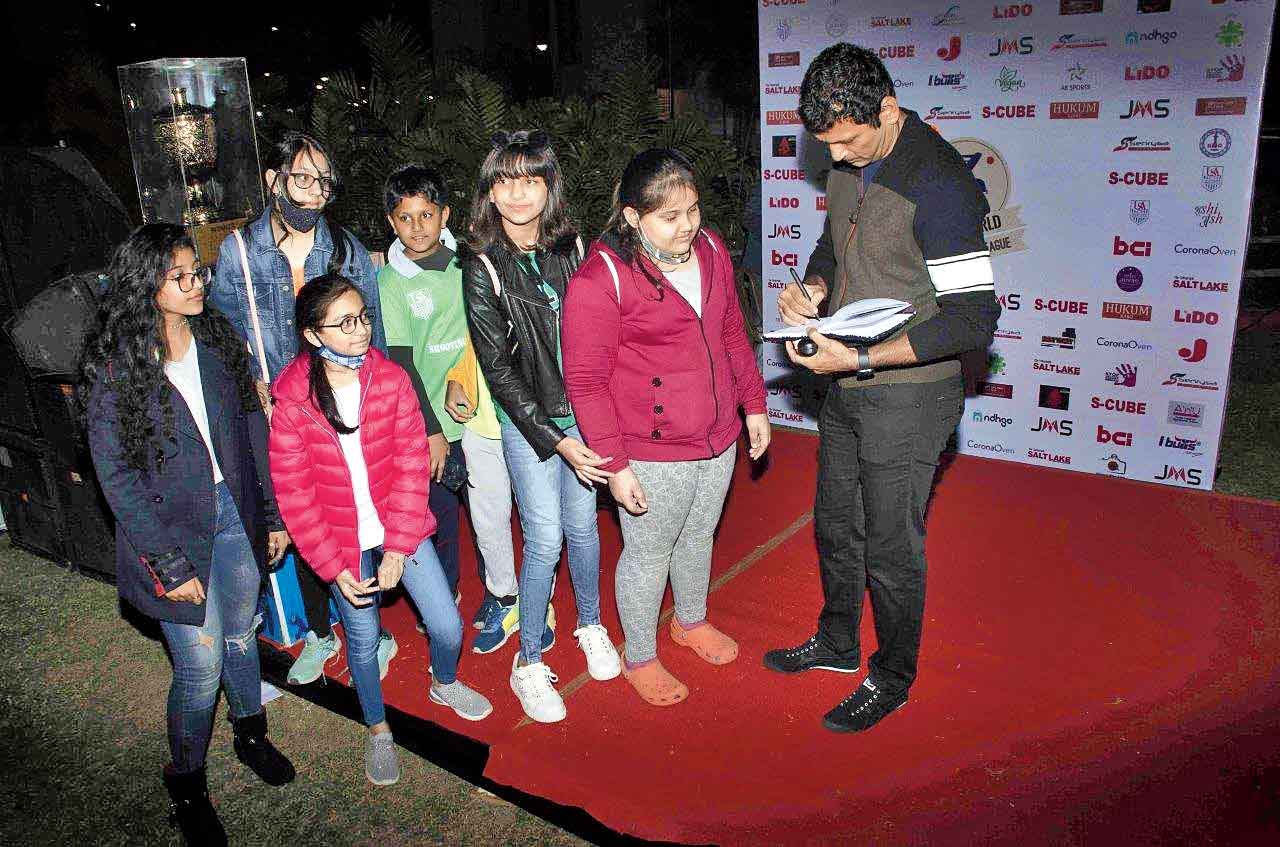 Chief guest Devang Gandhi obliges youngsters. "I have not seen any gated complex organise a sporting event of this scale. With men, women and children all playing, this is community cricket at its best," he said.
"Gender has nothing to do with sport. The boys in our team can't hit sixes but Shyla hits one after another. She's strong," said captain Arham about a 10-year-old.
The unassuming Shyla Senapati is a tennis player. "I don't watch cricket and play the sport only during UPL but I look forward to the break from tennis," smiled the girl. "If I end up hitting a six in the tennis court, however, my coach will be cross!"
"I'm playing cricket for the first time but our teammate Sangita aunty (Prasad) taught us the ropes," said Anuvrinda Anand, a 14-year-old member of Daring Divas. "My inspiration is Renu aunty (Singh), who must be 60. She's on our team and is rather fit for her age."
"If aunties can find time to play cricket after chores I have no excuse, do I?" said Manya Nimodia, a Class IX student who plays for Queens' XI. "And with most of us getting limited exercise during the lockdown, this was the least I could do for myself." Her father Sandeep is playing for Uni Runners, brother Vatsal for Destroyers and her mother said she would join next year.
Lockdown effect Despite the cheerful gathering at the inauguration, Ghosh said it was a but a third of the crowd last year. "People are not coming out due to the pandemic," he said.
There were food and games stalls too but even these were fewer in number. "Usually I take up a stall selling kebabs and biriyani but this time I'm only here to watch the games," said resident Nazish Pervez Khan, who herself recovered from Covid last year.
The teams too have had to bear the brunt. "Our team Steel Icons is named so as we comprise mostly employees of Tata Steel. But this year due to the pandemic many are working from their hometowns. We have had to take in non-Tata Steel employees this time," said Saraf.
But then Ganesh Singh of Strikers said that after the lockdown everyone was pouncing on any excuse to go out and cricket was something they loved anyway.
Tots at play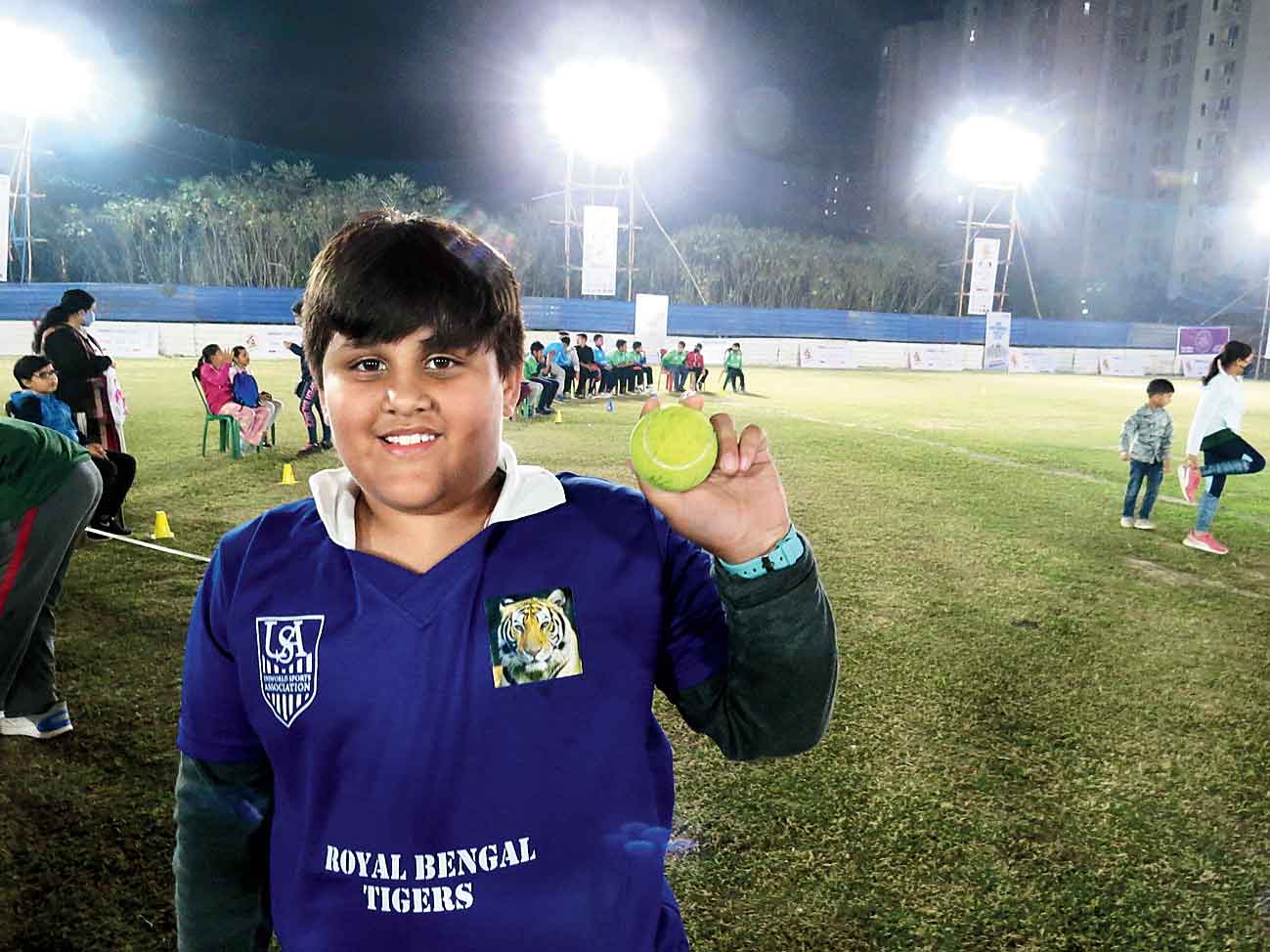 Mirhaan Jalota, 8, displays the ball with which he made the former Bengal Ranji player swing and miss. "Uss ball ke baad uss ka run-up double ho gaya," laughed an onlooker. Basudeb Behera and Sudeshna Banerjee
The first match after the inauguration was a friendly one for kids up to the age of eight. But moments before taking the field, Nora Matthew was in a pool of tears.
"I was practising my shot and my bat hit your nose by mistake. I didn't mean it!" her Border XI teammate Pranay Mishra tried his best to pacify.
The sub-junior match had Border XI facing off against Gavaskar XI. "We chose the name keeping the recently concluded Test series in Australia in mind," smiled Ghosh. The trophy that Ajinkya Rahane's men brought back from Brisbane is called Border-Gavaskar Trophy, after the two legends from either side.
But neither Vir Mishra, 8, nor Pramit Ganguly, 7, the captains of Gavaskar XI and Border XI respectively, who stepped up for the toss, had heard of Sunil Gavaskar and Allan Border. Gavaskar XI won the toss and elected to bat. "We will score 70 runs," the young captain declared, on being asked.
Smitik Kukreja came to the match with a huge reputation. "Watch out for that boy," said one of the organisers. His mother Ritika was close at hand as he took position behind the stumps, donning his wicket-keeping gloves. "He has full cricket gear, including helmet and leg guard," she said. And as the second ball sped past the boy as byes, she shouted: "Eyes on the ball, Smitik." He would later redeem his reputation by taking a fine catch.
The boundary line had been drastically reduced for the match and so few balls were connecting with the bat that many a delivery would race to the fence untouched by either bat or keeper's gloves. Captain Pramit took position behind the keeper but there was still no let-up in the byes. Thankfully, for both sides, umpire Bharabi Kar decided not to count the extras.
The occasion fazed some of the kids. While a few jumped about in excitement, others looked overawed. The case might have been the latter with Avigna Das or she simply might have lost sight of the tennis ball which was miscued and skied. Audience shouts of "Catch, catch," rent the air but the little girl did not move from her fielding position at square leg, leading to an easy boundary.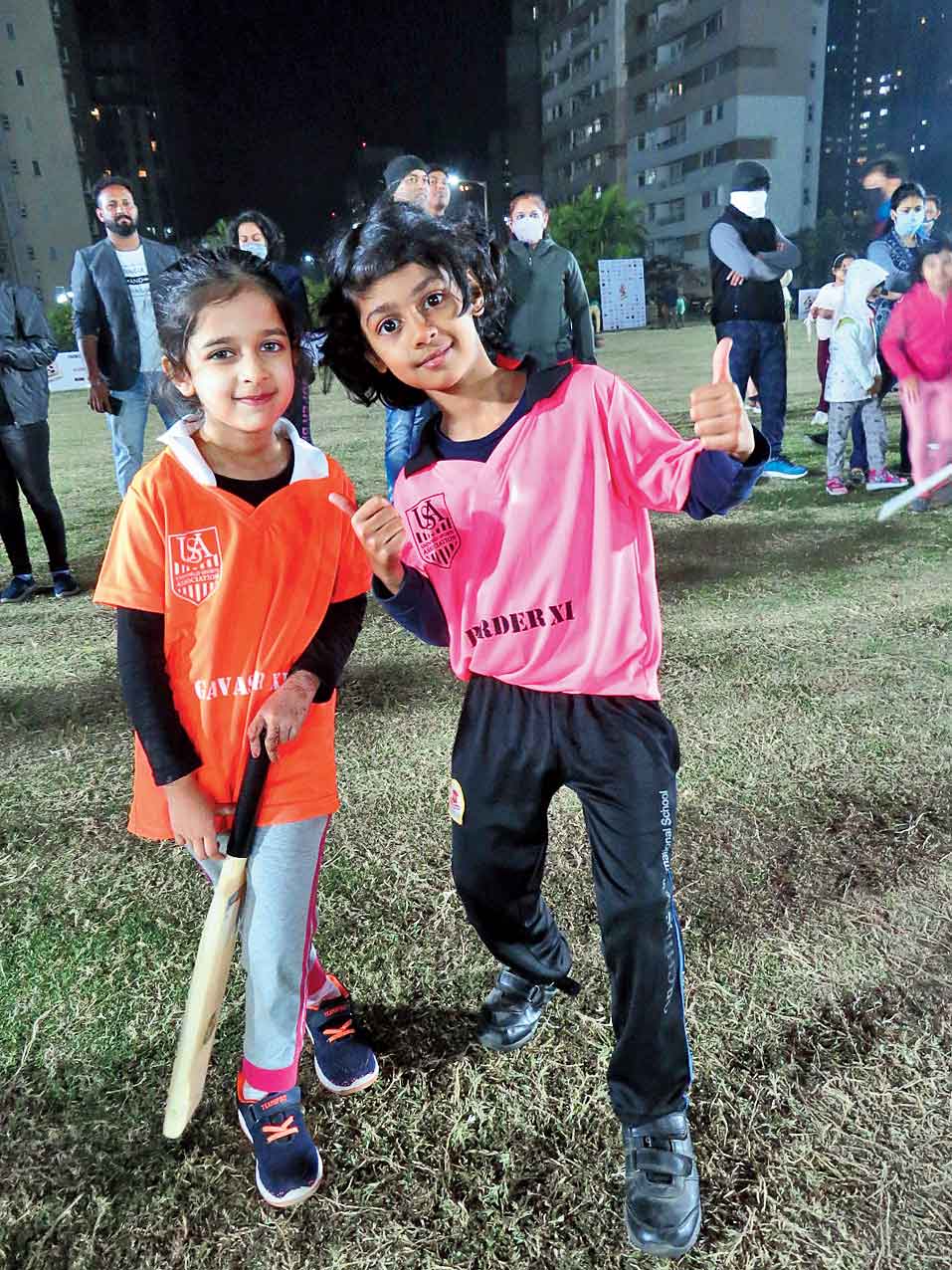 Anaya Pratik (in orange) poses with Nora Matthew. Basudeb Behera and Sudeshna Banerjee
When Nora, who had by now wiped off her tears, came in to bowl to Anaya Pratik, her delieveries kept going haywire and the umpire explained to her where to aim.
"The kids are so young they barely understand the rules. I actually sat down my son Sarthak before the match and explained the game to him the best I could. But at the age of eight, it's enough if he just has fun," said Ahuja.
Harsh Gupta hit the first six of the tournament in the fourth over. And in five overs, Gavaskar XI set the opponent a target of 27 to win, which they would fail to achieve.
Other than doubling as scorer, the umpire was also conducting the match, deciding vital issues like the bowling order. "They wanted each player to get a chance to bat and bowl so we broke out of the six balls-per-over rule to accommodate all. Each player is allowed three deliveries," said Kar, a member of the Umpires Association of North 24-Parganas.
Ansh Kandoi, a Class I student, was adjudged the player of the match. With two sixes, he had scored 13. The fan of Andrew Russell, M.S. Dhoni and Virat Kohli, wore a sad smile. "Wish our team won," said the boy who came back from out of town just two days earlier and hence walked into the team as a last-minute registration.
But little Araddhay Chandra refused to smile for the photographs after the game. "He is sad that he got out for a duck despite being a good player," said his father Subodh Chandra, who himself is playing for Warriors. "Sports teach us how to deal with losses in life and he has to learn."
"Some of the kids showed great potential," said Pratik Jaiswal, who is playing for Amigoes and had come to watch the tots. "Just hope they don't get sucked into PUBG and other mobile games. Potential will amount to naught without practice."
Men at play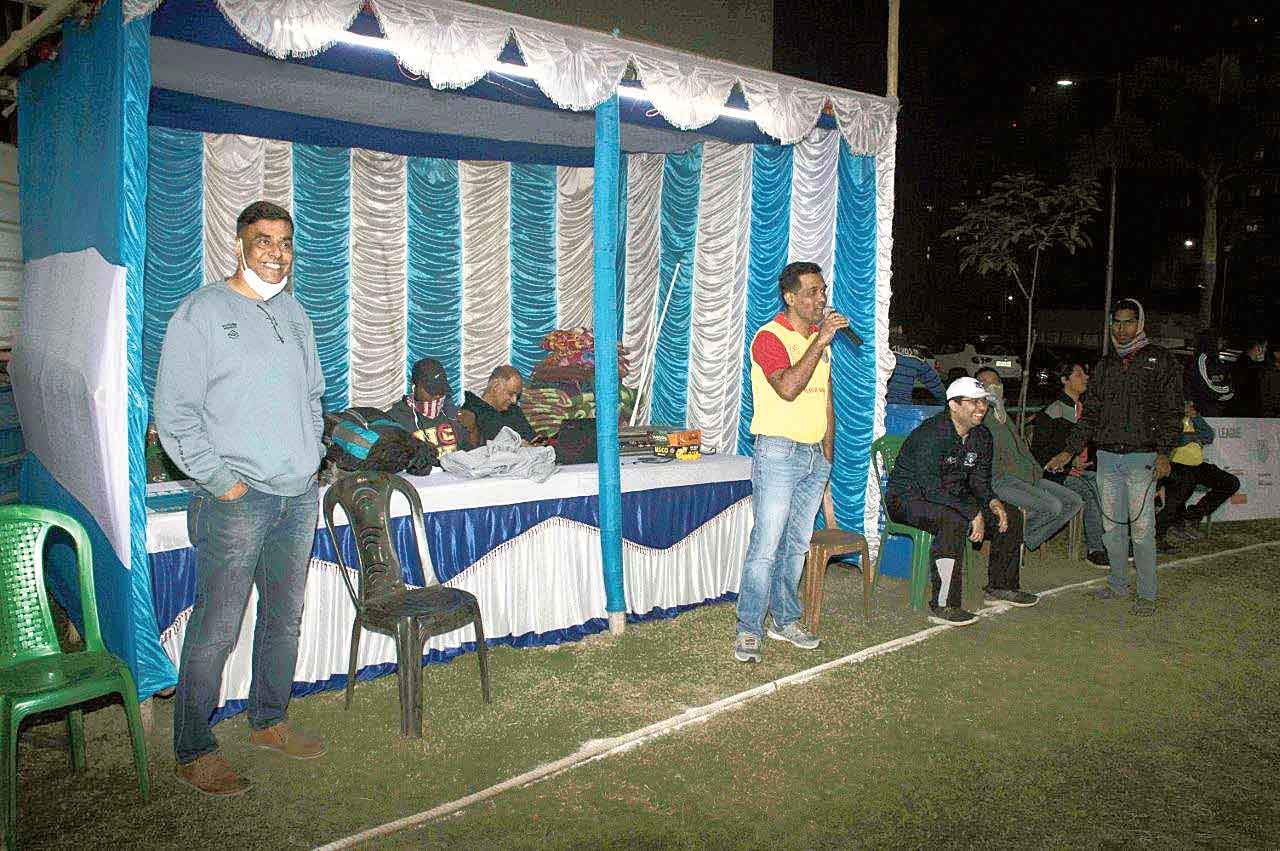 Rohit Kolte provides commentary as organiser Ishteaq Ahmed looks on. Basudeb Behera
The first official match had defending champion Knights take the field, IPL style, versus Band of Brothers. If matching up to the defending champions was a challenge in itself, losing the toss only made things more complicated. Vikas Rathore and Srijit Aon of Knights started on a positive note. Soon Vikas hit three sixes in a row, hitting the tennis balls out of the park. "After the tournament you can find 200-250 balls on that side of the ground," one of the organisers quipped. After Srijit got out, Abhishek Ganguly took the field and the flurry of sixes continued.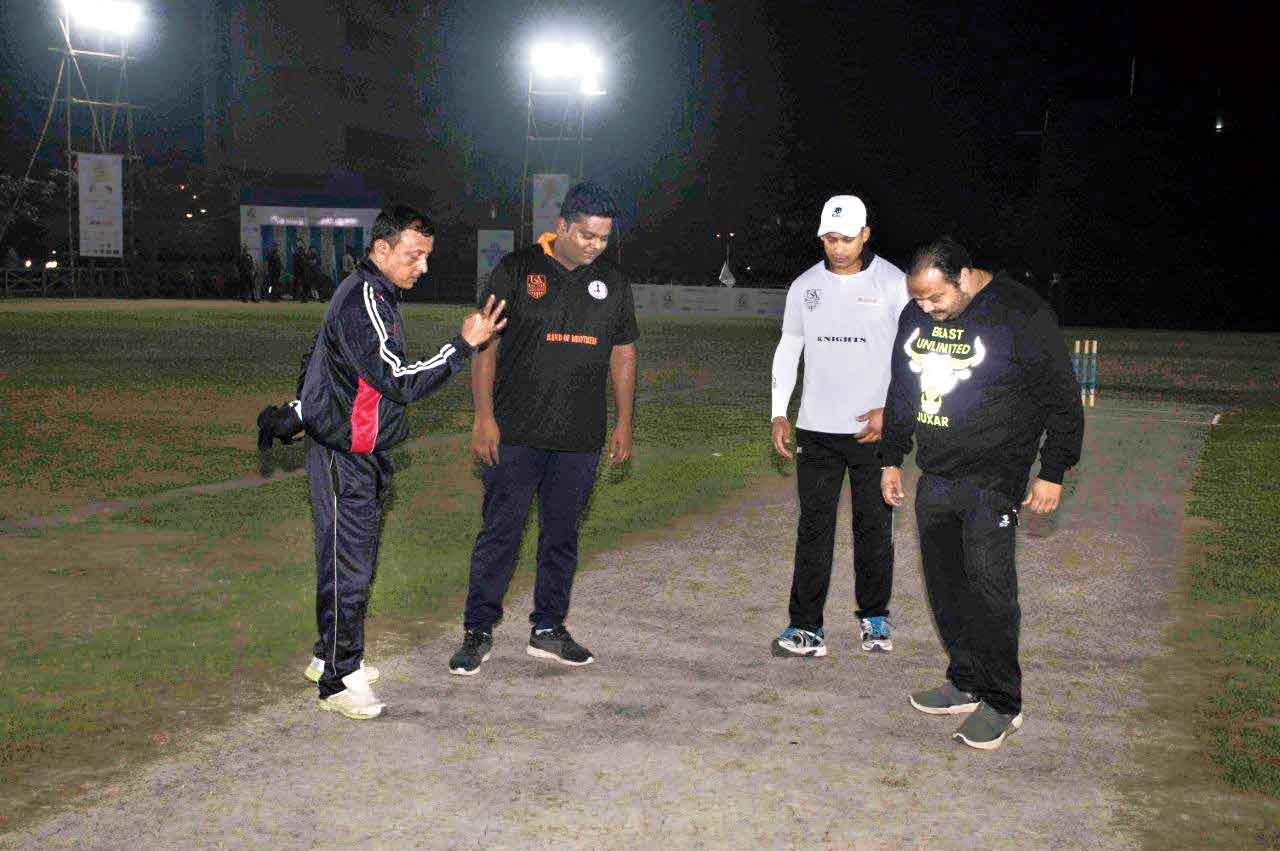 Knights and Band of Brothers captains at the toss. Basudeb Behera
As he hit consecutive sixes, his mates cheered from the dugout: "Good batting, Ganguly!" in a deliberate reference to the more famous Ganguly from Bengal, Sourav. And as Vikas hit three in a row at the other end, all-rounder Touseef Azim was asked if the team was under pressure to defend the title. "No pressure, total domination," the all-rounder responded with swagger.
Knights, the defending champions, had defeated Warriors in the last edition to lift the trophy. "They were four-time finalists, including two-time victors. This tournament has four or five really good teams," Srijit, the captain, had told The Telegraph Salt Lake before the match.
Rohit Kolte's commentary added life to the evening. When Knights was cruising at 126 for one in seven overs, watching yet another delivery sail overhead he quipped, "Yeh gendh shayed Indigo flight ke andar chali gayi. Ab 200 ka ankra dur nahin hai." That got the goat of Siddharth Pandey, fielding close by on the boundary. "200 kya bol raha hai! Settle for 150," he protested. He was doubly committed to the team's fortunes, being the sponsor as well.
But Kolte's words did prove prophetic. Knights posted 230 in 12 overs. In response, Band of Brothers got whittled out in 11 overs at 103. Other than Piyush Ranjan and Sumit Singh, no one could reach double figures. Among the Knights, Vikas top-scored with a quickfire 76 off 25 and was named Man of the Match. "Uniworld's Ganguly" Abhishek was a close second with an equally destructive 74 off 21, with 10 sixes.