'Embodied kindness but knew when to be firm'
Mother Teresa's 110th birth anniversary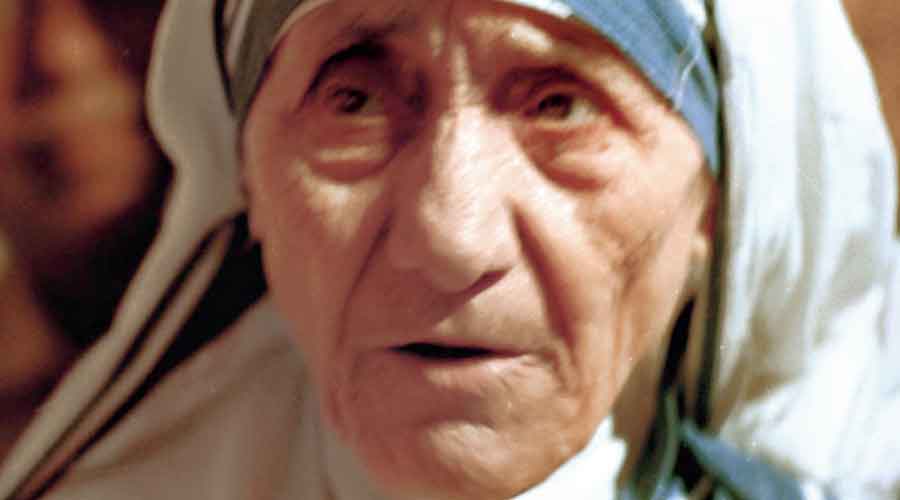 Mother Teresa
File picture
---
Calcutta
|
Published 26.08.20, 02:04 AM
|
---
Mother Teresa used to say often: "Love one another as God loves each one of you." On August 26, as the world celebrates Mother's 110th birth anniversary, this is the message that we must carry in our hearts and live by.
I first met Mother Teresa in 1985, when I was the commanding officer of the 1st Bengal Battalion of the National Cadet Corps at Jodhpur Park. From then till she breathed her last in 1997, I remained in touch with her.
Service at the Missionaries of Charity is voluntary. Sisters from all over the world come forward to serve the great cause sacrificing personal comfort.
My association with Mother allowed me a glimpse of how she bound the sisters in a well-knit family with the sole aim of serving humanity. "Families that pray together stay together," Mother used to say.
Mother was an embodiment of kindness but she knew when to be firm. I remember one occasion when I was accompanying Mother for an important work in Barrackpore. It was around 3.30pm and just as we were leaving Mother House, a sister came up to her and informed Mother that she had an appointment with a minister at 5pm the same day.
Mother replied: "Please inform the minister that I am proceeding on an urgent work. If he could see me at 6.30pm."
The sister returned after some time and said: "But Mother, an appointment had been given to the very important minister."
Mother replied firmly: "I have told you, please convey that I can see him not before 6.30pm because of the very urgent mission of mine."
Mother Teresa was always sympathetic to the poor and took care to ensure they faced no difficulties under her care. Once while visiting a newly built section at Shanti Dan, the home for the destitute at Tangra, Mother spotted a broken door glass pane. She immediately instructed the sister-in-charge: "This broken glass can injure the inmates. Kindly get these removed and replaced urgently."
Mother Teresa was very practical and methodical in all her actions. It was this approach that helped her manage such a vast and spread-out organisation. My wife and I had made it a point to meet Mother Teresa on weekends regularly to seek her blessings and guidance.
Mother had everything in abundance but she preferred to lead a simple life. She did not use a fan in her room, not even during summer. Mother once said: "You know, I was given thousands of saris in Singapore. How nice of them."
I asked her: "But Mother, you always wear old saris that have been mended all over with stitches."
Mother replied: "If I change my saris often, then I shall become rich."
Mother was forever down to earth. It did not matter whether she was in the company of kings and queens in palaces, or with the Presidents and Prime Ministers of the most powerful nations. She spent most of her time with slum-dwellers. She treated all the same way — greeting everyone, rich or poor, young or old, with her infectious smile and blessing one and all.
It was not possible to fathom the extent to which she had touched the world with her kindness and benevolence. When she passed away on September 5, 1997, it seemed the whole world had congregated in Calcutta.
Never ever have I seen such a gathering of delegates from all over the globe. They poured into Netaji Indoor Stadium to pay respects to Mother.
Mother Teresa came to India and served the cause of the poor till her demise, inspiring millions to follow in her path.
As we celebrate Mother Teresa's birth anniversary, let us all remember her motto: "The fruit of silence is prayer. The fruit of prayer is faith. The fruit of faith is love. The fruit of love is service. The fruit of service is peace."
Let us all pray together that more Mother Teresas are born to continue her noble work that can bind the world as a common home.
Pratapaditya Mazumdar is a retired army lieutenant colonel