Mother Teresa death anniversary: anecdotes from her life
Love more important than charity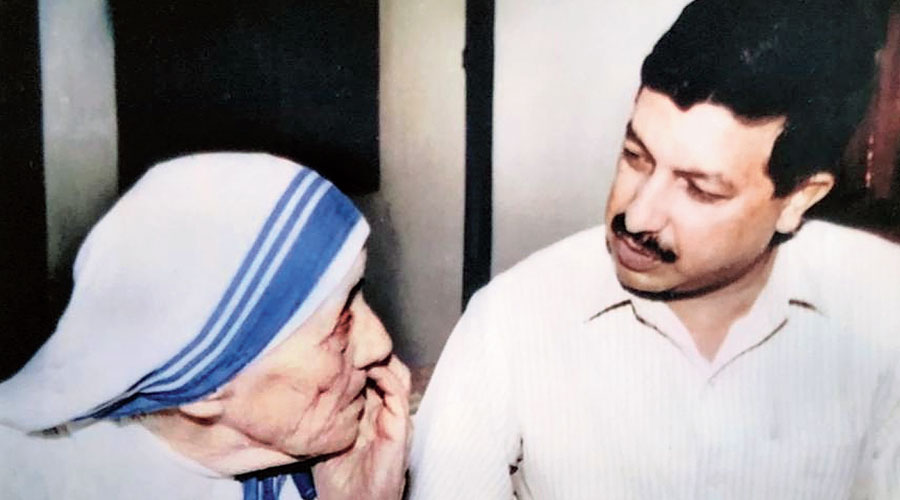 Mother Teresa with the writer
File picture
---
Published 05.09.20, 04:20 AM
|
---
Mother Teresa, who passed away on this day (September 5) in 1997, is always in my heart.
I cannot forget the times my wife and I had the opportunity to be in her presence at Mother House and while accompanying her to her homes for the poorest of the poor.
The core of Mother Teresa's message was not that we should be charitable; it was that we must love. The poor suffer, she used to say, even more from rejection than from the lack of material possessions.
Mother had shared with me and my wife anecdotes from her life.
Once a gentleman had come to Mother and told her about a family with eight children who had not got anything to eat. Mother had recounted to us the joy she had seen on the face of the children and their mother when they had shared the food among themselves.
"I had taken some rice for them. I saw the children, their eyes shining with hunger," Mother said. Mother divided the rice among the children and left the room.
"I didn't take more rice that evening because I wanted them to enjoy the joy of sharing," she said.
Mother used to speak about the need to share the suffering of people everywhere, not only in the poor countries. She said she found poverty in the West much more difficult to remove.
"When I pick up a person from the street hungry, I give him a plate of rice, a piece of bread. I am satisfied. I have removed that hunger. But a person who is shut out, who feels unwanted, unloved, terrified, a person who has been thrown out from society — that poverty is so hurtful. Our Sisters are working amongst that kind of people in the West," Mother had once said.
I remember Mother speaking about her efforts to fight abortion through adoption. "We have saved thousands of lives. We have sent word to all clinics, to hospitals, police stations, 'Please don't destroy the child, we will take the child'."
Mother often urged unwed mothers to give their children to the Missionaries of Charity so that they could be taken care of.
She had once recounted a story: "One evening we went out and we picked up four people from the street. And one of them was in the most terrible condition. And I told the Sisters, 'You take care of the other three, I will take care of her'. So I did for her all that my love could do. I put her in bed, and there was such a beautiful smile on her face. She held my hand as she said one word only, 'Thank you', and she died."
I distinctly remember when Mother Teresa came to my Eastern Command Provost unit at Fort William in October 1992. Before leaving, Mother asked me if I could send the leftover food to her home for the poor. Mother Teresa always fed the hungry.
I salute Mother Teresa who is now a Saint amongst us.
Pratapaditya Mazumdar is a retired army lieutenant colonel