Need women leaders to change lives
Modern High alumna stresses women's success in Covid fight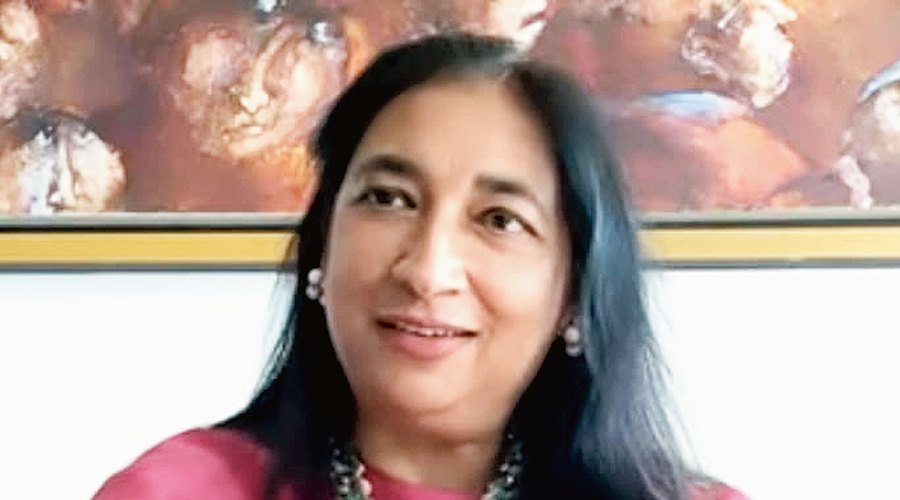 Anita Bhatia, deputy executive director at the UN Women, addresses Modern High School students from New York
Telegraph picture
---
Calcutta
|
Published 29.08.20, 02:10 AM
|
---
Modern High School alumna Anita Bhatia, the UN Women deputy executive director, stressed the need for women leaders in decision-making roles, influencing policy and changing lives while speaking from New York with students of her school.
"The problems that the world faces today, the existential threats of climate change, the erosion of democracy, the erosion of liberal values, and the erosion of secularism require a new kind of leadership. Is it any surprise that the countries that have done the best job in dealing with this pandemic are countries run by women — Germany, New Zealand, Finland, Taiwan among others," she said while speaking to the students early this week.
Bhatia is the assistant secretary-general for resource management, sustainability and partnerships and the deputy executive director of the United Nations Entity for Gender Equality and the Empowerment of women (UN Women).
The girl from the Class of 1979 said: "We need more female leaders. We need women at the table, making decisions, influencing policy and changing lives. And I am so proud to be part of the family of Modern High School because every day Modern High School produces leaders who are capable of doing just that."
Bhatia has been working with women globally, addressing gender rights and issues of discrimination.
The school recognised her as the "distinguished alumna" of 2020 during a webinar attended by present and past students and teachers joining from various time zones.
Bhatia said the world has "turned upside down" during the pandemic and "women are at the centre of this crisis" but still underrepresented in leadership roles.
"The frontline health workers during the pandemic are women, 72 per cent of the nurses in the world are women and still women continue to be underrepresented in all aspects of leadership," she said. "Less than 10 per cent of the heads of state in the world are women, less than 10 per cent of the heads of government are women... and women continue to face discrimination in pay."
Head girl Mayukhi Ghosh introduced Bhatia as one who was not only academically brilliant and keenly interested in public speaking, debating and dramatics but also remembered by batchmates as "fun-loving and vivacious" with varied interests.
"While many of us maybe very privileged and never face any sexism or discrimination we know that actually women can suffer a great deal when they are not given equal opportunity and most importantly when they are not given an education," Bhatia said.
In the midst of the pandemic Modern High kept its annual tradition of felicitating distinguished alumni in their chosen fields.
"It is generally accepted that it is what students do after they leave the safe haven of the school that establishes the value of the institution where they were nurtured. On their part, the students say it was their school, which had shaped and inspired them," director Devi Kar said.
Bhatia does not miss a chance to visit her father in Calcutta and even in her schedule finds time to grow herbs in her garden, cook and visit the opera.
"What I love about Modern High School and what I think is so important about an all girls and single gender education is that girls in all girls' schools leave with models of strong female leadership," she said.
It is not for nothing that principal Damayanti Mukherjee said that this felicitation by the alma mater would remain "tucked into a very special, warm corner of your heart".
"You have made a choice to make a difference to the world, to communities and issues beyond your immediate and familiar. And therefore you are a role model to our gender and for Modernites — past, present and future," Mukherjee said.
The school authorities said they had received requests from people across the world to have online programmes. "We had people joining from various parts of the world… it generated a feeling of togetherness, which was unlimiting," Kar said.