Soumen Mitra returns as city police chief, replaces Anuj Sharma
Mita would be the 43rd Calcutta police commissioner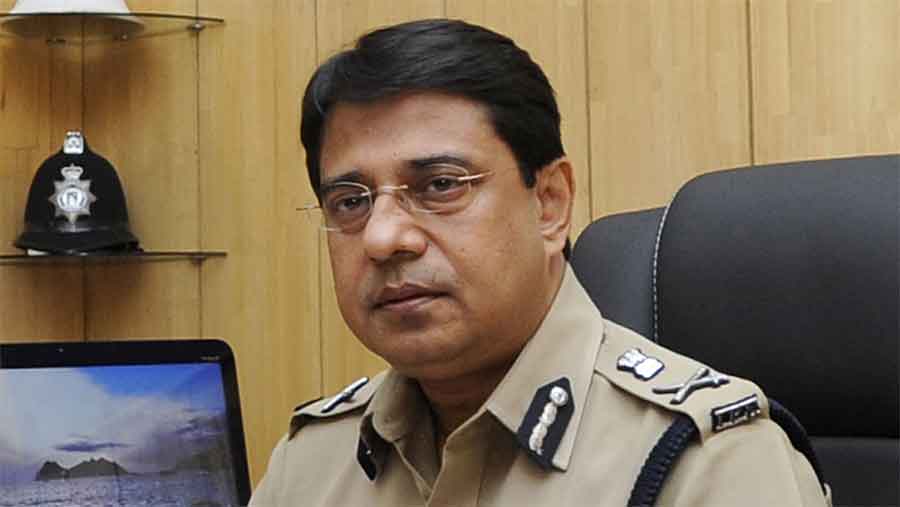 ---
Calcutta
|
Published 07.02.21, 04:03 AM
|
---
The IPS officer who was removed from the post of Calcutta police commissioner after a 38-day stint at Lalbazar during the 2016 Assembly elections has been brought back to the chair by the Mamata Banerjee government amid another poll season.
Soumen Mitra, a 1988-batch officer, has been named the new city police commissioner, replacing Anuj Sharma, a 1991-batch officer who will be the new state CID chief. The decision to shift Sharma comes at a time he was about to complete three years as the city police commissioner.
The Election Commission usually transfers officers posted in operational chairs who have spent three years or more in the same post.
Mitra, under whose leadership the Calcutta police force was said to have got back its "spine" and earned widespread praise in controlling the poll bullies in 2016, would be the 43rd Calcutta police commissioner. He would return to the same Lalbazar where he had earlier been police commissioner, special commissioner, additional commissioner, deputy commissioner (detective department) and deputy commissioner (detective department-special) over a period of time.
He has also served in multiple posts across Bengal, including additional director-general of CID, additional director-general (training), inspector general of police (CID) and deputy inspector-general of police (CID).
The transfer order came out on Saturday along with the government order for transfer of 23 other IPS officers holding key posts in the state administration.
The police commissioners of Bidhannagar, Howrah and Barrackpore have also been changed.
Supratim Sarkar, who was additional commissioner in Calcutta police, has been posted as Bidhannagar police commissioner; Ajay Nand, who was additional director-general (counter-intelligence force), has been posted as the new Barrackpore commissioner and C. Sudhakar, who was deputy inspector-general (Barasat range) has become Howrah police commissioner.
Jawed Shamim has been posted as additional director general of police (law and order).
A section of the administration feels the shuffle was made to avert the glare of the Election Commission that usually transfers officers citing their allegiance to the ruling dispensation.
"If someone is posted only a few days ago, what allegations of bias can the commission possibly mount on the officers and how will they justify that anyway?" said a senior bureaucrat.
Mitra, 59, is a history graduate from the erstwhile Presidency College who did his MPhil from Jawaharlal Nehru University on "the football crowds in Calcutta Maidans".
Known for his knack to spruce up buildings where he is posted, some of his colleagues recalled how Mitra had been pivotal in the renovation of the traffic building in Lalbazar, setting up the Calcutta police traffic museum and re-decorating parts of Bhabani Bhavan during his stint at the state CID.
Someone who knows Mitra from his younger days shared with Metro how he had turned a boat seized with a large quantity of illicit liquor into a barb wire shelter for birds during his first posting as the SDPO Barrackpore.
Another officer, who has done multiple assignments with Mitra, said his speciality has been his "human touch for the force and his eye for their welfare".
As the superintendent of police in Murshidabad, Mitra has started several developmental and welfare projects —some for the constabulary and some for the development of backward pockets known for notorious activities.
"He started the Chandradip Mela in Hariharpara (one of the police station areas in Murshidabad that was infamous of violence and ganglord killings) as an annual developmental project that changed the entire area," said a senior officer in the force.
An officer described Mitra as an "enthusiastic cricketer" while another recalled his pen sketches that he would scribble "unmindfully" even when he is on the phone.
Mitra, who had occupied the chair of Calcutta police commissioner once and had gained praise as an ace administrator, now faces a similar challenge of holding the Assembly polls that is almost around the corner.