Metro e-pass out from Monday
Tokens will not be issued for now and a smart card is a must for entering the platform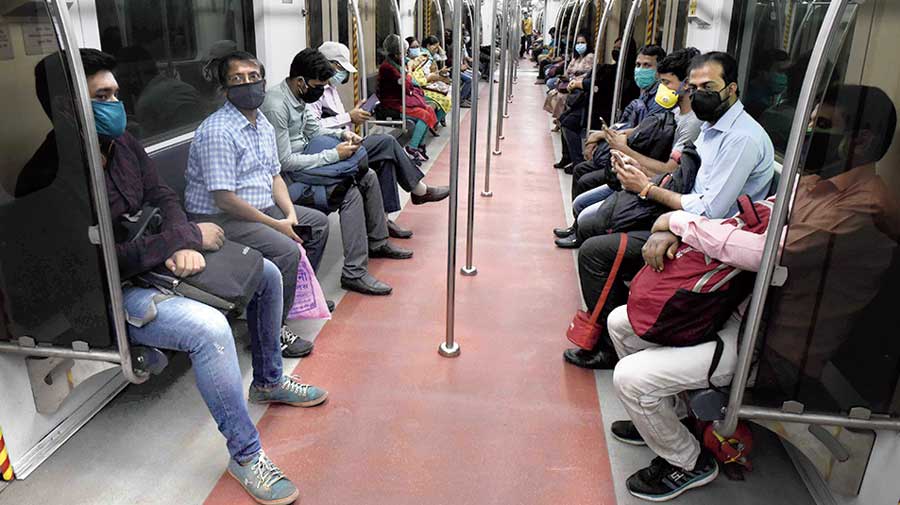 ---
|
Calcutta
|
Published 14.01.21, 02:49 AM
---
Metro passengers will not need an e-pass to enter a station, starting Monday.
"From January 18, no e-passes will be required for travel in Metro," the carrier said in a statement.
"The number of trains from Monday to Friday will go up to 240 from 228. The number of trains on Saturday and Sunday will remain unchanged at 228 and 102," said an official. The timings of the first and last trains will remain unchanged at 7am and 9.30pm.
Tokens will not be issued for now and a smart card is a must for entering the platform, the official added.
The e-pass system was introduced for access control at the gates when Metro services resumed on September 14 after being suspended in the wake of the Covid-19 pandemic.
A section of doctors and public health experts had been worried about crowd control mechanisms in the city's transport lifeline, which carried over six lakh passengers every day before the fleet was grounded on arch 23 last year.
There were multiple meetings between officials of the state government and Metro Railway in the run-up to the resumption of commercial services. Metro officials told the state government that they were ready to run trains provided the state worked out the modalities of crowd control. The state government finally engaged a private agency to develop a technology-based system for crowd control.
The e-pass system has been effective in controlling the number of passengers, though some people have accused it of being "discriminatory".
For the past several days, the count has been well over 1.5 lakh every day.
When the services resumed, the first and last trains left the terminal stations at 8am and 8pm. There were 72 trains every day to start with. The day's operations were divided into 12 one-hour slots. A colour-coded e-pass was mandatory to enter the station during that slot.
Metro Railway had gradually been narrowing the e-pass window and increasing its daily fleet. Till now, male passengers aged 16 to 59 needed an e-pass to enter a Metro station from 9am to 11am and 5pm to 7pm from Monday to Saturday.
"We have been monitoring the daily ridership and the Covid-19 situation. We think the passenger count will be manageable even without the e-pass system," said Indrani Banerjee, the Metro spokesperson.
Metro officials said since tokens will not be issued, the number of passengers is unlikely to go up above two lakh immediately even after doing away with the e-pass system because schools and colleges are shut.
"The number of smart card holders would be around three lakh. But people are not travelling if they don't have to," said another official.