Memories of date with Diego
Fans recount Soccer legend's twin visits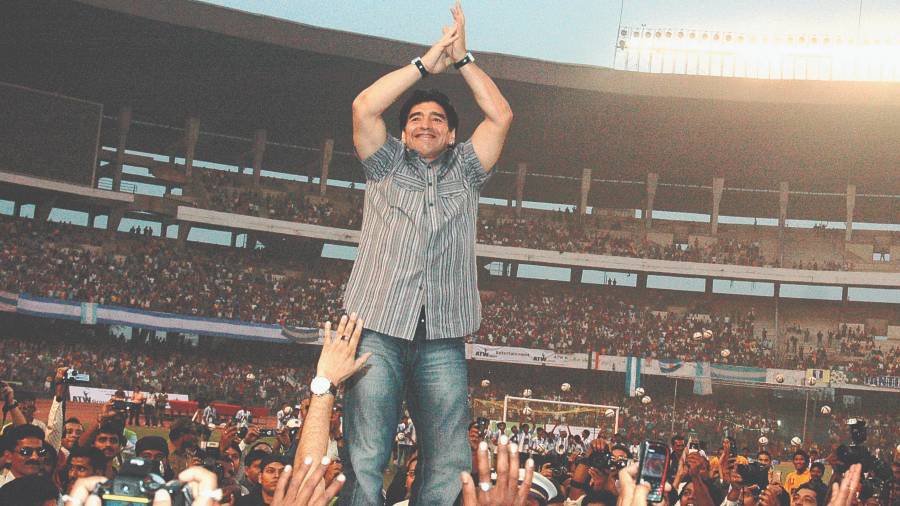 Maradona at Salt Lake stadium in 2008
File Picture
---
Calcutta
|
Published 27.11.20, 01:35 AM
|
---
Class XII student Aritra Sarkar played for his school for four years but it is a pass received in December 2017 that remains his biggest moment. That tap came from Diego Maradona, who was there to inaugurate a stadium at his school. 
Gourabdeep Bhattacharjee touched his left shoulder on waking up on Thursday, recalling it was there that Maradona's head had rested when the latter had given him a hug in December 2008.
Calcuttans, bewitched by Maradona magic since the 1986 Mexico World Cup, are mourning the passing of the prince of football who had visited the city twice in the recent past. And for those lucky enough to have crossed his path on those visits and those who have only marvelled at his left foot from afar, the pain is almost personal. 
"The news is as hard to accept as it was to believe that he was coming to our school. In fact, I did not till I saw him take the field with us," said Aritra, a student of Aditya Academy Senior Secondary School.
At the stadium near Barasat, which on Thursday was renamed after the legend who had inaugurated it, Maradona had held a workshop with the students. "He gestured at us to take shots at the goal as he passed the ball to each. The first time the goalie blocked my shot. When I succeeded in scoring the second time, he shook my hand. It was like a dream," Aritra recalled. Though Maradona could not play the match against Sourav Ganguly's team afterwards due to injury, he took the field on and off for either side, he added.
But it was not easy to get him on the field. "He would not let go of the mic. He simply kept singing one song after another with Charles Anthony, a musician we had flown over from Kerala who was belting out Spanish numbers," recalled Satadru Dutta, the tour organiser.
Music cooled down the temperamental soccer star. "I knew that Maradona loved music. So every time we needed him to do something, we got Charles to sing and then tell him the needful. That man saved us!"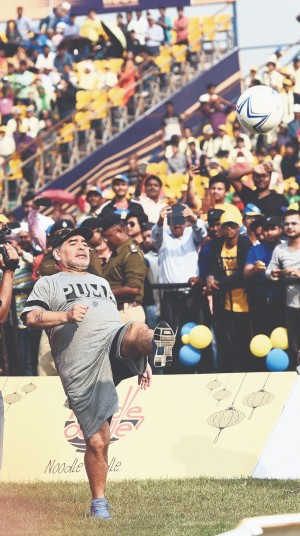 So unpredictable was Maradona that the 2017 trip almost did not happen. "The day he signed the contract my son was born and I named him Diego. Maradona was delighted to know that. Yet he changed his mind about the visit later and had to be persuaded again," said Dutta, who had met the Argentine in Buenos Aires and again in Dubai to seal the tour deal.
Not one to take a chance, Dutta picked him up from his Dubai home to bring him to Calcutta. "But he went missing at Al Majlis, the VIP lounge of the airport. When we found him shopping, he argued that the flight would not depart without him. Another 10 minutes' delay, and it would have! At Dum Dum, he refused to give his fingerprint at the immigration counter, offering his footprint instead, which he said
people usually take. His girlfriend made him see reason after I told her he could be jailed."
The trip to the Barasat stadium was difficult. "I had told him it would take 20 minutes from his New Town hotel but it took 45. Towards the latter part of the ride, he kept banging the back of my seat, yelling '20 minutes'."
He could be pleased just as easily. "He was so happy with the stadium event that he hugged me later. In fact, seeing the hotel suite named Maradona had also delighted him and I got a kiss on the cheek. Even earlier, in Dubai, he had gifted me a wristband," said Dutta, adding that the Pele trip he had organised in 2015 had been a cakewalk for him in comparison to managing Maradona.
In 2008, when Maradona came on invitation from the sports department, Gourabdeep was at the airport to receive him at night along with thousands. "The next day, (former goalkeeper) Sibaji Banerjee and I handed him a golden boot on behalf of Salt Lake Club Samannay Committee during his felicitation. He had hugged me then," he said, recalling seeing the wizard juggle a ball in front of a packed stadium soon afterwards.
The next day, he went to meet Jyoti Basu. "He said Fidel Castro, whom he considered a second father, had told him that Basu was his friend. He was supposed to spend 10 minutes but got so engrossed seeing an album with pictures of Castro's Calcutta visit that he spent two hours there. Our 2009 club calendar was printed with the pictures I took of his."
Sculptor Sushanta Ray's moment of glory was when Maradona embraced the wax statue of the legend that he had created. "It was with the ball I had placed at the foot of the statue that he juggled that day. Many had offered me money for it but I have not parted with the ball," the Asansol artiste said emotionally.