Medieval traditions unite Bengal and Scotland
Kings and priestly classes developed a way of recording transfer of property ownership in strikingly parallel terms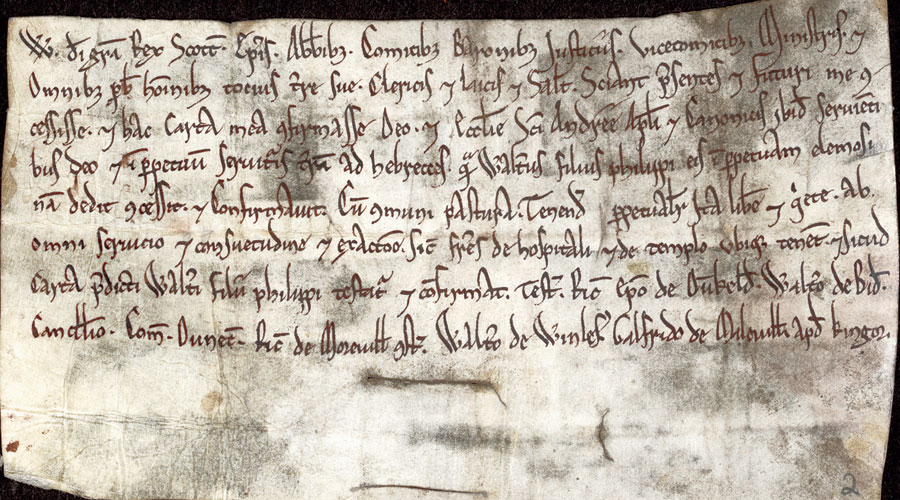 ---
---
In the medieval societies of Bengal and Scotland, kings and priestly classes developed a way of recording transfer of property ownership in strikingly parallel terms using related vocabulary and philosophical concepts.
In Bengal, land gifts were recorded in Sanskrit etched in copper plates and stone inscriptions. In Scotland, it was recorded in charter parchments in Latin. In both societies, it was the king who made the donations of land to the priestly class.
John Reuben Davies, a research scholar at Glasgow University, came to Calcutta in 2011 and was surprised to find in Asiatic Society copper plates from the Pala era in Bengal (10th to 12th century CE) that had close similarities with parchment charters from Scotland belonging to the same period. Charters are written records of transfer of property.
While the copper plates had the Sanskrit word "danam" inscribed in them, the parchment charters bear the word "donum" in Latin. Both of giving as a gift is 'danam'. Latin, the same Indo-European root, provides the noun 'donum', a gift, indicate a gift of land from the king to the priestly class for eternity.
"In Sanskrit, the word for the method and the verb 'dono', I give as a gift," said Davies.
"The concept of transferring ownership of property by giving as a gift is at the heart of property records both from Bengal and Scotland. And both in Bengal and Scotland, a word that has the same origin in Sanskrit and Latin was used to describe the transaction and give it legal force. So in two early medieval societies, 6,000 miles apart with no known contemporary connections or influences, had evolved an almost exactly similar way of recording transfer of property in strikingly parallel terms and using directly related vocabulary and philosophical concepts."
Davies made the statement during a recent online lecture as part of the Stories of World Culture, an Indian Museum's virtual initiative during the pandemic.
Davies and retired Calcutta University professor Swapna Bhattacharya, who has worked on Indian copper plates and European charters, collaborated and co-edited a book on these findings, Copper, Parchment and Stone: Studies in the Sources of Land Holding and Lordship in Early Medieval Bengal and Medieval Scotland, published by the Centre of Scottish and Celtic Studies of Glasgow University.
Glasgow University has decided to include the findings of Davies and Bhattacharya in the first-year undergraduate and postgraduate syllabus. Classes on the topic will start next year.
Regarding its inclusion in the history course, Joanna Tucker, a history lecturer at Glasgow University, said in a WhatsApp message to Metro: "The digitisation of texts and the surge in availability of digital resources have partly (and paradoxically) led to a new appreciation of the 'physicality' of our manuscript sources…. One recent publication (Davies, 2019) compares Indian and Scottish gifts of property in parchment charters and in copper and stone inscriptions. This provides a way to show our students that recent work in the field of medieval Scottish history has been taking a global perspective…."
Davies found further similarities like properties could be owned outright forever. A very similar conceptual, linguistic and textual framework evolved to guarantee the conveyance and ownership of property. The king was the supreme authenticating authority, provided he is the legitimate heir proved by the publication of his genealogy in copper, stone or parchments that he could govern and guarantee the rights of his subjects.