How Srijeeta's pet gave a new lease of life to her
'If they call me to campus I don't know how Mishti and I will live without each other'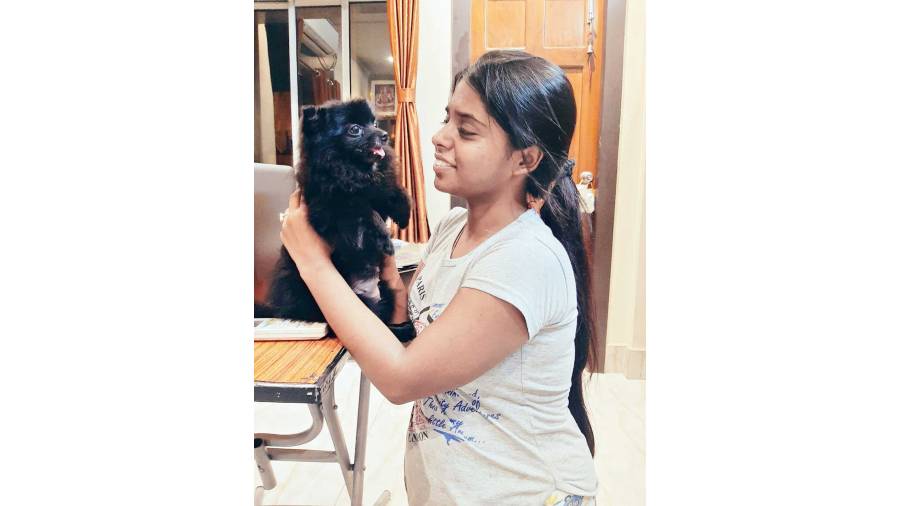 ---
---
It had been a long day of online MBA classes and Srijeeta Bose was dog-tired. "So for the last class, I turned my video off, put my head down and well…dozed off," she says. But her Pomeranian Mishti was just getting warmed up. "Mishti decided to take a walk on my laptop! The video got turned on and my entire batch got to see me snoozing away to glory."
She sounds dushtu, but Srijeeta swears her Pomeraian is nothing but mishti. "She's been a new lease of life for me, actually. We got her nine days after our previous dog passed away. I was deeply affected by her death but Mishti gave me a purpose again."
The family initially lived in Baguiati but Mishti had no qualms moving to New Town in 2018, even becoming best friends with a nine-year-old neighbour here, Abhranil Dash (Jishnu). "Jishnu comes over to play with Mishti all the time. Sometimes when I would get late returning from college, he would feed her. The boy has also trained Mishti to walk on the road without a leash," Srijeeta says.
Mishti loves dressing up and her pictures garner many a like on Facebook. She poses in frocks, hoodies and in the last wedding season, even as a Bengali bride! "I had draped a red dupatta around her like a sari, given her a red bindi and a mukut. She looked so cute," Srijeeta laughs. In fact, Srijeeta and Jishnu often wear clothes to match those of Mishti so they bond even more together.
Mishti has become a darling of everyone in their building. She joins them during festivals and they come over on her birthday, showering her with presents.
The Pomeranian isn't just a fair weather friend. "Mishti is very sensitive. Once before my exams I was fretting and, in fact, crying in my room. Mishti left all else, climbed over to my lap and licked off my tears. It made me feel so much better," Srijeeta smiles.
Srijeeta began an MBA course last year but thanks to the pandemic has been studying from home instead of relocating to Gurgaon. "Every time I get an email from the college my heart skips a beat. If they call me to campus I don't know how Mishti and I will live without each other," she says, drawing the little dog into an embrace.
If you have a pet you have brought up at home as a family member and which has its eyes only for you, write to us with your contact number at The Telegraph Salt Lake, 6, Prafulla Sarkar Street, Calcutta 700001 or email to saltlake@abp.in