Marching with Netaji
A webinar was organised last week on the women of the Indian National Army by the Indian Association for Asian and Pacific Studies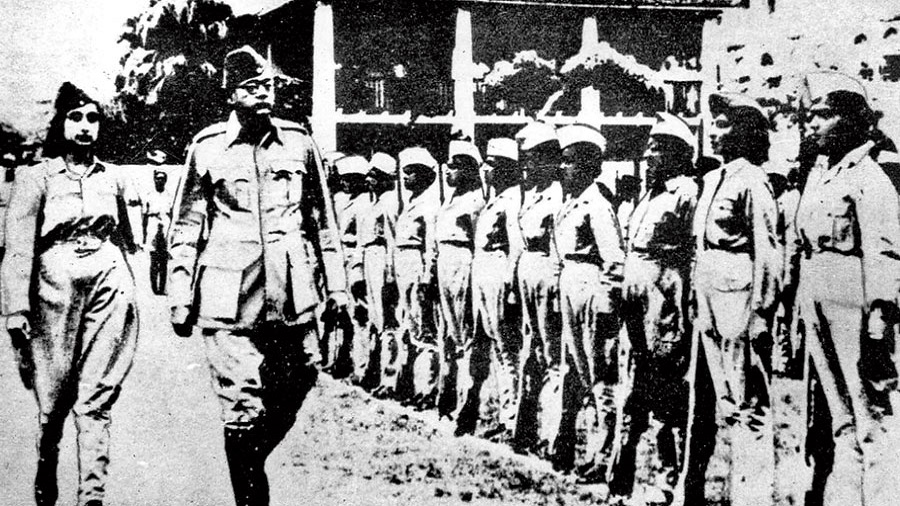 ---
---
It might have been 1999 before a woman — Gunjan Saxena — got to fly for the Indian air force during a war but women had an entire army regiment to fight for India as early as the 1940s. And the credit goes to Netaji Subhas Chandra Bose.
A webinar was organised last week on the women of the Indian National Army by the Indian Association for Asian and Pacific Studies.
This is an academic think tank of college and university lecturers and researchers. "We had wanted to host this seminar for a while now and decided to time it around August 15 so as to arouse maximum interest in the audience," said secretary Sarvani Gooptu.
Speaking on the subject was Maitreyi Sengupta, former head of the history department of Shri Shikshayatan College and a resident of FE College.
"Netaji was the greatest champion of women's rights," said Sengupta. "Our country is still battling dowry deaths and honour killings in the 21st century but Netaji had scripted this glorious chapter in Indian history with this regiment exclusively for women that was led by a woman too. It's a pity that the Rani of Jhansi Regiment almost forgotten today."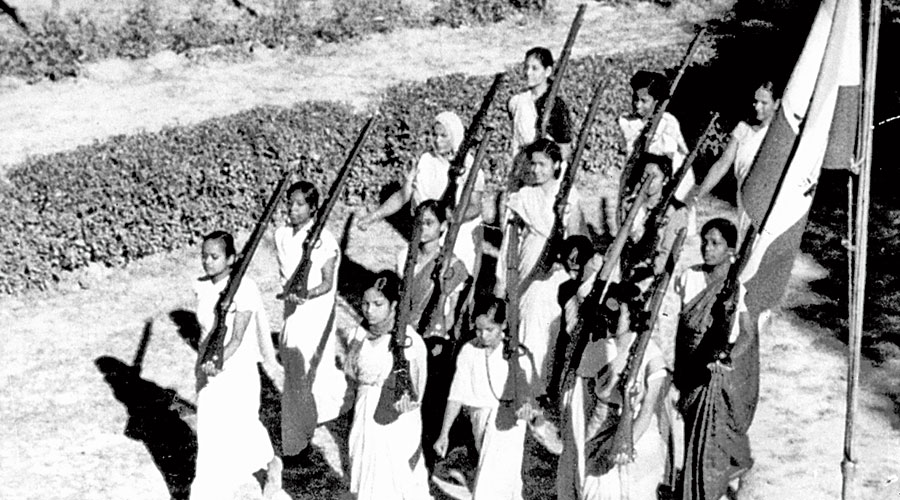 Here is what Sengupta shared with the audience —
All for a cause
Netaji's vision for women was more radical and progressive than his contemporaries. Women had joined India's freedom struggle as early as the 1920s but passively, selling khadi and the like. But Netaji wanted women to devote their lives to the ideal of freedom, just like men.
At the Calcutta session of the Congress in 1928, Netaji had wanted the young women members to parade in military uniform but the party did not allow it. So the women marched in saris, but draped in a smart way that looked no less than a uniform.
After leaving India, it was on July 9, 1943 in Singapore that Netaji announced the formation of the Indian National Army. At the same time he announced that the Rani of Jhansi Regiment would be an important part of it.
But no one took him seriously or even thought this possible. The Indian-origin women of south east Asia were barely educated and had no exposure outside their houses and after a week of campaigning Netaji had recruited only 15 women. But one of them was Lakshmi Swaminathan, an energetic and active doctor.
Alongside Swaminathan, Netaji held rallies across Singapore, Malaysia and Burma and the response was unbelievable. Young women in the audience rushed to the stage to enlist themselves. They took off their jewellery and donated on the spot, held up their children and said they would leave their families behind and join Netaji if he sought them.
Most of these girls had never even laid foot on Indian soil but Netaji's towering personality made them yearn for their roots. In a year or two, the Rani of Jhansi Regiment had 1,500 recruits. The strength of the entire Azad Hind Fauj was about 40,000 but 1,500 women in it was a significant number.
Some women had to coax their families into joining the army but for many it wasn't difficult. Entire families had joined Netaji by making donations to the cause and sending their children to become soldiers.
Tough training
The training camps were held in Singapore, Malaysia and Burma and the women roughed it out like the men. They were taught to use fire arms, map reading, jungle warfare, guerrilla tactics, advanced nursing etc. It was also unprecedented that the women's regiment was led by a woman — Swaminathan.
The women went to Rangoon to fight but the British had already gained on the Japanese troupes there. They had to beat a retreat. Still, the regiment is of historical importance.
Forgotten heroes
After independence these women got a raw deal. The land they were ready to die for refused to acknowledge them as freedom fighters.
They weren't given citizenship or freedom fighter pension.
Swaminathan married a fellow INA soldier Prem Sehgal and was better known as Captain Lakshmi Sahgal for the rest of her life. She had joined politics and continued to serve as a doctor in Kanpur, where she had settled.
Another soldier Janaky Devar returned to Malaysia and joined politics there too. There were sisters Aruna Ganguly and Shanti Ganguly too who hailed from south east Asia but had homes in Calcutta and settled here.
Several of these soldiers would come to Netaji Bhavan for his birth anniversary celebrations and I would get to speak to them. It was an honour.
India today is moving backwards in every field but things would have been different had Netaji been around. He was a man who promoted true secularism and women's emancipation.