Managers needed for post-Covid solutions, says industry veterans and experts
A virtual session on career options in new normal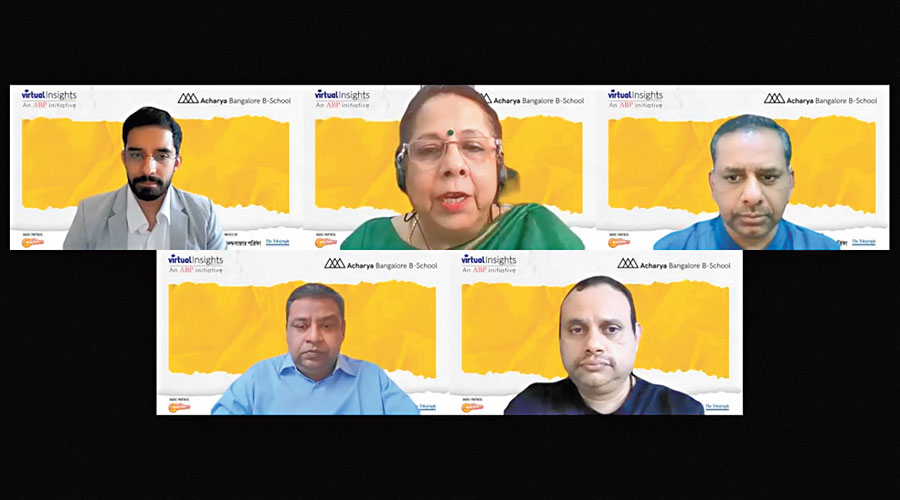 Speakers at the virtual session on Wednesday.
Telegraph Picture
---
Calcutta
|
Published 20.08.21, 03:19 AM
|
---
Managers are more relevant than ever in the post-pandemic period, a panel of industry veterans and management experts asserted at a virtual session on Wednesday.
The ABP Virtual Insights on Management Education, in association with Acharya Bangalore B-School (ABBS), dealt with "Post-Pandemic Career Opportunities in Management".
"Managers are more relevant now than they were ever before. The Covid-19 pandemic has shown that uncertainty and unpredictability can be a global problem which cannot be solved with tried and tested templates. Therefore, the need for people who can produce solutions. That is the core of management," said Giri Balasubramaniam, educator, quizmaster, Harvard alumnus and Indian Administrative Fellow (IAF) in the department of education of the Karnataka government and one of the speakers at Wednesday's session.
The other speakers were Bhaskar Roy, vice-president and global operations leader, Genpact Analytics and Data Science; Madhumita Chatterji, director, ABBS School of Management; and Praveen Kamath, general manager HR — global strategic hiring and redeployment, Wipro Ltd.
The session was moderated by Ajitesh Basani, secretary, SSS Trust and executive director, Acharya Bangalore B-School. Excerpts from the interactive session, held on Zoom platform.
Importance of research
Stressing the importance of research and analytics, Roy of Genpact said research was not just about doing a PhD or a post-doctoral degree.
"It is an advanced mindset and discipline that transforms one's professional DNA," he said. Roy felt students should focus on "being curious, willingness to experiment, skills to solve problems, imbibing the learning culture and giving edge over the others".
They should focus on a range of subjects like economics, data science and digital healthcare and "develop a habit of writing white papers, reading research papers and presenting their works in various forums", Roy said.
Job security
The moderator asked about job security in the present "hyper-responsive" world, when businesses are fraught with uncertainties.
"Job security is a myth created by us, a notional feeling. Lord Rama lost his job and was banished. If the epitome of righteousness can lose his job, who are we?" said Giri.
With many companies going for project-based recruitments, there are ample opportunities for "candidates with good skill sets" to work with multiple clients and earn more than a fixed salary, he said.
Fresh graduates
Kamath, who the moderator said was "at the forefront of hiring" at Wipro, was asked about the competencies that he looked out for in fresh management graduates.
The "basic sense of understanding of what you have learnt and the ability to have the latest skill to complement your existing skill set which came from academia" were the two things that recruiters looked out for on B-school campuses, said Kamath.
"For example, if I am a management graduate, do I know about analytics, data science? These are questions that have become normal for a student passing out of a B-school," he said.
Industry connect
Alignment to the industry was imperative for any B-school, said Chatterji. "B-schools have to be aligned to the corporate, no two ways about it. While students are taught marketing, finance and HR, we have to see what is required in today's world," she said.
"Today's marketing will require framing new principles of marketing and sales based on the new data that is coming in," Chatterji said.
Analytics
Analytics is going to play the key role in decision making in industries across different sectors, said Roy.
"The industry will focus on developing sophisticated and autonomous systems that get tasks done with greater precision, speed and efficiency than their human counterparts. Machines and technology can solve, automate and digitise. But people will add value," said Roy.
Understanding analytics as a domain and data science as a domain will be key to the industry's growth, he said.