Mall shift hope for Baisakhi stalls
The vendors suspect this could be yet another eyewash to keep the voters in them happy before the assembly elections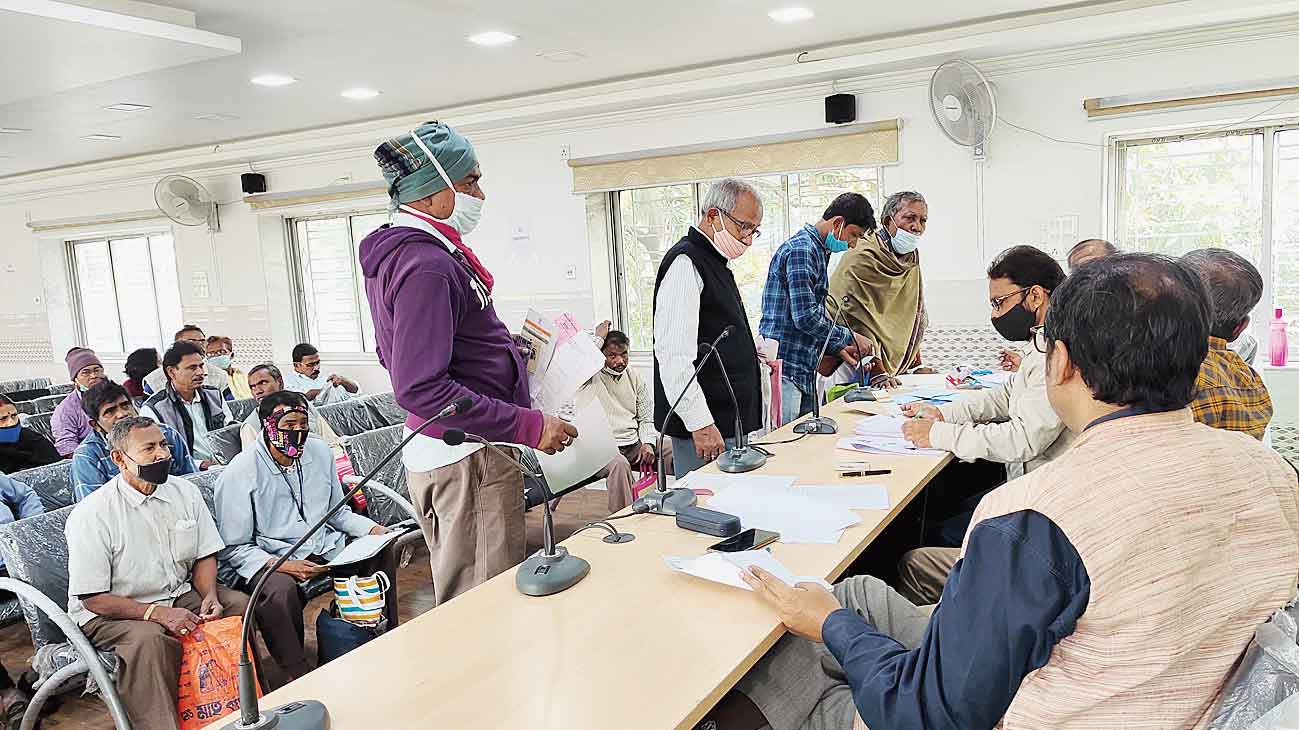 Shopkeepers of Baisakhi Market get their documents verified by corporation officials in the stackyard opposite Poura Bhavan
Debasmita Bhattacharjee
---
Salt Lake
|
Published 26.02.21, 01:38 AM
|
---
Vendors of the temporary market at Baisakhi have been asked to submit relevant papers to initiate the process of them moving into the basement of AMP Vaisaakkhi mall but the vendors aren't counting their chickens yet. They suspect this could be yet another eyewash to keep the voters in them happy before the assembly elections.
"We were called for the same verification back in 2014 but it amounted to naught," said secretary of Baisakhi Bajar Byabsayee Samity Somnath Dey. "After verification we went to meet the then mayor Sabyasachi Dutta and he told us on our faces that as long as he was mayor he wouldn't let us move into the mall. We never went back to him. MLA Sujit Bose has been trying to help us but it's taking too long."
Some of these vendors have been selling around Baisakhi since the 1970s till the CPM-led civic body asked them to move into a field so the mall could be built and they be accommodated inside it. That was in 2008.
The vendors paid the municipality between Rs 10,000 and 20,000 for mall space but despite the mall opening in 2014, have not received possession certificates from the civic body to move in.
This time many of the 200-odd shopkeepers had initially refused to submit their papers a second time. "Before every election, these politicians promise to let us move into the mall and then forget about us after winning," said vegetable-seller Basanti Rajbanshi.
Fishmonger Alauddin Molla talks of the inhumane working conditions in their makeshift market. "We do not have electricity so I cannot sell after dark. Our tinned roof flies or falls off every time there is a storm; we are asked to share with slum-dwellers a toilet that is so dirty that we have stopped using it," he says.
Another fishmonger Basu Das says business is down ever since new hawkers have set up shop outside the temporary market. "If we sit in a clean, hygienic mall I'm hoping customers will prefer us. But I have no faith in politicians any more. We have been shoved around for way too long," says the vendor who is in the business since 1981. "I won't believe their promises till I move into the mall and start selling from there."
A civic official looking into the matter said the process had been restarted. "The previous verification had been done by the municipality. Since the system is now under the corporation we had to repeat the process to update it. But no comments can be made on the next step," he said.
Dey, the secretary of the market, said they are on the verge of moving court. "We have suffered enough and are holding back only because of Sujitda's assurances. Held-up work across the state is getting cleared now because of the impending elections and if we are ignored we shall take the legal course."
Shoppers too are fed up of visiting the dilapidated market. "Most shops shut down after 8pm as the generators stop working. And fish and meat shops don't even try to stay open after noon as they never receive enough light to cut and chop safely," said a resident of Baisakhi Abasan.