Majerhat cable work starts
Eighty-four cables brought from Switzerland will hold the 260m deck slab of the bridge that is coming up at the site where a portion of the previous bridge had collapsed on September 4, 2018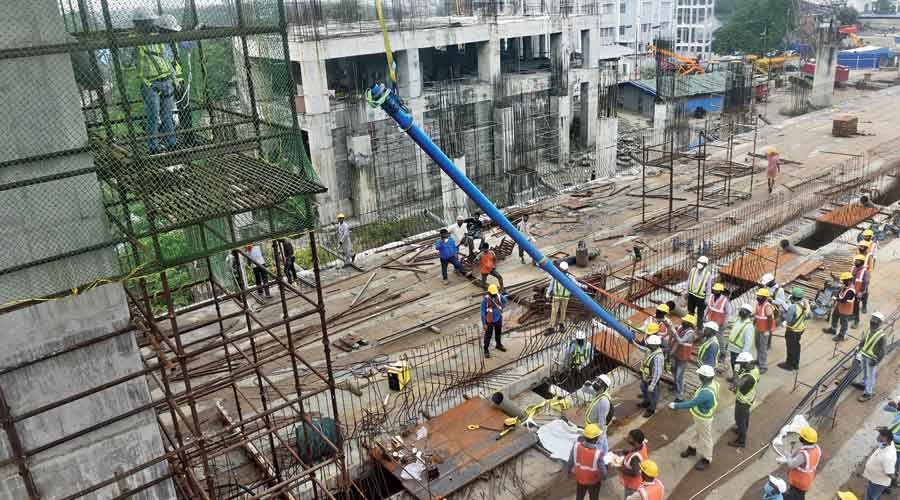 ---
|
Calcutta
|
Published 20.09.20, 12:58 AM
---
The work of laying cables for the Majerhat bridge began on Saturday, setting the final stage for the key link in south Calcutta to be thrown open.
Eighty-four cables brought from Switzerland will hold the 260m deck slab of the bridge that is coming up at the site where a portion of the previous bridge had collapsed on September 4, 2018.
This will be the third cable-stayed flyover after Vidyasagar Setu and Nivedita Setu. If things go according to plan, the new bridge will be ready for use by year end, according to engineers working at the site.
Before that there will be a series of complex calculations to understand how the cables are functioning and if there is any major deviation from the expected load-bearing capacity of each cable, a PWD engineer said.
The first stage of the cable-laying exercise will involve connecting each to the pylon and the deck slab below and then exerting stress from the top using a stress-imparting machine, the PWD engineer said.
The load bearing capacity of the deck slab will be carefully scrutinised under various conditions and the results will be compiled and sent to IIT Bombay and the railways.
The response is expected to reach the state government by mid-October.
Apart from engineers of the PWD and the Haryana-based firm contracted to build the bridge, a team of Swiss engineers from the company that has provided the cables have reached Calcutta to oversee the installation work.
"Beneath each cable sheath will be a cluster of 19 to 43 strands. Only 40 per cent of the total load-bearing capacity of each of the cables will be utilised here," another PWD engineer said.
The PWD is overseeing the execution of the project.
"So, bearing vehicular load will never be a challenge even in future," the engineer said.
A cable-stayed bridge had emerged as the best possible solution among all designs proposed for the new Majerhat bridge, a portion of which will be over the rail tracks.
The bridge is adjacent to the ongoing Joka-BBD Bag Metro project.
After the design was cleared at all levels, the state government had sanctioned an additional Rs 21 crore, taking the total project cost to Rs 200 crore.
"We will use the most advanced technology to study the health of each of the cables and each of the strands under a sheath," the PWD engineer said. "There will be a health monitoring system where one can receive updates regarding the slightest variation in the cable's load-bearing capacity through mail and text messages."
While the installation of the cables is on, four service roads adjoining the new bridge will be readied by November so that by the bridge can be commissioned by the year end, the engineer said.