Lockdown, rains set veggie prices on fire
Supply crisis fuels jump in wholesale rates across township markets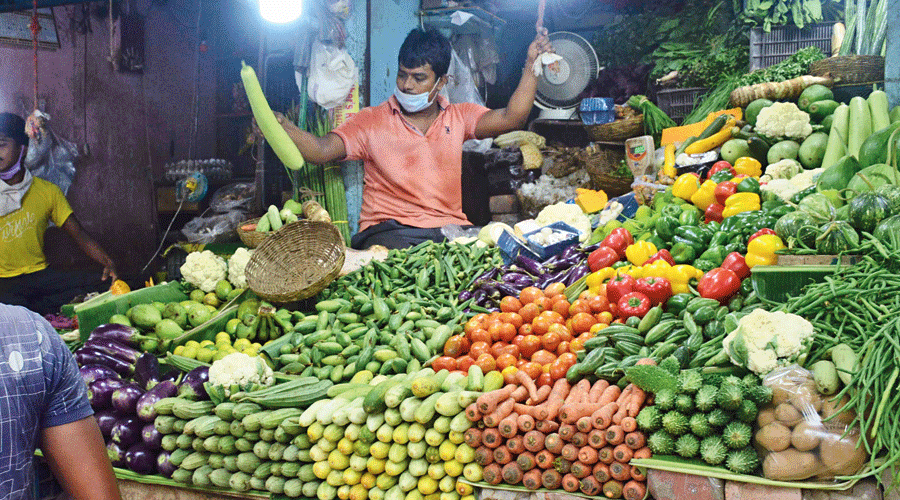 ---
|
Calcutta
|
Published 31.07.20, 12:12 AM
---
Vegetables prices are skyrocketing. Over the past week or so, prices of items like tomatoes and chillies have doubled in some markets. Other vegetables and fruits have reduced drastically in supply and unless one heads to the market early, one may not even find any to buy.
Some hawkers are blaming irregularities arising out of the lockdown, others cite the monsoon. Either way, the rising rates are burning a hole in the customer's pocket.
At GD Market on Sunday, a customer enquired the price of tomatoes at a stall. "Rs 100 a kilo," replied the vendor Loknath Saha. In disbelief, the customer asked him to repeat, and two more shoppers who had queued up behind her nearly had their eyes pop out. They exchanged glances and walked out of the market without another word.
"A week ago tomatoes were Rs 60 a kg. This Monday, I sold them at Rs 120," Saha shakes his head. "Some customers bought less quantity than usual, hoping prices would rationalise in the coming days, but quite a few left without buying anything at all. A few joked that they would have to replace tomatoes in their food with two-rupee sachets of ketchup!"
At IA Market, tomatoes have been selling at Rs 100. "Prices are rising by the day," says Shambhu Naskar. "Perhaps the worst hit is chillies. I bought them at an astronomical Rs 200/kg today but on humanitarian grounds charged customers the same rate, without a profit margin."
Debabrata Sardar, a hawker who sits outside IA Market, is not even getting chillies from the wholesaler. "Last week, I bought chillies for Rs 80 a kilo and today the cost price is Rs 200. The retail price of tomatoes is Rs 130. Customers will beat me up if I quote such prices so I decided not to sell them at all," says Sardar.

Supply shortage
On Sunday, Sardar's van had no brinjals as his wholesaler ran out of stock before he reached. Parimal Kundu, a hawker who sells fruits on a cycle van, says bananas and mangoes have not only become dearer but are simply not available in large quantities any more.
"Last week, I sold five bananas for Rs 20, now I can't sell more than three for the price. Lyangra mangoes have also shot up from Rs 60 a kg to Rs 70 or 80. "Maybe it's because the festival of Id-ul-Zoha is this weekend but either way, customers are reluctant to buy at such inflated rates."
Pintu Mondal, fruit seller at IA Market, says he's not happy with the supply of bananas and apples this week. "Apples, for instance have shot up from about Rs 150/kg to Rs 250 but even at these rates I'm unable to procure enough quantity," he says. "Not enough produce is reaching the wholesale market."
Lockdown woes
At BD Market, tomatoes had touched Rs 85 over the past week and the Jyoti variety of potatoes Rs 45. Vendor Binoy Mondal blames the lockdown.
"I source my vegetables from places like Bhangar where haats are set up for wholesale. But due to the lockdown, trucks carrying vegetables from different districts and states weren't able to reach it. The shortfall in supply led to the rise in prices," he explained.
On Tuesday, however, prices at BD Market came down somewhat as by then the transport situation had improved.
Sardar too said that without public transport farmers were unable to send produce to the wholesale markets. "This is why prices are rising on the days after lockdown. But there is nothing small players like me can do," he says. "Neither do we have the money to buy two days' worth of vegetables the day before the lockdown nor do we have refrigerators to store them. The vegetables would rot in the heat before the lockdown lifts."
Naskar says the wholesale markets are teeming with vendors the night before the lockdown lifts. "Social distancing, my foot! One would think the vendors are out to see Durga puja pandals. Since supply is limited on these days everyone rushes to get vegetables. I saw an entire truck of chillies empty out in one hour flat the last day," he says. "There is shouting, brawls breaking out…. It took me an hour and a half to get out of that melee in the Koley Market-Baithakkhana Bazar area last time."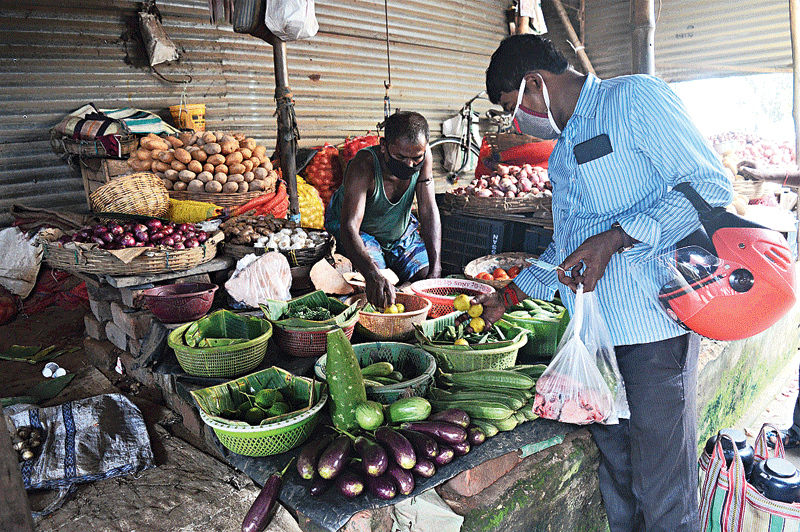 Blame it on monsoon
But many vendors do not blame the lockdown. "It's the rains. Floods are ruining the produce in the fields. Trucks transporting them are getting slowed down in the rains," says Nikhil Das of EC Market. Das gets his supplies from Sealdah and Muchibazar and was selling tomatoes at Rs 70/kg and chillies at Rs 20/kg early this week.
Ashok Porel of CK Market seconds him. "Vegetable prices rise every monsoon and this is nothing new. People are simply panicking due to the Covid-19 situation this year," he says.
Beans at his stall cost Rs 150/kg on Monday, Rs 200 on Tuesday and the price of chillies had doubled but he was calm. "There have been worse price escalations in the past. Beans, capsicums, cauliflowers don't grow in Bengal at this time of the year and have to be imported from places like Karnataka. Prices will rationalise only in winter when Bengal starts producing these."
The government-run Sufal Bangla, that sells vegetables on trucks at various locations of Salt Lake and New Town, sells them at about 10 to 15 per cent less than the market rate. "That's because we don't depend on wholesalers. We pick up produce directly from hubs in places like Singur. Our services are available even during total lockdowns," says an official of the chain.
But even they are not immune to price hikes. "There isn't a major hike in prices of items like potatoes, potol, pumpkins and jhinge as these are locally produced. It's items like tomatoes that get very costly as they have to be imported from different states during the monsoon," he said.
While chillies are growing in Bengal it is expensive to harvest them. "A pumpkin is a large vegetable that will feed many but each tiny chilli has to be individually plucked by a labourer. This is expensive and labour may not be easily available on locked down days," explains the official. "Chillies also have a short shelf life outside refrigeration. So if the market is shut for total lockdown a lot of chillies harvested that day may go bad."

Market shut formula
The total lockdown on certain days of the week has yet again rejigged the operations of block markets. Previously markets had started shutting down on alternate days of the week, as per the orders of the corporation.
"Had we followed that order, as well as the state government's total lockdown orders, it would be as good as staying shut the entire week," says Rishiraj Ghosh, secretary of IA Market shopkeepers' association.
Mayor Krishna Chakraborty has laid the confusion to rest. "The state government's lockdown has to be obeyed. The respective market associations will choose two more days when to shut. They have been calling me. I told them to stick to the alternative day formula. Some markets in Salt Lake close on Monday. If the state lockdown is on Saturday and Sunday, I have asked them not to shut on Monday as markets remaining shut on three consecutive days will inconvenience people. They can choose Tuesday and Thursday to shut in that case. I have asked councillors to balance life and livelihood while taking decisions about the markets in their wards."
Additional reporting by Snehal Sengupta and Sudeshna Banerjee