Library to help village kids
NGO step on bicentenary of Vidyasagar's birth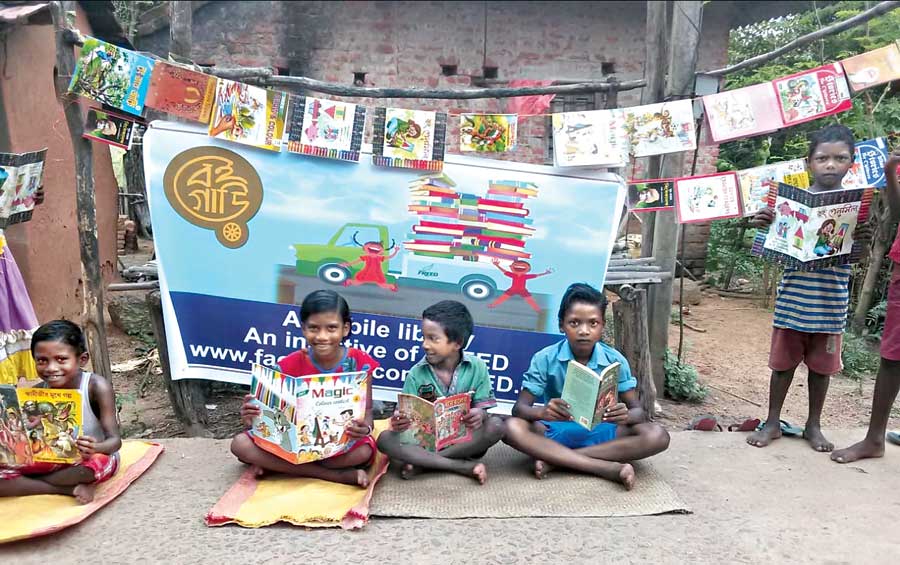 Children of Banshkopa village in front of the mobile library in the Bishnupur block of Bankura
Telegraph picture
---
Calcutta
|
Published 03.10.20, 02:59 AM
|
---
A mobile library has been set up for first-generation learners of a village on the occasion of the bicentenary of Ishwarchandra Vidyasagar's birth.
An NGO that works in the districts for empowerment of the underprivileged felt many students were getting detached from studies during the pandemic. This initiative launched on the birthday of Bengal's renaissance icon who had drafted the primer Barnaparichay might help these children to at least stay in touch with books.
The children of Banshkopa village in the Bishnupur block of Bankura district are mostly first-generation learners whose parents are mostly farmers. Some rear animals for a living.
When out of school they have no facility or ambience of studies in their homes, those working with them have said. They will either while away their time or help their parents in the fields.
"It's a tribal village and many of the children in the 75 families have been losing out on studies during this time when schools are closed. We hope that will at least be able to remain in touch with books and not be completely detached," Somnath Pyne, the secretary of The Force for Rural Empowerment and Economic Development, said.
The NGO has been working in the village for the past four years and has provided some girls with scholarships after they cleared the Madhyamik exams.
"We are now asking those students to reach out to their siblings or other children in the villages. They will be our local coordinators who would encourage the children and make these books available to them," Pyne said.
They have started with 100-odd books, mostly in Bengali, that will cater to children, aged five to 16.
"Some of the girls who go to college will hold interactive sessions with them to develop an interest in them. We will soon upgrade and have more books," Pyne said.