Lessons from the Covid year
Residents of New Town CD Block sang songs; recounted their horrors and even shared their experiences during a virtual meet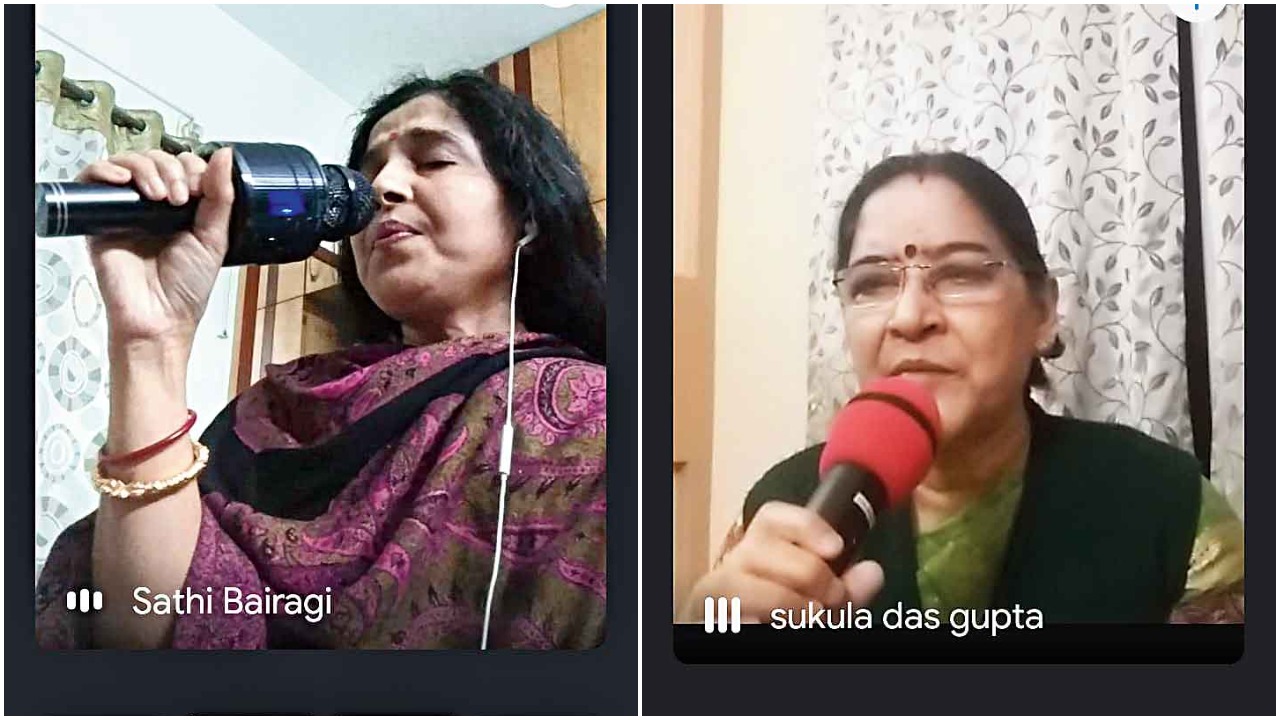 Residents sing for New Town CD Block's virtual meet
Sourced by the correspondent
---
Salt Lake
|
Published 22.01.21, 04:07 AM
|
---
• If one was happy to save money on transport another had to, with a heavy heart, lay off his juniors. The year 2020 has been a whirlwind and New Town's CD Block organised a virtual meet where residents talked about how they fared.  
Sumi Pal was happy with the quality time she got to spend with her daughters. "I haven't had this luxury in the past 13 years since my kids were born," said the IT professional. "I also got to enjoy the beauty of dawn and dusk. Still, I feel the virtual world cannot fill the void of human touch and face-to-face interaction."
Debi Dutta shared her experience of online teaching and was happy with all the extra time she found to read. Purba Kar converted her passion to profession during the lockdown by going all out with her homemade chocolates. "The year has also taught us terms like lockdown, social distancing and the use of new apps," she said.
There was music and recitation too. Ruma Baul sang Tagore's Tomar kotha hetha keho. "Earlier I used to travel a lot for my business and never bothered about travelling expenses. But during the lockdown, I realised that I was saving a hefty amount. I donated this money to charity and it brought me satisfaction. I tried to stay positive so any form of depression couldn't touch me. 
Rita Basu, who recited Tagore's Prabin, felt the pandemic gave people time with the family and taught everyone to share chores, irrespective of gender.
Amalabha Dutta recounted the harrowing experience he had when his company asked him to lay off some employees. "I felt like shifting passengers from a sinking boat to a lifeboat," said the resident. "But on the upside I got the opportunity for ample spiritual practice which was not possible earlier."
Patralekha Mukherjee sang Tagore's Borisho dhara majhe shantir bari, Sathi Bairagi sang Charan dharite diyo go and Gouri Sanyal sang Jibon jakhon shukaye jay. Rita Chowdhuri sang folk and Sukla Dasgupta a prayer song.
The organiser of the event, cultural convenor of the block Sithi Kana Ghatak, shared her own experience. "I was alarmed when we learnt about the deadly virus at a seminar at Biswa Bangla Convention Centre on March 15, but gradually chalked out a survival strategy for residents. We kept everyone connected online and held periodic programmes May onwards," said the lady who also paid tribute to Covid victims.
Bharati Kanjilal
Health high
• Through an interaction with doctors, EE Block residents learnt that the risk of kidney problems increases with hypertension, diabetes and age. They also learnt that symptoms include back pain or difficulty in passing urine. The rule of thumb, however, was to increase the intake of water if urine is yellowish.
"Kidney ailments would be the fifth leading cause of death globally by 2040 but it is preventable through intervention," said Ranjan Sarkar, nephrologist of AMRI Hospitals. The hospital had held a health and awareness camp with EE Block Residents Forum.
"Residents are coming for blood pressure, blood sugar, ECG, pulmonary function tests as well as free doctors' consultation and some tips on kidney diseases," said secretary Samir Mondal.
Puspa Kar, an EE Block resident, had come especially for the awareness camp. "I've been having some pain in the back and wanted to check if it's kidney-related. I'll also get my blood pressure and blood sugar measured," she said.
General physician Sharmistha Ghosh was impressed by the initiative, especially the assistance the forum will lend to senior citizens. "Today we have found 70 to 75 per cent of patients to be suffering from diabetes and hypertension as well as a few with chronic obstructive pulmonary disease (COPD), arthritis and Parkinson's disease."
Bharati Kanjilal
Women on top
• A platform for women entrepreneurs — Winning Strees — had conducted a health and fitness drive at BF Park which was fun, educational and motivational.
Zumba instructor Priyadarshini Singh led the group to a fun workout before which she addressed the crowd. "Despite the stress in your life take some time out and stay fit," she said. "You can also take it up as a profession later," she said.
Fitness expert Swati Singh Roy helped measure BMI and other parameters for visitors. "I know a 21-year-old woman who weighs 101kg! She suffers from a host of health problems but sadly there are many like her now-a-days," noted the lady who runs a facility called Kinnys Wellness Mantra.
Psychotherapist Kakoli Das Mandal spoke on mental wellness and about overcoming the taboo of seeking help for mental issues.
Anupriya Chowdhary, co-founder of Shivam Swachh Soch, spoke on menstrual hygiene and about overcoming inhibitions in using menstrual cups.
There was a health quiz as well as recitation by Tanushree Chakraborty, founder of Winning Strees. "Every woman is a star, be it a homemaker or an entrepreneur. We want to inspire these women so they can unlock their true potential," said Chakraborty.
Bharati Kanjilal